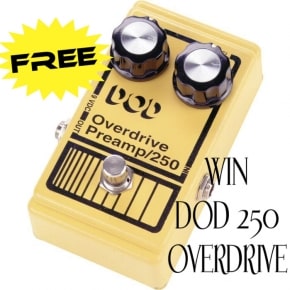 Calling all gear heads who like free stuff!
Here at Gear-Vault.com we decided to put together a little drawing to get the year started off right. We are rallying a drawing on Gear-Monkey.com to giveaway a FREE DOD 250 Overdrive Pedal. The contest has easy rules and could score you a free pedal while talking the talk. If you have not yet registered to become a member of Gear-Monkey.com it only takes seconds. Come see us and get into the drawing for your chance to win!
We're also giving away Free Guitar Strings 4 other winners! Visit gear-monkey for more information.
Bloggers, publish a post on your blog about this giveaway and earn a 468×60 or 125×125 banner spot on Gear-Vault.com (your choice but banner space you want). Respond to this post with the link of the post you made about the FREE DOD OVERDRIVE 250 pedal and email us your banner to gear-vault@live.com
DOD Overdrive 250