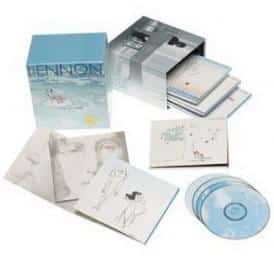 Capitol's John Lennon Anthology Box Set sheds some fascinating light on rock's first intellectual. The set's four disc contain nearly 100 tracks, nearly all of which have never been officially released; many hadn't even appeared on bootlegs. The song span Lennon's entire post-Beatles career, from 1970 up to his murder in 1980. As with Capitol's Beatles Anthology sets (1995 – 96), the majority of the tracks here are alternate studio takes of well-known songs. There's a version of "Imagine" with a prominent, and somewhat intrusive, harmonium part.
Also included is an early take of "Mother," with Lennon on guitar rather than piano. (Unlike the Beatles Anthology, unfortunately, the liner notes for the Lennon box do not provide details such as take numbers.) Snippets of studio banters—especially some jovial sparring with Phil Spector—give an intriguing glimpse of what it was like to record with John Lennon. What emerges is a portrait of an artist clearly in control of his music, setting tempos and correcting problems with an air if easygoing authority.
The set is also well stocked with live tracks and home recordings. The latter include little comic spoofs and sketches in the manner of the British comedy classic The Goon Show and the Beatles' annual Christmas discs. There is also a generous selection of songwriting demos—mostly simple cassette recordings with just acoustic guitar and voice, some of them apparently never issued before. (Again the liner notes are frustratingly light on details.) the demos from the last year of Lennon's life are particularly good, and affecting. One called "Don't Be Afraid" features "Sexy Sadie," 1920's-style piano chord modulations. Another, "Dear John," hints at the non-sequitur wordplay of Lennon's Beatles era—something he abandoned for the more direct, confessional style of his Seventies work. Tracks like these offer heartbreaking evidence that Lennon's life was cut short just at the very moment he'd finally reconciled himself with his Beatles past.
John Lennon "Mother" Anthology Version