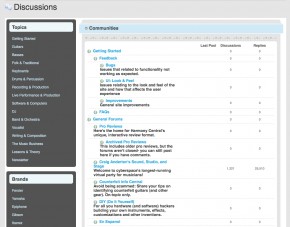 (BETA). The information we are receiving about the new changes are not very favorable. In fact, some loyal Harmony-Central users are not holding back about voicing their opinions; some are even pissed over the new 2.0 changes and have called the new changes a "downgrade".
After looking over the screen shots posted by the Harmony-Central staff (see images below), I agree with the loyal Harmony-Central members on this one. The new look does not look very user-friendly or interesting to me. Then again, it's really hard to make a fair judgment call until you can actually try it out for yourself. Harmony-Central expects the new "downgrade" to be officially launched on January 8, 2010.
So that makes me wonder how do you feel about the new Harmony-Central 2.0 change? Will you migrate to a new gear forum like Gear-Monkey.com (which specialize in guitars, drums, keyboard, recording, PA, music, guitar amplifiers and more..), or will you deal with Harmony-Central 2.0 forum? — Leave your comments below or go to Gear-Monkey Message Forum to discuss.
Harmony-Central 2.0 Online Poll