Electric guitars either come with tremolo systems or they don't, right? Sure, people have slapped aftermarket Bigsbys on any number of different guitars post-purchase (and I did see a real '59 Les Paul with a Stratocaster bridge and trem routed into it at a guitar show once), but, for most players, trems are something that guitars are either born with or without. Well, folks, those days are over, thanks to the good people at Stetsbar Professional Tremolo Systems.
The Stetsbar trem is designed to retro-fit any number of hardtail guitars without any irreversible modifications or any new holes. It is a modern linear tremolo built with high-tech micro roller bearings and a bridge that moves with the actions of the trem itself to offer outstanding pitch range, tuning stability, and a silky smooth up-and-down motion.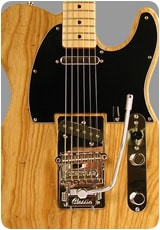 Installation of the Stetsbar system is straight-forward and there are models to fit a wide range of different guitars, from stoptails to hardtails. Formerly trem-free axes like Les Pauls, Telecasters, ES-335s, and Flying Vs can now be made into free-floating tremolo-equipped hot rods quickly and easily. There is even a model made to replace the existing trem on a Stratocaster.
All models are available in gold, nickel, chrome, and black to match your favorite axes' hardware with ease. In use, the Stetsbar is like the best Bigsby you have ever felt that also stays in tune. The Stetsbar is a great choice for anyone who loves their current guitar but longs for the expression and feel that only the wang bar brings. If you can't bear to part with your Tele but are still driven to ride the wild surf, paddle on over to www.Stetsbar.com to catch your wave back in to the beach.
Stetsbar Tremolo installation on a stock Gibson Les Paul Video