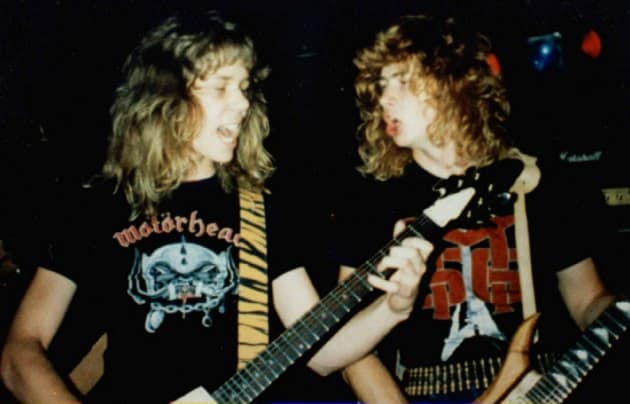 On Tuesday, June 22, metal fans in Sofia, Bulgaria got a rock-gasm to rattle all the bedsprings of the bowels of hell: for the first time in history, members of the founding fathers of thrash metal, the infamous "Big Four" — Megadeth, Slayer, Anthrax and Metallica — were all onstage together for an epic rendition of Diamond Head's "Am I Evil?"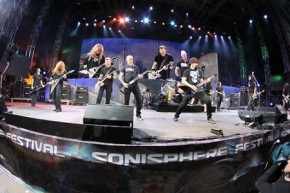 The performance, hailed by Anthrax guitarist Scott Ian as "a monumental moment of epic proportions" and a dream come true for metal fans around the world, brought former guitarist Dave Mustaine onstage with James Hetfield and the rest of Metallica for the first time in nearly three decades after having been replaced by Kirk Hammett. The iconic metal guitar player, who is better known for his brainchild Megadeth, swapped solos with Hammett, and they took turns singing with Hetfield and Joey Belladonna (Anthrax). The historic performance– a moment which had surely been conjured in many a stoned metalhead's daydream– will be broadcasted in Hi-Def in movie theatres throughout the world and featured on an upcoming "Big Four" DVD.
The performance is the first of seven, which is part of Europe's Sonisphere Festival. Its announcement blew the minds of metal fans young, and old a crowd of 81,000 flocked to the stage in a near- pilgrimage that united fans from all over the world. The planets seemed to align in the metal universe as the concert came into fruition: not only did Megadeth reunite with original bassist Dave Ellefson after an epic tour with Slayer, but it was the first time Anthrax had brought in Belladonna since 2006 before they all collided at Metallica's Sonisphere Festival date. "It's about fucking time this happened," Slayer's Kerry King said after the legendary thrash fest. Debate: Metallica vs Megadeth, who is better?
Metallica, Megadeth, Anthrax, Slayer – 'Am I Evil' Video