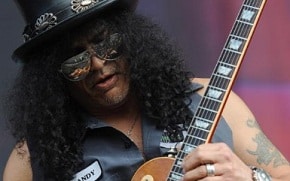 Happy 4th of July, everyone! In honor of today's independence day, I think it's fitting to share some videos of, what I would consider, some of the greatest guitar players to ever perform "The Star Spangled Banner".
Included in this column is Steve Vai's particularly shred-awesome version of the song, Zakk Wylde's gritty version, and Eric Johnson's fluid version — we can't forget the versions by Dave Mustaine and Slash. Those are some great shredders, but lets not forget some of the classics such as Stevie Ray Vaughan (using a slide!) — and of course, there's the master of them all, Jimi Hendrix at Woodstock.
So I figured adding more solo-versions to this column, the better! I could've kept on going, but I think ten versions of the same song pretty much gets the point across, and this represents a great mix of versions and styles from shred, metal, bass and blues.
Feel free to compare and comment!
Happy 4th Gear-Vault readers!
ZAKK WYLDE
SLASH
DAVE MUSTAINE
NEAL SCHON
TED NUGENT
STEVE VAI
ERIC JOHNSON
CLIFF BURTON
STEVIE RAY VAUGHAN
JIMI HENDRIX