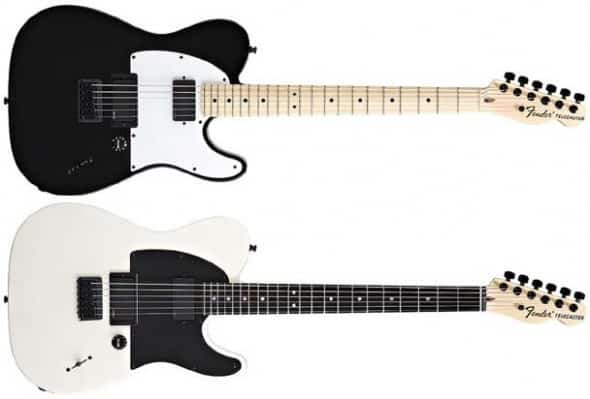 Jim Root Fender Telecaster–The Fender Telecaster is not typically thought of as being ideal for a hard rock/metal sound, yet some hard rock guitarists, such as Jim Root, lead guitarist for Stone Sour and Slipknot, swear by this Fender. It is no surprise, that Root has been given his own signature Fender Telecaster—the Jim Root Telecaster. This guitar's heavy sound is quite surprising, and if you have been looking for a Fender guitar with a great hard rock tone, you have just found it.
The Features
The Root Telecaster has many features that make it such a great guitar for both the beginner hard rock guitarist and the more experienced one as well, so if you fall into either category or somewhere in between, you will enjoy this guitar immensely.
To start off, the Root Signature Telecaster features a very sleek design with a black pickguard on top of a white Telecaster body. All of the hardware is black to match this color scheme, giving it a very metal look. Alternatively, the Root Telecaster also comes in black with a white pick-guard.
All Root Telecasters come standard with EMG pickups, which are known for being some of the best pick-ups around. You will not feel the need to swap these babies out as some guitarists do when they buy a new guitar.
The Root Telecaster features 22 Dunlop-6100-jumbo frets, making it comfortable for both small hands and big hands. In addition, the Root Signature Telecaster holds tune with its 6-Saddle strings-through-body hardtail bridge.
The guitar is solidly constructed with a mahogany body, and a set-in maple neck with ebony fretboard, giving it incredible sustain. The Root Telecaster's sound is easily controlled with a single knob, so you will not have to worry about moving several knobs just to get the perfect sound.
With all of these features, it is easy to see why the Root Telecaster is priced at an expensive $1199. However, because of the great tone a hard rock or even metal guitarist can get out of it, it just may be worth the price. -Includes black tweed hardshell case with red interior.
Gear-Vault Classifieds is an eBay alternative. Come sell your instruments with us, for FREE!