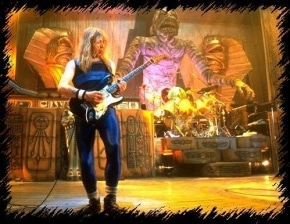 "There's a little bit of history behind the guitar," says veteran Iron Maiden guitarist Dave Murray of the 1957 Strat he used to produce the wailing sounds heard on each of Iron Maiden's first eight albums. "It used to belong to Paul Kossoff of Free. I bought it in 1976, a year after he died.
I saw it advertised in an English magazine called Melody Maker, and I went down and checked it out. I got the serial numbers to make sure that it was his guitar!
"He used that guitar on a lot of Free. I actually saw him many years ago using it during a Free performance of 'My Brother Jake' on an English television show called Top of the Pops. They were one of my favorite bands, and I had to have that guitar because it belonged to Kossoff.
"I paid about $1,400 for it, which in 1976 was quite a bit of money. But I didn't care. I just sold everything I had so I could get it. And I used it from then on. It just felt like I was holding a piece of magic because he used this guitar"
Aside from replacing the original Fender pickups with DiMarzio humbuckers ("to fatten up the sound a bit"), Murray did nothing to alter the maple-neck, black-and-white guitar. "I used it on tour," he continues. "It was my main guitar, and I played everything with it: lead and rhythm, clean stuff, heavy stuff. It was real versatile."
Nevertheless, Murray gave his trusty Fender Stratocaster an honorable discharge from active duty several years ago. "I used to guard it with my life," he says. "But it did start to get a little knocks in it just from general wear and tear. So I decided to retire it. It's sitting in my mother's house now, though I do pick it up now and again."
Discuss @ Gear-Monkey Forum
Fender released Dave Murray's Reissue Stratocaster. It is currently available at major online music stores. Scroll down to check for prices.
Fender Dave Murray Stratocaster Reissue Electric Guitar
Check out our electric guitar buyers guide to help you find the right guitar for you.