Cool Song: Kyng – 'Falling Down'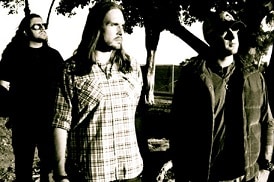 Kyng is all about heavy riffs and a good melody. 'Falling Down' brings just that! Known as the "California Heavy" sound. "Can't wait to unleash this to the universe and beyond," Veliz says about the jam. 'Falling Down' was mixed by Mike Watts and will available for sale on iTunes starting July 26th. Completing dates with The Sword, Kyng is currently out touring with Black Stone Cherry and Pop Evil and plan on touring forever as the road is the life's blood of any young hard rock band looking to conquer the world.
The band consists of three band-mates who make it heavy; guitarist-vocalist Eddie Veliz, bassist Tony Castaneda and Pepe Clarke Magana, the Southern California power trio came together in 2008 bound by influences including Black Sabbath, Led Zeppelin and Queens of the Stone Age. Check out these heavy melodic riffs….
Kyng – Falling Down
Kyng – Falling Down (audio version)