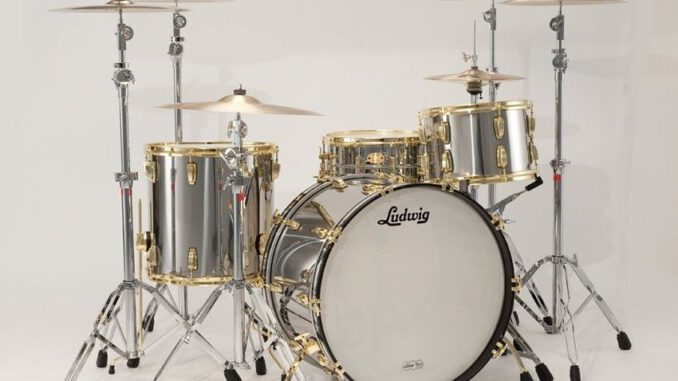 Press Release–Since 1909, Ludwig has been making exceptionally crafted percussion products for drummers of all styles. During the 100th Anniversary year, Ludwig is proud to announce the release of the Ludwig Anniversary Edition Stainless Steel Pro Beat outfit.
The 1970's were a time of great innovation at Ludwig's Damen Avenue facility. True to Ludwig's tradition of innovation, these stainless steel kits were forged for unprecedented volume, sustain, and power in heavy music. Ludwig's new Anniversary Edition Stainless Steel Pro Beat outfit is a true testament to our timeless roots. Only 100 kits will be made available, all of them hand-rolled and tooled by drum smith Ronn Dunnett.
Advertisement—————————————
—————————————————————
The first 50 made will feature a polished chrome steel finish and brass hardware; the second 50 with brushed stainless finish and chrome hardware. This ultra-thin stainless shell and bearing edge on each drum creates a tone of such enormity that they simply have to be experienced to be believed. "
Each drum in this collection tells a story
," says Symphonic Percussion Director of Marketing Jim Catalano. "
There is so much history that is represented in these drums and they are truly something special
."
If you are a Lugwig fan, you better act fast, only a 100 pieces will be produced worldwide.
Visit ludwig-drums.com for more information.