When considering which overdrive pedals belong on the Mount Rushmore of guitar gear, we here at Gear-Vault took one major consideration into account, which is tone. Let's face it – overdrive is overdrive, and has been since studio musician Grady Martin continued playing despite a faulty pre-amp circuit in the console of a Nashville recording studio in 1961. The nuances of distortion, and opinions about its place in music, have been fine-tuned ever since. This list leans toward pedals that the average musician can afford – the exotic special effects pedals that so few serious artists ever really use anyway are excluded. This list is intended to let you know which pedals might be best for your sound, with the number of pedals sold not having too much influence on their ranking. One caveat for all: None of the following pedals come with earplugs, the use of which is strongly encouraged for the proper use of these smoking guns. In reverse order: Read more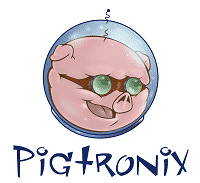 Pigtronix is not your typical guitar effects maker. Starting with the original Envelope Phaser, Pigtronix pedals have been anything but conventional. According to David Koltai, president of Pigtronix, "With companies like BOSS and Dunlop to compete with, it seemed crazy to come out of the gate as a startup trying to compete on their terms." That's why Koltai and long-time friend Brian Bethke teamed up to form Pigtronix. They decided to focus exclusively on effects pedals that were unlike anything on the market.
Unique effects such as an envelope-controlled phase shifter, a parallel-distortion box, an ADSR dynamics generator, and a freakishly accurate pitch-tracking mono synth quickly made Pigtronix pedals popular among modern creative musicians. Driven by a never-ending quest to discover new kinds of effects, Koltai still turns to customer feedback for future design concepts. Andy Summers, Vernon Reid, Red Hot Chili Peppers, Jack White, Adrian Belew, Bootsy Collins, Weezer, The Roots, Primus, and other artists have been instrumental in establishing Pigtronix as a top-level effects maker, both as customers and as sources of critical feedback.
In fact, legendary rocker Frank Marino encouraged Pigtronix's development of the Philosopher's Tone. The Philosopher's Tone – arguably the cornerstone of the Pigtronix lineup – is one of the most popular compression/sustain pedals ever made, renowned for its near-infinite sustain. Likewise, the brilliant NYC guitarist Craig Brodhead introduced Koltai to the idea of using the "Golden Ratio" as the basis of the rhythmic delay lines in the instantly musical Echolution delay pedal. Read more
Ever wanted to build a piece of equipment yourself? Instead of buying that $300 pedal, you could spend a little bit of time and some elbow grease and build it yourself. Well, with the Thunderdrive Pedal from modkitsdiy.com, you can get your foot in the door, and learn a few things about electronics along the way.
Upon receiving the pedal from Modkits, I opened up the box and checked it out. Inside the metal box that will soon become your self-built distortion pedal lies a bag full of all the resistors, pots, wires and input/output jacks needed to build the pedal. I was a bit overwhelmed at first, viewing the instructions and realizing I was going to need to solder. Soldering is the process of melting metal, or solder, and using it to connect a lead to a point to make a solid connection. It's something I had watched someone do once, but had never actually done it. Read more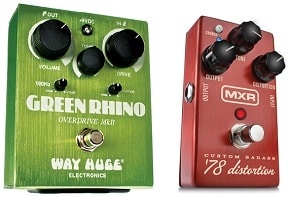 Guitar players love distortion. No big secret, really. From the time we start playing we are pretty much issued a distortion pedal of some kind right out of the gate and we proceed from there. By the time I was 13, I had my brown Ross distortion plugged into my solid state Gretsch amp and pretty much blistered my Mom's paint for a few hours every day. These days, distortion and overdrive pedals have become much more of Read more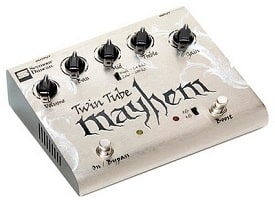 WHO COULD HAVE imagined that a decades-old company solely devoted to pickup winding would suddenly set the guitar industry on tilt with masterfully crafted pedals like the Twin Tube Classic, Lava box, Power Grid, Shape Shifter and Tweak Fuzz. Never before has a specialized company like Seymour Duncan so successfully diversified its product line and received such high marks for its freshman effort.
Another great addition to the company's stomp box line is the anxiously awaited Twin Tube Mayhem pedal. This is the Twin Tube Classic's criminally insane brother, born of Duncan's malicious intent and capable of terrifying acts of sonic aggression. Like the Classic, the Mayhem is more of a footswitchable tube preamp than a mere stomp box by virtue of its standalone ability to generate tube- derived gain and control a full-waveform signal, as opposed to only shaping or boosting portions of the sound to create a desired effect. Simply put, Duncan's Mayhem conjures diabolic high gain like you've never heard from a pedal. Read more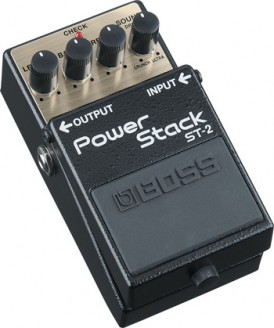 BOSS U.S. is proud to announce the addition of the ST-2 Power Stack to its industry-leading compact pedal lineup. Boss ST2 emulates the sound and feel of a cranked stack tube amp. The Boss ST-2 is a unique type of BOSS distortion pedal, one that gives guitarists both the sound and feel of playing through a large, cranked-up, stack-style tube amplifier. This is accomplished through BOSS' years of meticulous research in amp modeling, and represents a bold step forward in stompbox design. Read more
Rothwell Audio Products has released their latest pedal, the Tornado. The Tornado is a class A, single-ended overdrive that uses JFETs throughout to effectively act as a pre-amp in the classic guitar amp format, but running from 9 volts rather than 200-300 volts as a standard amp does. The result is an overdriven sound that is much closer to that of an amp but with pedal convenience.
The pedal features Volume, Gain, and Tone controls, and adds a Shift button that alters the response of the tone control, shifting the midrange content and altering the turnover frequency for vintage and modern tone flexibility. Read more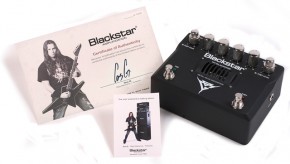 Blackstar HT-Blackfire – The HT-BLACKFIRE is the first artist signature product by Blackstar, developed with influential guitarist Gus G. (Ozzy Osbourne, Firewind). Gus's instructions to the Blackstar design engineers was to produce "the ultimate heavy metal distortion pedal". The HT-Blackfire is a two channel, valve-driven, metal distortion pedal. Read more
Electro Harmonix–the Electro Harmonix Bass Blogger Distortion Pedal is "the perfect dialog with your drummer". Like other Electro Harmonix pedals, the Blogger is encased in a durable metal box for rugged use. Read more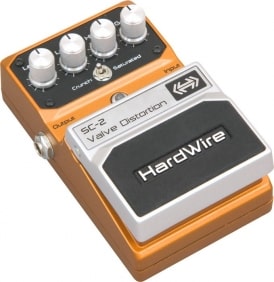 The moment you hold this pedal, you can tell that serious thought, and attention to detail, was put into its design and build. It has a heft that tells you it's built to last. And speaking to those details, the housing has beveled edges where you would find corners with chipped off paint on its predecessors. Read more