Nashville Flooding: Soundcheck Nashville Under Water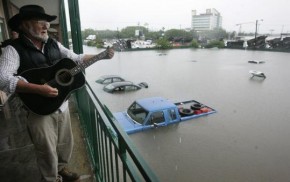 Nashville, TN, is Music City USA and is home to more great players and gear than possible any single place on Earth. With the recent 100-year flood that recently hit the Nashville area, many of our brother and sister musicians in town are feeling the disaster in ways that would be worst-case scenario for us and certainly must be for them. There are reports of damage to the Country Music Hall of Fame and the Grand Ol' Opry House, which are devastating to any fan of country music, but, for all us pickers and gear junkies, perhaps one of the most distressing losses in this whole event is the flooding of Soundcheck Nashville.
Soundcheck is basically the one-stop rehearsal, tour prep, storage, cartage, and rental shop for the Nashville music community. That means that pretty much everyone you've ever heard of stores their gear there and uses the Soundcheck folks to move it around for them. All that stuff is now under water, along with all of their rental gear. Police are not allowing access to the building and won't until the water recedes, so no one really knows the extent of the damage, yet.
It is hard to imagine the amount of gear that is soaking in Cumberland River water as of this writing. There have been some postings on other guitar forums of some of the losses, including Brad Paisley's touring rig and of bassist Keith Horne (Trisha Yearwood, Waylon, Easton Corbin) who estimated that 40 of his basses were at Soundcheck, along with many other items. No flood of this nature is ever a good thing, but this hits most of us pretty close to home.
We here at Gear-Vault send our thoughts and prayers to our Nashville kin and wish them and the city a speedy recovery. If your guitars and amps are high and dry today, you are one of the lucky ones, so have an attitude of gratitude; many in our community are not so fortunate. Anyone interested in staying updated on the situation can follow the flood blog on the Soundcheck website, www.soundchecknashville.com.
[% oiopub-banner-3-left %]