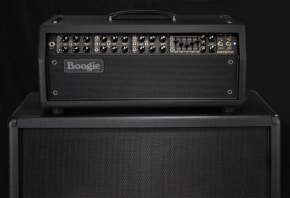 Mesa Boogie Mark V tone samples all compiled onto one youtube video for your hearing pleasure.
Mesa Boogie website states:
IT TOOK 40 YEARS of Randall Smith's experience designing high-performance tube amps to get this much TONE under one roof and keep it easy to dial. More than a collection of amplifiers, the MARK 5 is a living history of MESA's contributions and a tribute to the evolution of electric guitar tone.
THEY'RE ALL HERE: the MARK I, the MARK IIC+, the MARK IV… all these are faithful recreations that benefit from our decades of refinement and leave many saying they're better than the original! More than our Greatest Hits, you'll also find some new Brit-inspired circuits here that rival these classic Boogie sounds and are destined to become iconic on their own merit.
No less than 9 patents stand guard over your Tone… ensuring your investment will be protected and your amp will hold its value. (MARK II C's and MARK IV's still sell for more than their original purchase price). Beware of imitators!
Mesa Boogie Mark V 6L6 vs EL34