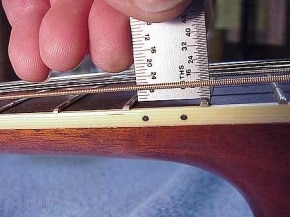 I've always wondered about the string action of my guitar. You've worked with some of the greats. What types of setups do they prefer: high, medium, or low? And how high is high? In inches? Do a lot of guys like low action and a straight neck? Do tell!

Shawn
xxxxx@aol.com
Hey, Shawn! Interesting questions. No two players I've worked with have ever been exactly alike—which doesn't seem like much of a shocker when you consider that the nature of the players and their personal interpretations of what they play. What you might find interesting is that the majority of pro players I've worked with prefer a string height ranging from low to medium-low.
What's also interesting is that the younger pro players I've known typically asked for setups with higher action. Strange, huh? My only stab at a theory here is that, based on what I've seen, players tend to go through a "maturation" process with their playing, and eventually become more precise and knowledgeable of how to achieve and span a broader dynamic spectrum. High action can make you work harder, and when you work harder the sound you make is actually harder and more aggressive. Chalk it up to testosterone. Still, it's my belief that younger players tend to exude a bit of a "bull in a china shop" approach when they want you to know that they mean what they're playing. And make no mistake—this is a cool thing. You've gotta love the sound of an aggressive attack properly applied.
The other factor to consider here is that some players have never had the luxury of playing guitar with a great setup. They don't know any better until they meet commercial success and someone shows then how well a properly set guitar can play.
To answer your question "How high is high?" I can definitely say it ain't in inches. To be honest with you, I've never taken a measuring device to a fretboard to determine what height the strings should be. For one thing, it's an individual and subjective measurement; more importantly, it's a matter of "feel." One of the nice aspects about playing guitar is that, after a while, you'll hopefully get intimate enough with your axe to know if it needs some tweaking. You'll be able to pick it up and say, "I think the truss-rod needs a touch more slack." It you're not there yet, don't worry. Just keep playing, you'll get there.
Guitar Bridge Adjustment Action Setup