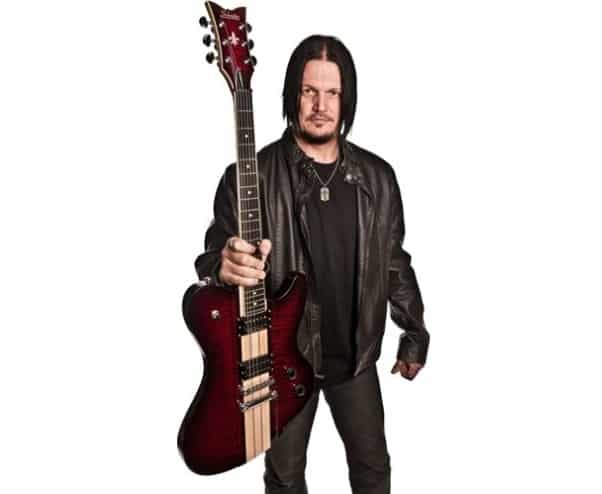 Schecter Guitar Research have officially joined forces with Disturbed guitarist, Dan Donegan. Dan first debuted his signature guitar at the 2009 winter NAMM show. While I'm not a huge fan of Schecter, I was excited to see how this ax turned out. Fast forward 4 years… Read more
Tags: schecter dan donegan model weight, washburn guitars, dan donegan guitar vault, красный металлик,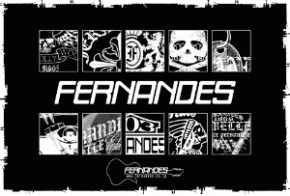 Although its body is reminiscent of a chubby Fender Jaguar; the Fernandes Native Elite is a decidedly modern guitar with a little hi-tech voodoo-namely Fernandes' proprietary Sustainer technology, which offers virtually limitless sustain and rich, controlled freedback. Based on the company's highly popular alder-bodied Native Standard, the Fernandes Native Elite features a basswood body with a faux flame top in a black burst finish and a 25-1/2" scale maple bolt-on neck. The comfortably full, rosewood-capped neck is smoothly fretted and sports the locking nut portion of the Gotoh made, Floyd-licensed trem system. The generous pearloid pickguard houses the electronics, which include two humbuckers governed by a three-way switch, master tone and volume controls and the Sustainer system. Read more
Tags: fernandes native, fernandes native guitar, fernandes native neck, fernandes guitar reviews, フェルナンデスネィティブエリート, mesa boogie titan v12 tube amp, Malden Guitars New Mexico, Fernandez Electric Guitar, Fernandes Native Elite, フェルナンデスネイティブエリート,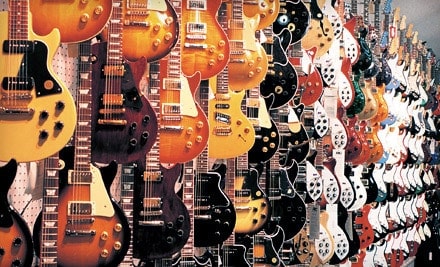 Guitars
arouse my crazy obsession, therefore, I am obliged to compile
5 top selling electric and electric/acoustic guitars
for our readers. Guitar companies manufacture a wide variety and styles of guitars and sometimes produce junk that's barely worth firewood, and other times produce the
ultimate guitar
that we can all appreciate. However, finding that perfect guitar is not always easy, but it's fun searching for it. If you are one of those players that is searching for a guitar that provides that sensuous feel that fills your pulse with vibrations of rhythm and melody; yet easy on the wallet, then read on.
Read more
Tags: best selling guitars, best selling electric guitars, what is the best selling electric guitar, BestSellingElectricGuitars|ElectricGuitarPrices|Gear-Vault, the best selling guitar, best selling electric guitar, Top selling guitars, top selling electric guitar 2011-12, Best-Selling Electric Guitars, top ten best selling electric guitars,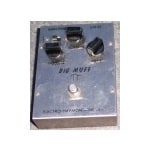 In the beautiful city of New York, the Big Muff, which acts as a guitar pedal that can distort fuzz sounds, became very well-known. The Muff was created, introduced and manufactured by Electro-Harmonic Company (EHX) together with its sister company, the Russian Sovtek. Primarily the Big Muff was used for electric guitars but later bass guitars also were able to make use of such a powerful yet tiny machine. The Big Muff guitar pedal was invented by Mike Matthews and introduced in the early 1970s. Carlos Santana and David Glamour were the two artists who first used this guitar pedal. Read more
Tags: 1971 big muff pi price guide, big muff delux pedal year, big muff guitar pedal, pedal guitar,
Whether its the hands of a sculpture, the pen of a writer, or a voice of a singer, the ability to shape an artistic medium contributes wildly to the captivating nature of art. Nowhere is the impact of shape more relevant than in the
history of B.C. Rich
, an all American guitar company. Like any successful company, the founder, Bernado Chavez Rico, had a strong personal connection with his product, a connection which helped him to understand the colossal significance of shaping both tone and design in modern day music. As a celebrated Flamenco and Classical style guitarist, Bernie's knowledge of the extreme degrees of tone, playability, and uniqueness demanded by top notch
musicians
from their instruments certainly played a consequential role in developing what would become choice company of Aerosmith, Slayer, and numerous other players. But famous clients such as these are not how B.C. Rich began; no, it began instead in a cramped workroom in East LA.
Read more
Tags: bc rich, bc rich guitars history, b c rich perfect 10 bich 10 string electric guitar, Vintage B C Rich, older bc rich guitars v style, joe perry 1970s photos, how to set the action on a BC rich guitar, bernie rico sr, BCrich LA serious set up, bcrich guitars,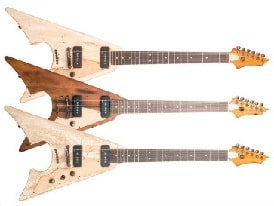 Legendary guitarists like Randy Roads of Ozzy Osborne played V-shaped guitars; their extreme edge appearance brings the meaning 'axe,' which explains why so many metal guitarists prefer them. They're unique looking, give a tight heavy sound and just look metal. The Badwater Jacknife guitar is yet another radical—V-shaped—guitar, but unlike many others, is geared toward guitarists on a budget, while giving more features than other economy V-shaped guitars. Most metal guitarists will enjoy this guitar's unique, vintage-style design and groovy sound. Read more
Tags: axl badwater jacknife review, review of the axl badwater jacknife v guitar,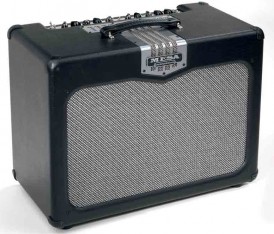 Here's a great review by our friends over at musicradar.com, here's what they had to say about this rockin' lil' amp – It wasn't long ago when we first tested the Mesa TransAtlantic TA-15, well now bigger brother, the TA30, is here.  It's called TransAtlantic because it spans classic British and US tones, specifically Vox-inspired when it comes to cleans and crunches in channel one.
Then in channel two it's a brief sojourn into mid-gained Marshall territory (Hi One) flanked by Mesa Boogie's more common post-Fender clean (Tweed) and high-gain tones (Hi Two), direct from the US of A: five modes in total.
The main rotary controls are straightforward; the only one requiring further explanation is the cut/master in channel one. When pulled out it's a master volume for the channel, and when pushed in becomes tone cut (essentially a master presence) control very similar to what you'd find on a Vox AC30. Read more
Tags: mesa boogie transatlantic review, mesa boogie transatlantic ta-30 review, mesa boogie ta-30 review, mesa ta 30 review, Review of Mesa ta30, mesa transatlantic review, Mesa Ta 30, mesa transatlantic 30 review, Review of Mesa boogie transatlantic ta30, reviews mesa ta 30,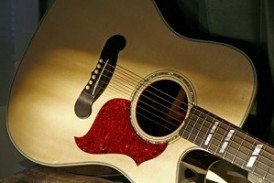 Hallelujah Chords The Easy Way
This is a magnificent song off Buckley's debut 1994 "Grace" album. The original was by Leonard Cohen. However, we transcribed 'Hallelujah' from Jeff Buckley's version.
The Leonard Coen hallelujah has had a slight resurgence in the last few years with over 100 cover versions performed by such artists such as Bob Dylan, Bon Jovi, Rufus Wainwright, and Bono just to name but a few.
As for which version of the song is better, well, I guess we'll leave that up for you to decide. But for this latest resurgence of a 24 year old work, it must be the Cohen Hallelujah. After been swindled out of millions by his manager he'll certainly appreciate the paycheck. To that, I'm sure he'll say… "hallelujah". Read more
Tags: hallelujah chord, HALLELUJAH tab, hallelujah chords, guitar, list of guitar chords, GuitarTabs|Gear-Vault, guitar tab hallelujah, guitar tabs capo version hallelujah, list of all chords in guitar, leonard cohen hallelujah kotta,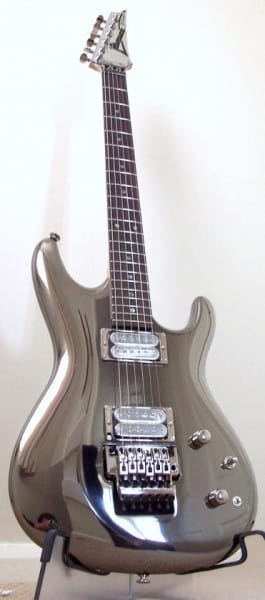 The Ibanez JS2PRM is an extremely unique and extremely rare instrument in the guitarworld. The JS2PRM—PRM stands for (Premium Rock Mirror)—which is a high-tech finish that was designed to look as if it was carved from a solid chunk of polished metal.
In 2005, the JS2PRM was Ibanez's third attempt to recreate the chrome guitar. Ibanez's first two attempts, the JS2 and the JS10th, both were unsuccessful due to finish problems. The process of bonding a chrome finish onto a wood bodied guitar is an extremely difficult process. The JS10th (2nd attempt) a luthite body was used, which is similar to plastic, and the results were better than the original JS2 Chromeboys, however, they were still beset by water marks and peeling and sounded nowhere near as good as the basswood body. Read more
Tags: IBANEZ JS2PRM JS2 PRM JS JOE SATRIANI, ibanez js2prm review, joe satrani inveils his new jsx 50, joe satriani jsx50, mirrored finish guitars,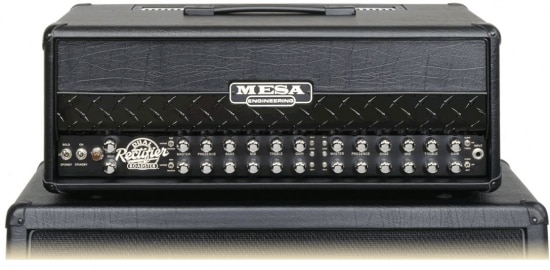 The almighty Mesa Boogie Roadster is a great sounding and versatile amp that is designed with the plug-in-and-play guitarist in mind. It is a brother to the Road King amp and is basically the same as the RK minus Mesa's Progressive Linkage technology and some other back-panel features that some feel a player needs an advanced engineering degree to operate.
The Roadster gives less tech-friendly players a number of foot-switchable options to craft their tones with, without the anxiety of tons of power amp features they don't understand. The Roadster's channels one and two give up classic clean tones that can be duplicated across both channels for rhythm and lead applications. They also have TWEED and BRIT modes that work with the mid frequencies to get classic American blues and British rock sounds from clean to clipped. These two channels would make a great sounding and versatile amp all by themselves. Channels three and four offer players all the legendary tones found in Mesa's Dual Rectifier Solo heads and contain all flavors of gain from mild to wild. Again, the sounds can be cloned across the channels for ultimate tonal control. Read more
Tags: mesa roadster, mesa roadster head, mesa boogie roadster head review, Mesa Boogie Roadster Review, mesa roadster videos, Mesa/boogie Roadster schematics,