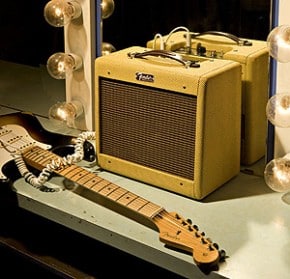 The introduction of Fender amplifiers almost coincided with the company's electric guitars in the mid 1940s. The earliest venture into the amp market by Fender was marked by the production of what they named the "Tweed Amps" which had an output ranging from three to seventy five watts. However, these amplifiers had an inbuilt Read more
Tags: fender amps history, fender amp, early fender amplifiers, history of fender amplifiers, peavey 410 ultra,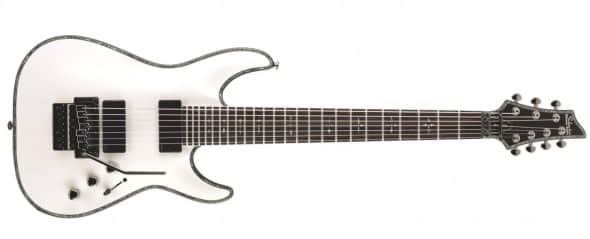 Baggy pants? Check. Pimpin' Adidas? Check. Natty dreads? Check. Turntable-thrashin' DJ? Check. Seven String? Hello? Seven String?
Even if you've got all of the other required accouterments, you'll be hard-pressed to make it big with that psychotically low, funky, hard-music grind that's all the rage these days if you're not packing a seven string. In the past, chugging on the low E string used to be enough to make you a contender. But now, with bands like Limp Bizkit mining sinister new veins of metal and settings a new standard for heaviness, you're likely to be written off as a lightweight if you can't summon up that deep, spongy rumble. Until recently Ibanez has been the only mass manufacturer of seven-string solidbodies, but the Schecter Diamond and Hellraiser Series offers a new, affordable contender for players who want to hit below the belt. Read more
Tags: jackson t1000, shecter, schecter, schecter hellraiser, gary holt scalloped, Peavey 412MS Review, schecter 7 string, schecter diamond 7, schecter diamond series hellraiser korea,

Carvin is thrilled to introduce their latest model, the ST300. This new model offers the features and choices of Carvin's contemporary Custom Shop guitars with the timeless body shape that they offered back in the early 1990s. The body is more circular than the legendary DC series and has a waist and forearm cutaway for playing comfort, as found on the Contour 66. The Carvin ST300 model reflects Read more
Tags: carvin st300, carvin, carvin st300 review, carvin guitar, carvin st300 reviews, carvin guitars, st300 吉他, used carvin guitars, Carvin C66 reviews, carvin ST3000,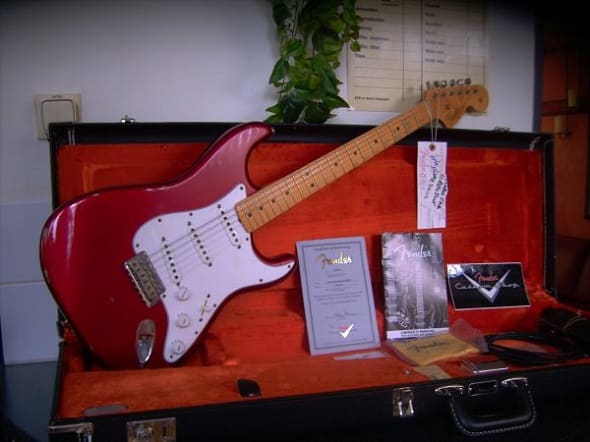 Talk about the holy-grail of guitar giveaways, here is your opportunity to win a Fender Custom Shop Closet Classic Stratocaster. Wow! This giveaway ends on September 13, 2013. The winner will be announced Tuesday, September 17. YOU MUST BE CONFIRM YOUR EMAIL TO BE ELIGBLE! Read more
Tags: guitar amp gear giveaway contests, custom classic stratocaster, fender cs custom classic stratocaster, rever com custom shop strat giveaway, win a stratocaster,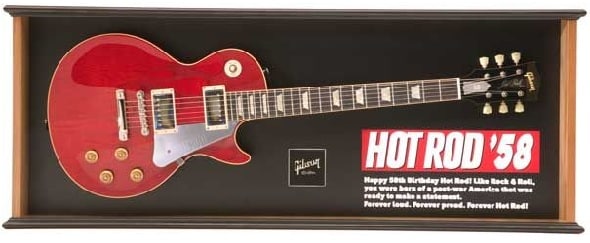 Hey GearVault readers, awhile back I randomly signed up to a guitar giveaway that I found on the net. I figured it was a waste of time because I NEVER win anything (hence, why I don't play the lottery =). A month or so later I received an email saying I had won their contest and they shipped me a Gibson Les Paul Studio equipped with P90s and a Fender Deluxe combo amplifier. I was delighted! Though I already have my own gear, I just gave this stuff to my nephew so he could learn to play guitar. After feeling lucky, I downloaded an auto-fill extension to my browser (in my case Firefox) and signed up to a bunch other gear giveaways, it literally took 5 seconds and the effort involved one click of the mouse. About a month later I received a Maxon OD808 pedal in the mail.
So this gave me an idea! I decided to report every guitar/gear giveaway to you, GV readers, so you can get in on action! Of course since I have my handy-dandy auto-fill extension connected to both my FireFox and Chrome browsers, one click the mouse BAM! I am entered in these giveaways too… However if I win, I don't need the guitars and gear as I have my own setup, I would rather give GearVault readers any merchandise I win! So when I win gear I will pass the equipment on to a dedicated GV reader. If you are not on GV's mailing list, then obviously your email won't be there to get selected for a chance to win, so you are going to want to sign up to the Feedburner mailing list below and activate it to prove your email is valid. If you fail to validate your email then it won't show in our system and you will miss out on the chance to win. Another really cool thing is when you are on our Feedburner mailing list, you will get notifications of cool giveaways and hot news, but don't worry, like you, I hate spam mail… so you don't have to worry about that!
Enter to Win Guitar Giveaways 4 Life!
As well as receive other Guitar & Gear News!
Disclaimer:
By entering above you agree to receive mail from GearVault. You will not only be registered in our system to win free shit, but you will also get updates about guitars, guitar songs, interviews, news and other cool state of the music gear.
Only valid users are eligible to win.
Tags: guitar giveaway, i wan to win a guitar, TipsHowToIncreaseYourChancesatWinningGuitarsOnline|Gear-Vault,


Both here at GearVault and elsewhere in the guitar playing community, the name Malden has been developing a great deal of hype in the last several years. The company first gained widespread exposure through their December 2010 closeout deal. During this deal, Malden practically gave away their entire preexisting stock, which had been created somewhere in Asia. They then reinvented themselves in New Mexico as a high end, American boutique brand with a state of the art custom shop. It would be during their first tender months pumping out guitars through their custom shop that I initially came into contact with the company.
Soon (very soon to be honest) after I had seen a local listing for a perfect condition Malden Mozak, I became enamored. Originally in the market for a new Tele or some sort of hollow-body, the sleek Jazzmaster style design of the Mozak unexpectedly piqued my interests, and nearly two years later I do not regret my decision at all. I'm giving this history to explain the bias I have in this review; however, I will try and make it as fair as possible. This review will be conducted using a Vox Valvetronix AD60, though the focus of this review will be much more on the aesthetic and natural sound of the guitar. Now that that's out of the way, let's dive into and explore this stellar guitar. Read more
Tags: angled pickup guitar, jazzmaster guitar body, malden guitar articles, malden guitars production, malden karma guitar, malden mozak, malden mozak guitar sale,

Oh man oh man oh man. Isn't this a fun one? Today we are going to be examining the top 5 most underrated guitars of all time. That's right, no longer are you going to have to hear the utterly outrageous claim your drinking buddy constantly makes that his Mayones Regius 6 Mosiac is the best guitar ever gifted upon mankind. You should hear it through his Orange half stack, the tone is so dark it could only have been crafted in the fires of Mt. Doom. Read more
Tags: best under rated guitars, most underated guitars, most underrated guitar brands, top 5 rated electric guitars, underated electric guitars, underrated electric guitars, what are some great underrated electric guitars,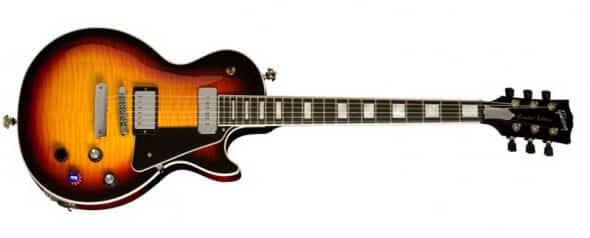 Gibson brings innovation to Robot Guitar tuning technology with the Les Paul Standard 2010 Limited Electric Guitar. Les Paul, Gibson, and the Les Paul guitar have always been about innovation. With a legacy as one of the most versatile electric guitars available, the robot Les Paul knocks versatility right off the charts, courtesy of Gibson USA.
With Robot Guitar automated tuning capabilities, 2 different but seminal magnetic pickups, a piezo-loaded bridge, and Chameleon Tone Technology courtesy of its Master Control Knob (MCK), the Les Paul Standard 2010 Limited packs a dizzying array of sonic capabilities, all primed to unlock your inner creative potential. From the raw, biting crunch of a hot, chrome-covered, hum-canceling P-90H in the neck position and the sizzling wail and punch of an overwound BurstBucker 3 in the bridge, to the subtle acoustic response of its piezo bridges saddles — and any conceivable blend of the three, accessed instantly from the MCK — the Les Paul Standard 2010 Limited really does pack all the tonal colors of the rainbow. And to keep it all sounding true, Gibson's exclusive Robot Technology puts you perfectly into tune in seconds at the push of a button, or shifts you into any of a countless number of open and alternate tunings, all accessed at your command. Read more
Tags: gibson fireball for sale, 2010 gibson lp fireball, fireball les paul, gibson fireball robot firewire, gibson les paul headstock, gibson lp fireball, тюнинг les paul,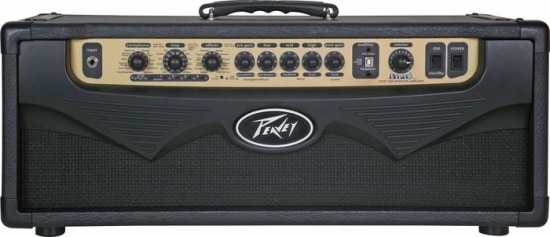 Since 1965, Peavey has built a reputation for making awesome guitar amplifiers, and they continue to evolve under the guidance of the company's founder, Hartley Peavey. Their reputation has been solidified with a series of amazing amps, such as the 6505, JSX Joe Satriani signature amp, the Valve Kings, XXX, the Classic series, the Windsor, and others. In the non-tube amp category, their patented TransTube technology is almost indistinguishable from real tube-driven amps, setting the standard for performance, tone, and affordability. And now, with their VYPYR series of amps, Peavey finds themselves at the forefront of the modeling amp race as well. Read more
Tags: how many tubes are in a peavey vypyr75, peavey tube power sponge, peavey vypers, peavey vypyr sounds great, vyper verses windsor, who knows anything about peavey amplifiers,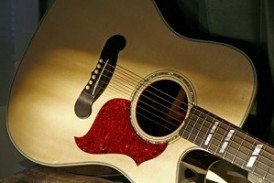 Hallelujah Chords The Easy Way
This is a magnificent song off Buckley's debut 1994 "Grace" album. The original was by Leonard Cohen. However, we transcribed 'Hallelujah' from Jeff Buckley's version.
The Leonard Coen hallelujah has had a slight resurgence in the last few years with over 100 cover versions performed by such artists such as Bob Dylan, Bon Jovi, Rufus Wainwright, and Bono just to name but a few.
As for which version of the song is better, well, I guess we'll leave that up for you to decide. But for this latest resurgence of a 24 year old work, it must be the Cohen Hallelujah. After been swindled out of millions by his manager he'll certainly appreciate the paycheck. To that, I'm sure he'll say… "hallelujah". Read more
Tags: HALLELUJAH tab, hallelujah chord, hallelujah chords, guitar, hallelujah lyrics and chords, hallelujah chords and lyrics, hallelujah they say your love is stronger lyrics and chords, lyric and cutiar chord hallelujah, lyric of hallelujah by bonjovi with chords key of c, HallelujahChordsw/TabandLyrics-JeffBuckleyVersion|Gear-Vault,