Mom & Pop guitar shops are a treasured rarity in the fast-paced world we find ourselves living in today. Screw Guitar Center! Check out Gear-Vault's Must-Stop Music City Mom & Pop Guitar Shops in the Nashville area that ooze that Southern hospitality we all crave!
Gruhn Guitars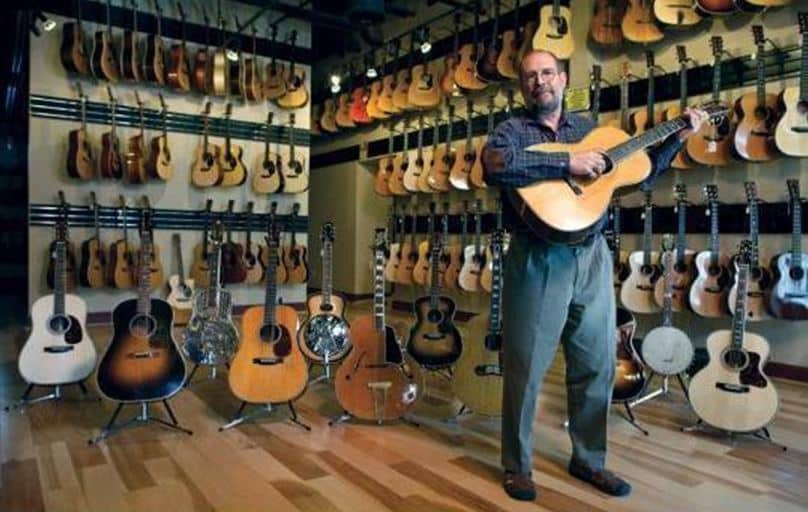 Read more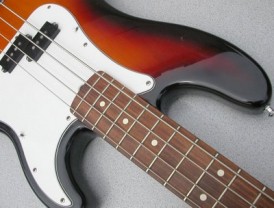 Fender's Precision Bass has long been the industry standard in electric bass guitars. If you're reading this article, this isn't anything you haven't heard before. However, it seems nowadays the simplicity, durability, and thunderous time-tested growl of this instrument has fallen slightly out of favor, and we see more and more bassists relying on the active EQs, hyper thin necks, and high output pickups of the type that the Ibanez Soundgear series originally made popular. Read more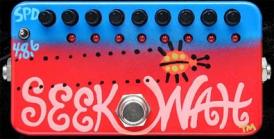 So there you are, sitting in from of your digital recorder, trying to work out an overdub. Problem is, you keep going back to the same stock phrases. The same thing happens at practice when, while running through your band's newest song, you suddenly realize you're falling back on all your old, familiar tricks.
We all fall into creative ruts once in a while, and while opinions on the cause may vary, everyone seems to agree that nothing breaks you out of a funk like a cool new toy. And while that '68 Strat in the store window could certainly get you excited again, the right effect could actually improve or expand your playing style, and it wouldn't cost you nearly as much. Read more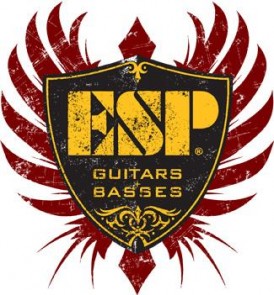 Electric Sound Products (ESP) Company was created in the year 1975 by Hisatake Shibuya, a resident as well as a businessman from Tokyo, Japan. Shibuya started as a manufacturer and a producer for the replacement parts of guitars. This firm was very well known for the high-quality parts. After a year of gaining such reputation, ESP started to engage with the designing and creation of guitars. ESP entered the Japanese market, later expanded and took their chances into the global market of guitar industry. Entering the US market in the year 1983, ESP Company started designing for local artists in New York from 1984 to 1985 where they had already introduced about 400 Series as their primary introduction of products in the US market.
Among the local artists were Ronnie Wood of the Rolling Stones, Page Hamilton of Helmet, Bruce Kulick of KISS, Vernon Reid of Living Colour and Vinnie Vincent. Creating and producing guitars for these artists was there effective way of becoming more popular with bands from other countries. At the same time, ESP Company also started to make the necks and bodies of Kramer. During a tour in Tokyo in the year 1986, George Lynch found out about ESP guitars when he walked into one of the shops, looked around for a replacement part and later, he found out that ESP Company is able to customize guitars. Read more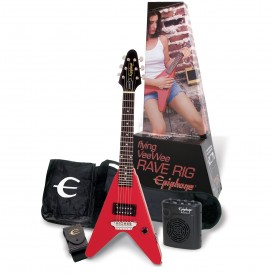 Most of us readers at Gear Vault remember what age we started playing guitar and what kind of guitar we played. But many parents are stumped on which kids guitar to get their youngster. Rather then buy your child the ever so popular 'Guitar Hero' TV game system, why not persuade them to play the most popular American instrument, the guitar. Hopefully this article will shred light on a difficult decision on which kids guitar to purchase. Read more

When considering which overdrive pedals belong on the Mount Rushmore of guitar gear, we here at Gear-Vault took one major consideration into account, which is tone. Let's face it – overdrive is overdrive, and has been since studio musician Grady Martin continued playing despite a faulty pre-amp circuit in the console of a Nashville recording studio in 1961. The nuances of distortion, and opinions about its place in music, have been fine-tuned ever since. This list leans toward pedals that the average musician can afford – the exotic special effects pedals that so few serious artists ever really use anyway are excluded. This list is intended to let you know which pedals might be best for your sound, with the number of pedals sold not having too much influence on their ranking. One caveat for all: None of the following pedals come with earplugs, the use of which is strongly encouraged for the proper use of these smoking guns. In reverse order: Read more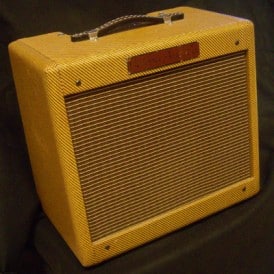 The Victoria Amplifier Company is know far and wide for crafting some of the finest tube amps available today. Company founder/tone guru Mark Baier has a sterling reputation for his 50's Fender Tweed recreations as well as his original amp designs and has seen his amps used by players like Eric Clapton, Billy Gibbons, Steve Cropper, Charlie Hunter, and Greg Koch.
One of Victoria's most popular models is the 518, which is Vic's version of a 50's Fender Tweed Champ. It delivers five blistering watts into a single eight-inch speaker via a 5F1-type circuit. Tubes employed on the Victoria 518 are one 5Y3WGTA, one 6V6GT, and one 12AX7. The speaker is either a Jensen P8R or C8R. The 518 is as pure and simple as an amp gets, with only one knob on its control panel that turns it on and controls its volume. There are no EQ knobs of any kind. The tone coming out is determined by what kind of guitar is plugged into it. Read more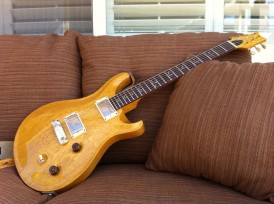 White Korina wood, also known as African limba, provides a thick solid tone much like mahogany wood is known for. Korina wood is also the same high-quality wood used for many of the early [Gibson] Flying Vs and Explorers that now demand such high dollar. Notably, a Korina wood Ibanez Destroyer guitar had played a large part in Eddie Van Halen's legendary "brown" sound. A nice piece of lightweight wood, like the ones used to construct the Korina McCarty guitars, provides renowned dimensionality and depth, screaming highs, rich rounded mids, thick lows while providing vocal-like velvety warmth backed with tremendous sustain.
The Korina McCarty's body is carved from sold slab of Korina wood, as is the 22-fret thick-wide neck. For those who have not played the liked PRS carved neck, it's a beefy C shape that's positioned into the 25-scale body. The chrome-covered McCarty humbuckers are similar to the highly commended humbuckers in the standard McCartys, and a Duncan-wound soap-bar is offered as an option for those who want something a little more unique. Vintage style tuners and a fixed aluminum bridge add a touch of sparkle to the Korina McCarty's highs. Read more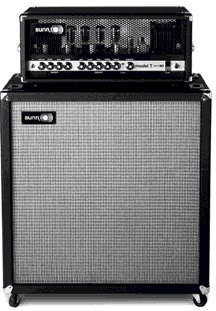 Like all great inventions, the first Sunn amps were born of necessity. After the Kingmen stormed the charts in 1963 with their megahit "Louie, Louie," the group's bassist, Norm Sundholm, found that his amp wasn't nearly loud enough for the large venues into wich his band was suddenly booked. He turned his brother Conrad for help, and by 1964 the pair had designed the world's first high powered bass amp. The next year, with rock experiencing a massive growth spurt, their Sun Musical Equipment Company was well on its way to a place in the rock music history books, supplying rock band from Cream and the Who to Queen and Kiss with thundering stacks of loud, reliable gear. Now, over a quarter-century after its birth, Sunn, which was purchased by Fender in 1985, is taking a second stab at rock greatness. If the Model T is any indication of great things, just look at some of the equipment Sunn had pulled off. Read more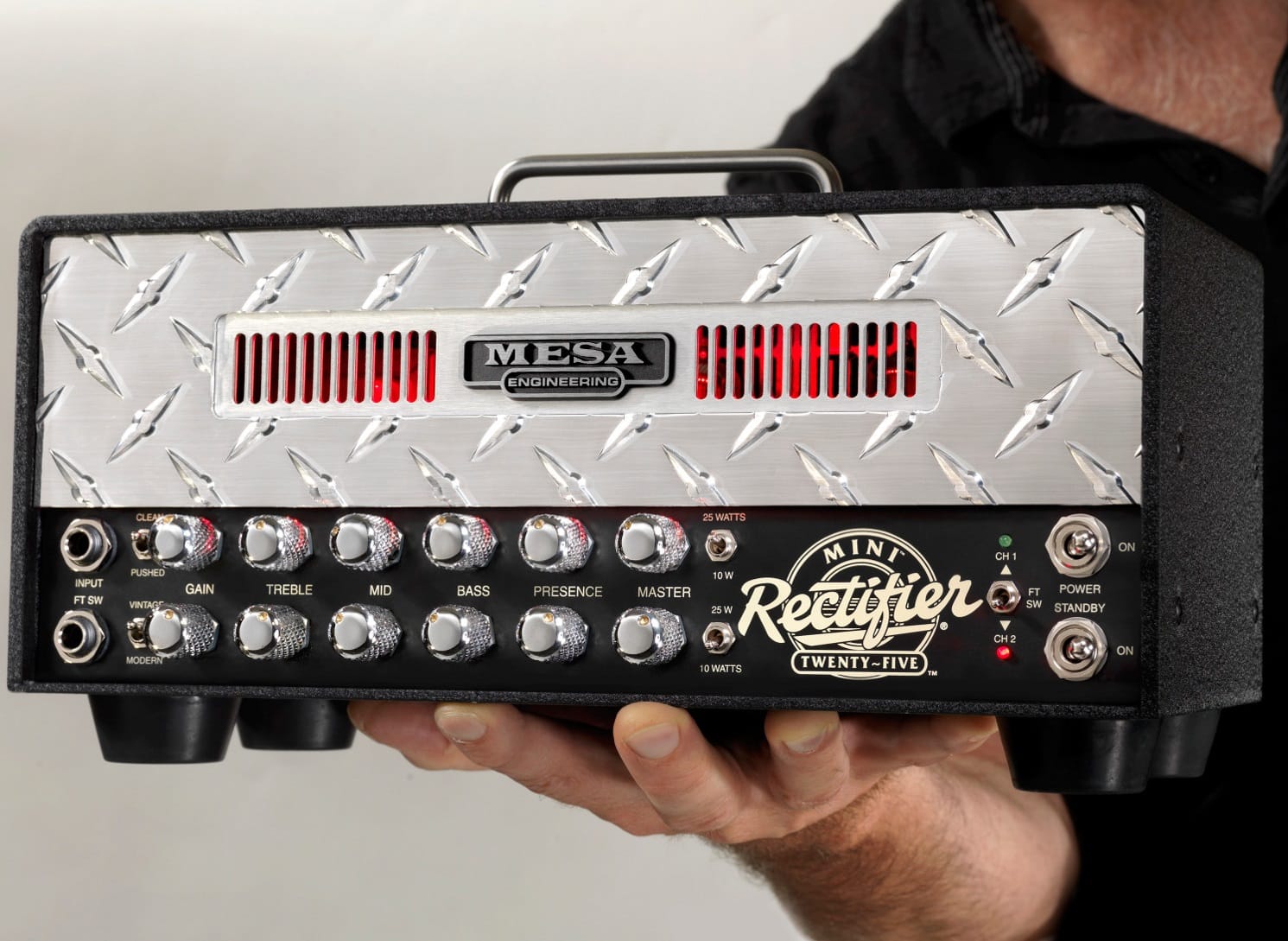 Looking at this device, the only thing that may come across as 'mini' about the Mesa/Boogie Mini Rectifier Twenty-Five amplifier for a guitar is the size. However, you will not believe the great things that it comes packing. It is powered by an EL-84 head that provides you with 2 channel and a 4-mode operation that provides you with complete control over your tones. The two channels provided enables you to switch between 25 watts and 10 watts making it a perfect amplifier for a practice room, a studio and even the stage. Taking a closer look at the mini, you will appreciate the built in effects, the footswitch as well as the aluminium enclosure that it comes in. to learn more on the equipment, read on. Read more