Why Does Bugera Amplifiers Copy Other Guitar Amps?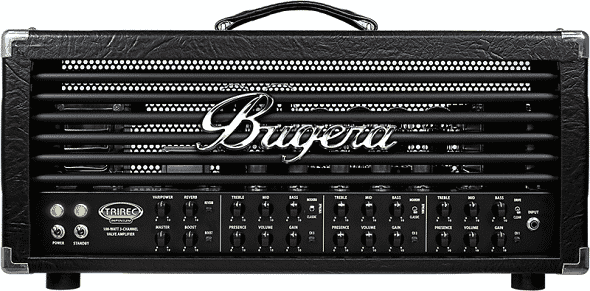 Generally speaking, the guitar market is similar to every other market, in that it functions and relies on the basic principle of "You get what you pay for."
However, the days of this age old, but sound principle might be numbered.
Specifically, I'm talking about the Bugera TRIREC, their take on the Mesa Triple Recto. At least that's what many are saying.
Now, I know what you're thinking; "Oh God, not another mindless article about Tube vs. Solid State."
No, my thoughts on this issue won't be more drivel on wattage, and valves, but will focus more on tapping in to what's really important: The Players. What they think of this, their thoughts, their ideas, likes and dislikes, etc..
"DEAR GOD."

"Words cannot explain how excited I am right now… seriously."

"I've been in love with Bugera's for a while, and I have a single rec. I might have to get this bad boy…"
These are the words of a clearly excited player, and I can see why. Bugera, while having copied other amps before, still bear the reputation of a company that exists to serve its players. In short, they are not your run of the mill, crank-it-out-and-make-a-profit organization. Going even further than that though, here is one pro I can see already—If this amp lives up to their earlier creations, it could break serious ground for the average gearhead. Quite often, I see gear go as high as $5000 dollars, when really, its chief aim is to make money; nothing more.
One thing some don't take into account is that not everyone has a lot of money to throw around on gear. I never did, and few people in my musical circles didn't either. That's not to say everything should be dirt cheap and the manufacturers should be doling out charity gear, but still, should one amp equate the cost of a used car, or more? I'll leave this one up to you guys, I'm sure it's a question that will ring for years to come.
There is a flip-side to this coin though; not everyone is a fan of Bugera, and certainly not a fan of the uncanny resemblance to the Mesa Series.
"You pay for quality parts and quality workmanship. If you don't want to pay the premium for a new product, then buy it used. Save up your pennies and pay up for the quality stuff or continue to enjoy the world being overrun with Made in China pieces of shit."
Well, as far as tone, this amp should be no different than anything else. Bugera is a solid company, who has a good reputation, both on quality, and price. So what this boils down to is this: Is it right to make a not-so-subtle version of the Mesa Triple Recto? Or is it fair game? And secondly, is this going to be a quality piece of gear – a force to be reckoned with? Or will it falter?
Personally, I have only played a handful of Bugera amps, and this isn't one of them. Which is where you all come in, my gear minions!  Myself as well as the others here at Gear-Vault want to hear your voices! What do you think? Have you played one? What are they like?
Bugera TRIREC