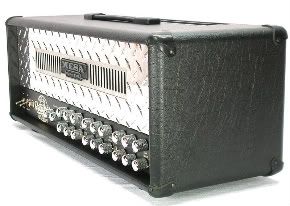 One amplifier that is highly thought of in the rock guitar community is the Mesa Boogie Dual Recto. Despite its high price tag, many guitarists swear by this amp. Read more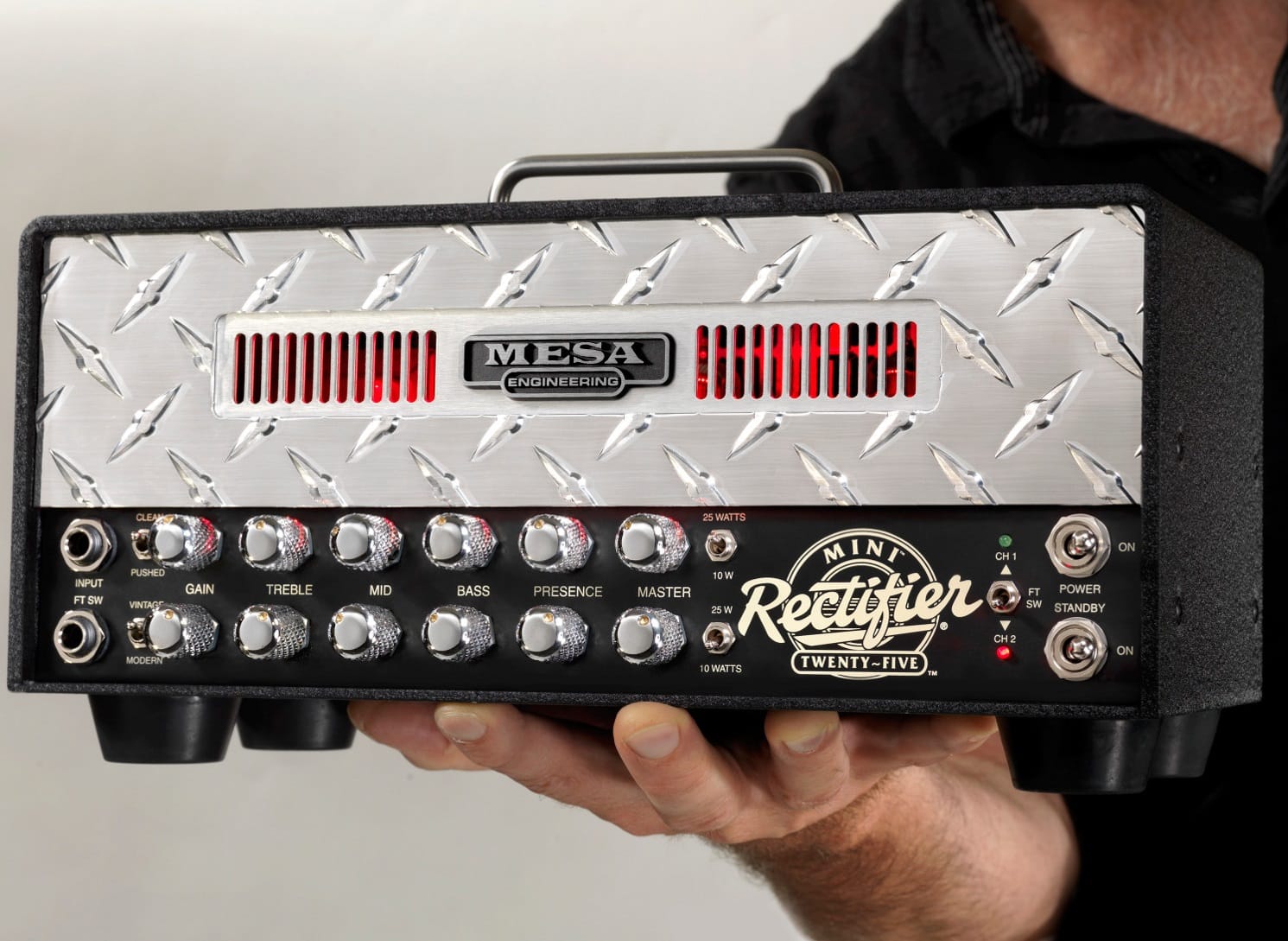 Looking at this device, the only thing that may come across as 'mini' about the Mesa/Boogie Mini Rectifier Twenty-Five amplifier for a guitar is the size. However, you will not believe the great things that it comes packing. It is powered by an EL-84 head that provides you with 2 channel and a 4-mode operation that provides you with complete control over your tones. The two channels provided enables you to switch between 25 watts and 10 watts making it a perfect amplifier for a practice room, a studio and even the stage. Taking a closer look at the mini, you will appreciate the built in effects, the footswitch as well as the aluminium enclosure that it comes in. to learn more on the equipment, read on. Read more
Roland launches the most powerful guitar amplifier in the CUBE-Series lineup, the new Roland CUBE 80X guitar amplifier expands on Roland's top-selling CUBE-60. The Cube 80-X delivers a massive 80-watts of power through a 12-inch speaker, and features a switchable clean and lead channel designed from its renowned predecessor, CUBE-60 series.
Roland Cube 80X Guitar Amplifier
Not only does the Roland CUBE-80X offer more power, it adds exciting new features to the guitarworld of portable amps, including a new "Looper" function and "Solo" function with memory capability. The direct recallable SOLO function stores the settings of each and every LEAD channel control, allowing you an easy to use third channel option. In addition, the boost feature can be toggled via the footswitch. Ten onboard COSM amp models include the new "DLX COMBO". Also onboard the CUBE 80X is six classic Roland effects with independently controllable reverb and delay, including a model of the classic spring reverb for a natural sound. Read more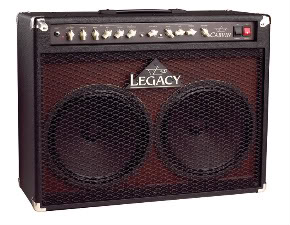 We were more than a bit surprised when this underrated, business-like amp slipped from its cardboard carton. No fluorescent floral Tolex? No trans-dimensional quantum drive? Not even a monkey grip? Steve Vai designed this, didn't he? Read more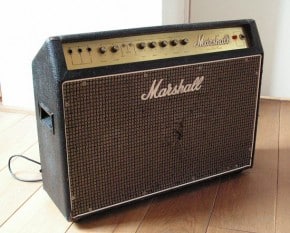 Continued on from "Gibson Firebird Guitar Born 1963"
Of course the electric guitar wouldn't have developed at all had it not been for amps. And the guitar amplifier would never have come into being had it not been for Mr. Lee De Forest, who invented the vacuum tube Read more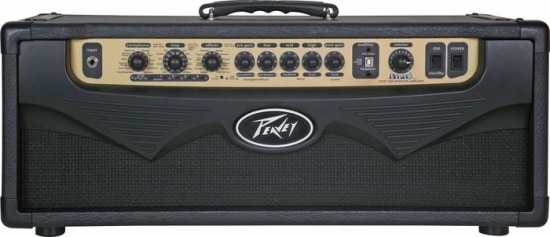 Since 1965, Peavey has built a reputation for making awesome guitar amplifiers, and they continue to evolve under the guidance of the company's founder, Hartley Peavey. Their reputation has been solidified with a series of amazing amps, such as the 6505, JSX Joe Satriani signature amp, the Valve Kings, XXX, the Classic series, the Windsor, and others. In the non-tube amp category, their patented TransTube technology is almost indistinguishable from real tube-driven amps, setting the standard for performance, tone, and affordability. And now, with their VYPYR series of amps, Peavey finds themselves at the forefront of the modeling amp race as well. Read more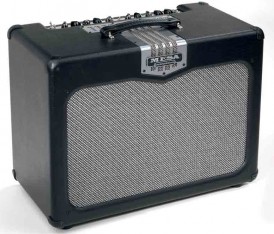 Here's a great review by our friends over at musicradar.com, here's what they had to say about this rockin' lil' amp — It wasn't long ago when we first tested the Mesa TransAtlantic TA-15, well now bigger brother, the TA30, is here.  It's called TransAtlantic because it spans classic British and US tones, specifically Vox-inspired when it comes to cleans and crunches in channel one.
Then in channel two it's a brief sojourn into mid-gained Marshall territory (Hi One) flanked by Mesa Boogie's more common post-Fender clean (Tweed) and high-gain tones (Hi Two), direct from the US of A: five modes in total.
The main rotary controls are straightforward; the only one requiring further explanation is the cut/master in channel one. When pulled out it's a master volume for the channel, and when pushed in becomes tone cut (essentially a master presence) control very similar to what you'd find on a Vox AC30. Read more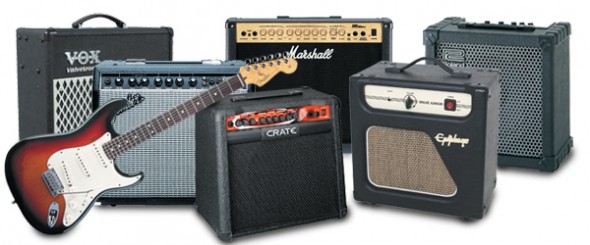 Given the variety of instruments and to top that the number of brands that are available can make selecting the right Guitar Bass Pedal a real nightmare! This guide will attempt to make your buying easy and simple for you. For the most part you only need to go in for the amplifier that falls within the price range within which you are willing to operate, compare a few products that are available and you are pretty much set. Read more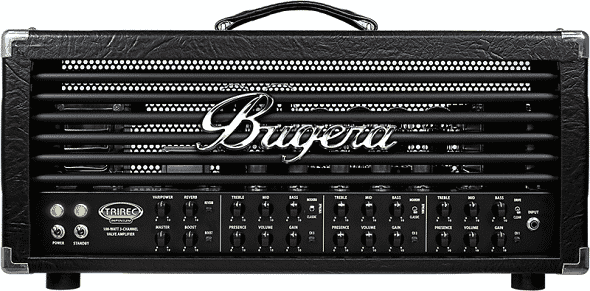 Generally speaking, the guitar market is similar to every other market, in that it functions and relies on the basic principle of "You get what you pay for."
However, the days of this age old, but sound principle might be numbered.
Specifically, I'm talking about the Bugera TRIREC, their take on the Mesa Triple Recto. At least that's what many are saying.
Now, I know what you're thinking; "Oh God, not another mindless article about Tube vs. Solid State."
No, my thoughts on this issue won't be more drivel on wattage, and valves, but will focus more on tapping in to what's really important: The Players. What they think of this, their thoughts, their ideas, likes and dislikes, etc.. Read more
Carlsbro is among the most famous names in British guitar amplification and has been designing and manufacturing guitar tube amps since 1959, selling its early models to Jim Marshall's shop in Denmark Street, London's famous 'Tin Pan Alley'.
The famous 50 Top and TC series revives the Carlsbro tube heritage, with uncompromising build quality, hand selected components and authentic vintage tone throughout. The 50 Top head and 4 x 12 cab are available in classic red and black liveries, while the TC series comprises three classic combos and a 15 watt head and 1×12 stack.
The re-issued 50 Top is the classic Carlsbro tube head and cab of the 60s and 70s revamped and re-engineered to even higher build standards and sonic performance. The new twin channel amp head has switchable channels & two master volumes, which are footswitchable.
The valve complement of 4x 12AXT's and 2x EL84's give 50 watts of incredible power at 8? or 16?'s. The preamp has a host of features including Hi and Low sensitivity inputs, 3 band EQ using Silvered Mica Capacitors, and 'Sleep Mode' automatic muting with no input present. Tough ply construction, with durable covering and metal corners are essential for road use. Jack outputs are 2 @ 8? and 1 @ 16? allowing a wide choice of cabinets. Read more