Epiphone Les Paul: Made in China vs Made In Korea?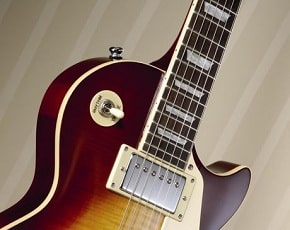 If you want a guitar that has a good sound and won't leave you begging on the street for spare change, the Epiphone Les Paul is a popular choice. But one of the ongoing questions is whether there's difference between those Made In China and the guitars Made In Korea and which you should be looking at buying.
When you're first starting out as a guitarist, what kind of guitar you have isn't particularly important. If you know exactly one chord and can only hit it half the time, a quality guitar isn't going to make a damn bit of difference. You're still going to sound like crap.
There will come a point, though, when you need a better guitar, because your sound will suffer. Plus, this is going to be the time when you want to get something that looks cool because, frankly, half the fun of playing is looking awesome when you do it.
Of course, if you're like most guitarists, you don't have a ton of money to spend on your guitar, either. You need that money for beer and women (or men). So what you're looking for is something that sounds good, looks good, and won't break the bank, which brings us to Epiphone Les Paul.
If you think of an electric guitar, the picture you have in your head is probably a Gibson Les Paul. Guitar legend Les Paul first designed the electric guitar that bears his name back in the fifties, and the guitar is still iconic.
They are also, generally speaking, some of the most expensive guitars on the market. The Gibson models can easily run into the thousands of dollars, putting them well outside the budget of a lot of people. Fortunately, they aren't the only option in town.
The Epiphone company makes its own version of the classic Les Paul, but they cost a whole lot less. This is largely because they manufacture them overseas, primarily, as mentioned before, in China and Korea.
Epiphone Les Paul guitars are mostly indistinguishable from the Gibson version, from their look and feel to their sounds. Only a very, very few people would be able to tell the difference at a glance–you'll notice the difference from the headstock design. It's tempting to label them a knock off, but the company is actually owned by Gibson.
In fact, the main thing you'll hear discussed in music circles is whether there is a difference between the Chinese and Korean made guitars, and if the difference is big enough to affect your buying decision.
This is one of those things where it's hard to get a handle on the answer. Part of this, naturally, is because some of it can be subjective. You might try a Made In China (MIC) Epiphone and a Made In Korea (MIK) Epiphone and not be able to tell any difference, while another person might hear something different between them.
What this means is that you're going to get a lot of different opinions on what sounds best. If you have the chance, your best option is to get a hold of one of each and see how each one sounds, and which one sounds better to your ears.
Depending on who you believe, the sound difference is largely down to the wood. The two factories have different suppliers, and wood does make some difference in sound; unique wood is believed to be the reason Stradivarius violins sound so much better than others.
Generally speaking, for people who claim there is a difference between the two manufactures, the consensus is that the Made in Korea Epiphone guitars have a slightly deeper, richer sound. The difference is generally said to be fairly slight, and not as important as the differences between individual guitars.
The other issue is quality. There is some concern that the Chinese made guitars simply aren't as well made as the Korean guitars. This is generally believed to be the result of the difference in working conditions in the two countries.
Without getting into a treatise on international labor relations, here's what you need to consider. China has a much lower standard of living, and the workers in their factories are paid much less than you would get elsewhere, and are, allegedly, expected to work grinding hours. The general theory is the poor working conditions can lead to compromised guitars.
[% oiopub-banner-3-left %]
The Korean guitars, on the other hand, are manufactured in South Korea, which has one of the highest standards of living in Asia, and the factory workers that produce the Korean made Epis are well paid and well trained which, if you believe the rumors, means the Made In Korea Epiphone guitars are much better constructed.
There is also an Indonesian factory which opened more recently, but there doesn't seem to be much being said about the quality and sound of those guitars. No doubt the serious gearheads will have an opinion soon enough.
So which is better; the Made in Korea Epiphone or the Made in China Epiphone? The unhelpful truth is that there isn't a great answer to that. Generally speaking, if you have the choice and can't actually try a guitar out before you buy it; you should probably hedge your bets and find one of the Korean made guitars.
Ultimately, though, your best option is always to try the guitar out yourself. Go to your local guitar store and play with a couple of different models. No one can say what guitar is going to look and feel best for you, so you need to be the one to make the decision. If you do that, you'll get the right guitar no matter where it comes from.
Made In Korea Epiphone Les Paul