Top 5 Easy Guitar Songs to Play on Electric Guitar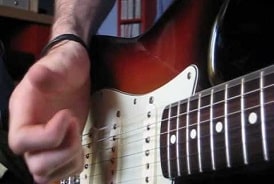 When you decide you're serious about learning how to play guitar, it's imperative to learn as many new songs as you can. I would highly suggest learning easy guitar songs to play to start and progress your way up to more difficult guitar songs.  Make sure you have the CD or mp3 of the song available so you can play along with it; this will help you build structure and timing.
There are cool programs and tools available in the guitar world which allows you to slow down the song, which slowly helps you build your speed and timing. Do a search here on Gear-Vault.com for training guitar gear.
That said, I recommend learning easy guitar songs to begin with. There are many great songs to choose from, your options are virtually endless, and, perhaps, subjective to some (you know who you are =).
Top 5 Easy Guitar Songs to Play for Beginners
There's literally 100s of easy guitar songs to play on guitar. There are also 1000s of good acoustic guitar songs as well. This list is geared for electric guitarists. If you would like to add more songs to play on guitar to this list, then please leave your comment below. Your thoughts/opinions are always welcomed here at Gear-Vault.com
Tags: easy songs to play on guitar, easy guitar songs, easy rock songs to play on guitar, easy songs for guitar, Easy Guitar Songs to Play, easy guitar songs for beginners, easy electric guitar songs, Easy to play guitar, electric guitar tabs for easy songs, guitar easy song,