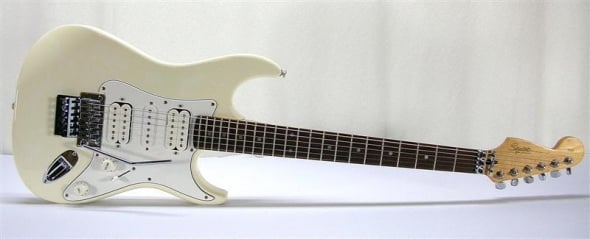 Squier Stagemaster is a uniquely different tailor of the typical Fender Stratocaster guitar. The Squier Stagemaster is made explicitly for the rocker players alike. With its sleek Strat body design, reverse Fender-shaped headstock and its drive-bombing License Floyd Rose double-locking tremolo system, the Stagemaster spells "flash" with all of its humbling features.
Much like Fender's Fat Strat, the Stagemaster guitar is equipped with a lustrous hardwood body, smooth-shredder-fast maple neck. The neck is much thinner than the typical C-shaped Stratocaster and with its reverse headstock, the guitar has appeal and zazz. Playing it feels like Jimi Hendrix's reversed Stratocaster; for his left hand playing–however, the Stagemaster is a right hand guitar. Whats more, the Stagemaster is equipped with a solid Rosewood fingerboard (12.6″ radius) and 22 frets. The die-cast machine head tuning pegs are what you'd expect from a guitar with Fender's name on it. The pickups are a bit bland, but certainly not bad for a guitar in this price range. The pickups are managed with its 5-way selector switch, master volume and a single tone control. Read more
Gary Kramer Gained celebrity in the Eighties as the primary guitar supplier for Eddie Van Halen. He was also one of the first manufacturers to feature the era-defining original Floyd Rose tremolo. He stepped away from guitar building for more than a decade, but now he's back with another inspiring line of guitars and a fresh set of ideas on guitar design.
Kramer's Delta Wing Simulator R looks like an alien weapon, but the wild mahogany body shape actually serves to align the neck perfectly when standing or silting. The sweeping upper horn braces the extremely lightweight guitar against the player's chest in such a way that it's nearly impossible to slump into an uncomfortable posture. Similarly, the body contours ease tension on the right wrist liberating feature that's evident when performing difficult techniques. Other high-tech attributes include recessed controls, a licensed Floyd Rose tremolo, a push/pull coil tap, a slick matte finish on the 24-fret neck and molten alnico pickups that are aimed right at players who want extreme rock and metal tones. Read more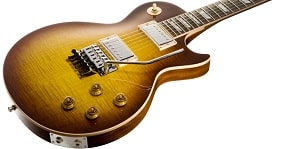 Alex Lifeson is known to have played a tremendous number and variety of guitars throughout his career, and even on one record – in the making of Rush's 2002 release, Vapor Trails, Lifeson used 50 different guitars and, for the first time in years, no keyboards whatsoever.
Now, Lifeson has teamed up with the good folks at Gibson, releasing his signature model Gibson Custom Alex Lifeson Les Paul Axcess. In some ways, Lifeson goes back to his roots with this guitar; in others, he uses it to summarize a lifetime of playing and recording experience.
Lifeson started out playing a Gibson ES-335 for Rush's first four albums, switching to a Les Paul (blasted through a Marshall stack) during the seminal 2112 Tour. By the early 1980s he was playing custom-built Fender Stratocasters, with a Bill Lawrence humbucker in the bridge position, almost exclusively. He rotated through four such Fenders – all with Floyd Rose locking tremolos – until 1986, when he switched to his own brand, Signature Guitars. For use in the studio, where time is money, it's an understandable decision since anyone would be more familiar (and no doubt more comfortable) working with a guitar of one's own design. Read more
Floyd Rose locking tremolo is arguably the finest and most stable unit available. This diagram will hopefully take some of the mystery out how the unit functions, and shows you the complete parts list which illustrates the complete locking tremolo system (or similar floating bridge). Read more

Electric guitars either come with tremolo systems or they don't, right? Sure, people have slapped aftermarket Bigsbys on any number of different guitars post-purchase (and I did see a real '59 Les Paul with a Stratocaster bridge and trem routed into it at a guitar show once), but, for most players, trems are something that guitars are either born with or without. Well, folks, those days are over, thanks to the good people at Stetsbar Professional Tremolo Systems. Read more
Floyd Rose is the revolutionary tremolo systems off time.
In 1964 a guitarist named Floyd Rose moved from Durango, Colorado to Reno, Nevada. There he started playing in bands. Floyd had many guitar artist influences. His biggest influence was Ritchie Blackmore of Deep Purple and Jimi Hendrix from one of his Woodstock performances.
Inspired by all these amazing guitar players he started wailing and playing hard on his whammy bar on his Fender Strat. However, he noticed the problems of his Stratocaster not holding up to his aggressive style and go out of tune. That was a problem, the tremolo systems back then would make the strings go out of tune to easily.
Floyd Rose was jammin' on his Fender Strat and that's when he noticed the E string was sliding around the winding on the tuner. That's when he realized the friction around the nut was allowing the strings go out of tune. He then started thinking about some type of locking device. Read more