Evolution of Boss ME-Series Guitar Multi-Effects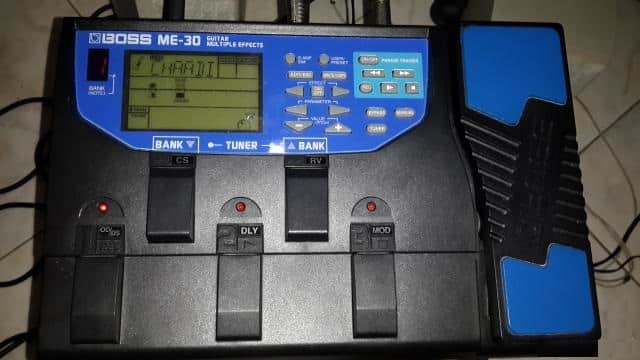 Boss ME-30 Guitar Multi-Effects Processor
Though the size of floor multi-effects processor is decreasing, the features and capabilities of these units continue to grow. Although the Boss ME-30 is only slightly larger than an average hard-bound book, it can create a multitude of sounds that once could only be achieved with a huge rack and a gaggle of stomp boxes. Add in sampling capabilities and you've got a serious contender in the maximum banger-per-buck race.
The ME-30 packs 16 different effects into its small frame. You can use up to nine of them at once, and any one of four can be assigned to the built-in expression pedal. The ME-30 comes loaded with 30 factory presets, and the large, user-friendly LCD dispay makes loading in another 30 of your own an easy task.
On board you'll find some very flexible effects and sound-sculpting tools, including compression, seven types of overdrive and distortion, a three-band equalizer, phaser, noise gate, digital delay with up to two seconds of delay time, chorus, flanger, pitch shifter, tremolo and reverb.
The pedal-assignable effects consist of volume, wah, "tremolo arm" (similar to a Whammy pedal) and ring modulator. There's a global guitar amp simulator that emulates an amplifier's tone when you're playing through headphones or recording direct to tape/cd/hardrive. And in addition to all these effects, the ME-30 has a built-in chromatic tuner.
What really sets the Boss ME-30 apart from most other multi-effects pedals, however, is its value as a learning tool. It has an auxiliary input, which allows you to plug in a CD or tape player, put on your headphones and jam along. When you get to a part you just can't figure out, put the ME-20 into "phrase trainer" mode and sample up to 12 seconds of the recorded music. You can loop it and slow it down to as much as ¼ the original speed without altering the pitch, allowing you to analyze the 32nd-note run with the greatest of ease.
The Boss ME-30 is also exceptionally well suited for use in home studios. Many functions are accessible only with the keypad, but most of the ones you might want to access in live performance, such as the sampling function, are accessible via foot control. The LCD is unlit, but it glows in the dark for several hours when exposed to light for a brief period. A bright single-digit LED displays which bank of settings you're in, but whether this is a factory preset or your own creation is shown only in small letters on the LCD.
Anyone familiar with Boss' excellent array of stomp box flavors will love the ME-30's sounds. The flanger is particularly good, and the ring modular (a metallic, industrial timbre that can turn the simplest phrase into wickedly unrecognizable bleeps, squeals and grunts) is a welcome surprise, especially when you consider that most ring modulators available today cost as much as this entire unit.–discontinued product. Debate: Stomp Box vs. Multi Effects Processor.