When considering which overdrive pedals belong on the Mount Rushmore of guitar gear, we here at Gear-Vault took one major consideration into account, which is tone. Let's face it – overdrive is overdrive, and has been since studio musician Grady Martin continued playing despite a faulty pre-amp circuit in the console of a Nashville recording studio in 1961. The nuances of distortion, and opinions about its place in music, have been fine-tuned ever since. This list leans toward pedals that the average musician can afford – the exotic special effects pedals that so few serious artists ever really use anyway are excluded. This list is intended to let you know which pedals might be best for your sound, with the number of pedals sold not having too much influence on their ranking. One caveat for all: None of the following pedals come with earplugs, the use of which is strongly encouraged for the proper use of these smoking guns. In reverse order: Read more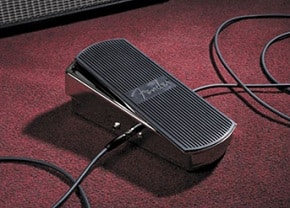 During the late Sixties and early Seventies, it seems like everything related to music was literally huge: amp stacks, stack heel platform shoes, rock star mustaches and hairstyles, crotch padding and, especially, effect pedals. Stomp boxes were the size of shoe boxes, and the average pedal board was so big that it took two roadies to haul one from the back of a Chevy van to the stage of the Cow Palace or Winter land. Of course, that all changed later in the decade as microchips replaced the transistors and cherry bomb-sized components in primitive effect circuits, and soon after, the size of the average pedal shrunk significantly.
Fender's latest Classic Series pedal reissues bring back in their full glory four of the company's big-honkin' stomp boxes from the Golden Era of effects: the sensibly named Volume, Volume-Tone, Fuzz-Wah and Read more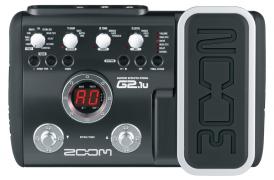 Even the best signal processor can't make up for a bad guitar sound.
Too often engineers and producers tell worried guitar players, "We'll fix it in the mix," or, "I know it sounds a little funny now, but we'll sprinkle some fairy dust on it and it'll sound killer." Statements such as these are, in my humble opinion, a crock. There are many things you can do to a bad guitar sound—you can flange it, EQ it, play backwards or bury it in reverb—but 99 percent of the time you'll just end up with a bad guitar sound that's been flanged, EQed, played backwards and buried in reverb. Read more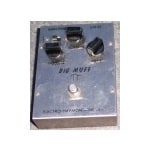 In the beautiful city of New York, the Big Muff, which acts as a guitar pedal that can distort fuzz sounds, became very well-known. The Muff was created, introduced and manufactured by Electro-Harmonic Company (EHX) together with its sister company, the Russian Sovtek. Primarily the Big Muff was used for electric guitars but later bass guitars also were able to make use of such a powerful yet tiny machine. The Big Muff guitar pedal was invented by Mike Matthews and introduced in the early 1970s. Carlos Santana and David Glamour were the two artists who first used this guitar pedal. Read more
The Mustang Floor shares its name with Fender's range of Mustang digital modelling amps, and is similarly packed full of digital effects and amp models. The unit also connects to a computer via USB for direct recording and preset editing. Read the press release below for full details. Read more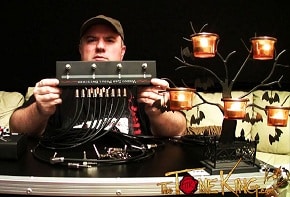 Longtime friend of Gear-Vault.com, TheToneKing.com is now on its third year of pedal reviews for its TTK viewership. And, in the thick of this otherwise dreary November, the potential for winning big with gear giveaways coming at the end of this month is just beginning to warm up. The Tone King says, "This year, we've stepping up our game Read more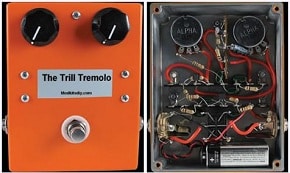 I've played on a lot of pedals. Wahs, tremolos, distortions, phasers, you name it. I've only built a few. So when I got the chance to review a diy pedal, I jumped at the chance. Building an effect pedal is more than a simple task at hand; it's more like an experience. It's a journey through a myriad of parts, numerous references to the build sheet, and a whole lot of patience. Read more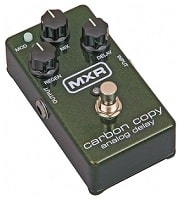 The innovation of the bucket brigade delay circuit in 1969 made compact, stageworthy analog delay pedals a reality and allowed guitarists to retire their bulky and unreliable magnetic tape echo units. Although bucket brigades were eventually replaced by digital signal processors, suffice to say that–like skinny ties and Donnie and Marie Osmond–the analog delay has made a comeback. Nearly every music manufacturer is currently releasing its own take on the analog delay, and for good reason: most guitar players cherish the soft, lo-fi sound quality produced from these units.
Fortunately, MXR, who have been making some of the most popular and innovative stompboxes, has jumped on the bandwagon. The company's Carbon Copy Analog Delay pedal is the brainchild of MXR senior engineer Bob Cedro, and its design is noteworthy for the company: it's MXR's first delay pedal in nearly 20 years. What's more, it offers 600ms of analog delay time in a compact unit the size of MXR's Phase 90 pedal. Read more

DigiTech goes more tech — DigiTech recently announces the all-new iPB-10 Multi-Effects unit that is programmable with your iPad. You can build your own pedalboard unit with a simple swipe of your finger. Is this something you'd use? Let's check it out… Read more
Ever wanted to build a piece of equipment yourself? Instead of buying that $300 pedal, you could spend a little bit of time and some elbow grease and build it yourself. Well, with the Thunderdrive Pedal from modkitsdiy.com, you can get your foot in the door, and learn a few things about electronics along the way.
Upon receiving the pedal from Modkits, I opened up the box and checked it out. Inside the metal box that will soon become your self-built distortion pedal lies a bag full of all the resistors, pots, wires and input/output jacks needed to build the pedal. I was a bit overwhelmed at first, viewing the instructions and realizing I was going to need to solder. Soldering is the process of melting metal, or solder, and using it to connect a lead to a point to make a solid connection. It's something I had watched someone do once, but had never actually done it. Read more