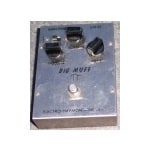 In the beautiful city of New York, the Big Muff, which acts as a guitar pedal that can distort fuzz sounds, became very well-known. The Muff was created, introduced and manufactured by Electro-Harmonic Company (EHX) together with its sister company, the Russian Sovtek. Primarily the Big Muff was used for electric guitars but later bass guitars also were able to make use of such a powerful yet tiny machine. The Big Muff guitar pedal was invented by Mike Matthews and introduced in the early 1970s. Carlos Santana and David Glamour were the two artists who first used this guitar pedal. Read more
Tags: big muff hendrix srv, big muff pedal history, electro harmonic deluxe muff, electro harmonix 12axt price, electro harmonix history, star uses big muff, sweet water music automatic bass machine that follows guitar cords stomp box, thunderdrive deluxe clone,
The Mustang Floor shares its name with Fender's range of Mustang digital modelling amps, and is similarly packed full of digital effects and amp models. The unit also connects to a computer via USB for direct recording and preset editing. Read the press release below for full details. Read more
Tags: amp models on mustang floor pedal, demos using fender bullet reverb amp, guitar multi effects pedal,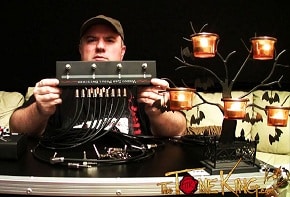 Longtime friend of Gear-Vault.com, TheToneKing.com is now on its third year of pedal reviews for its TTK viewership. And, in the thick of this otherwise dreary November, the potential for winning big with gear giveaways coming at the end of this month is just beginning to warm up. The Tone King says, "This year, we've stepping up our game Read more

DigiTech goes more tech — DigiTech recently announces the all-new iPB-10 Multi-Effects unit that is programmable with your iPad. You can build your own pedalboard unit with a simple swipe of your finger. Is this something you'd use? Let's check it out… Read more
Tags: ipb 10,
Ever wanted to build a piece of equipment yourself? Instead of buying that $300 pedal, you could spend a little bit of time and some elbow grease and build it yourself. Well, with the Thunderdrive Pedal from modkitsdiy.com, you can get your foot in the door, and learn a few things about electronics along the way.
Upon receiving the pedal from Modkits, I opened up the box and checked it out. Inside the metal box that will soon become your self-built distortion pedal lies a bag full of all the resistors, pots, wires and input/output jacks needed to build the pedal. I was a bit overwhelmed at first, viewing the instructions and realizing I was going to need to solder. Soldering is the process of melting metal, or solder, and using it to connect a lead to a point to make a solid connection. It's something I had watched someone do once, but had never actually done it. Read more
Tags: yhs-fh_lsonsw, Distortion Pedal Kit, build distortion pedal, build your own guitar pedal kit, build your own tube overdrive pedal, How to biuild your own real tube over drive for guitar, overdrive pedal kit, thunderdrive review,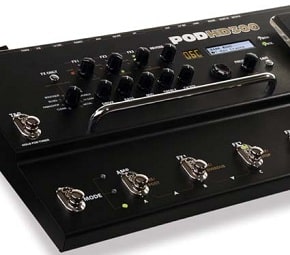 Late last year, Line 6 ramped up their strategy to claim a larger stake in the Multi-Effects arena. The flagship series they constructed to spearhead the entry, was the POD HD series. Before this series, the market was largely dominated by a handful of large companies, namely Digitech, Boss, and a few others. To this day, these large companies still hold the large share, but that all may change in the future. Read more
Tags: hd300 preset 65clean, line six hd300 reviews,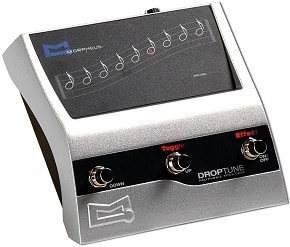 Have you ever sat down with a pitch shift pedal only to be disappointed when your E major chord turned into garbled nonsense? Traditional pitch shift pedals can only process one string at a time, but with the Morpheus DropTune, real polyphonic drop tuning exists in a squash of a pedal.
The Morpheus DropTune takes technology developed by an avid team of professional guitar effect aficionados, and puts it into one extremely cool idea of a pedal. Allowing you to tune down three and a half steps in half step increments, this lets you do away with the extra guitars. This can really be a relief to those on tour that are hauling up to three or more instruments at a time. Multiple instruments can start to take up a lot of space in a tiny van, and can become an expensive upkeep considering strings alone. Read more
Tags: morpheus droptune,

Electro-Harmonix has a history of pedals with super-hero-sounding names: Electric Mistress, Memory Man, Worm, and P0G. A new trio is no exception: Neo Clone could come out of the Matrix; Iron Lung might be Iron Man's loudmouth cousin; Ring Thing, the product of a radioactive experiment gone wrong. The resemblance to fictional characters is fitting, as "character" is something EHX pedals have always had. This new crop of unique devices also has the right stuff. Read more
NAMM 2011 — The evolution of the chorus effect seems to have gotten stuck in '80s pop, along with over-processed guitars, cheesy synths and popped collars. This ain't that kind of chorus.
When we designed the Boost Chorus pedals we went back to the '70s, when choruses were rich, smooth and manly. We figured out what made these vintage stompboxes sound so good and poured that knowledge into a new kind of chorus pedal with greatly improved performance and a whole slew of never-before-heard sounds. Slapback, echo, flanging and doubling effects are all possible from the modestly named Boost Chorus pedals.
Tech 21 Boost Chorus
Designed primarily for guitar (but sounds great on everything else) the Boost Chorus features unprecedented tweakability for this type of pedal. No fewer than six controls allow players to easily dial-in the right tone, speed and depth of the effect.
The Mix control allows a 0-100% wet blend of the effect, while the Level control offers increasing amounts of boost to compensate for the volume loss perceived with chorus. The final control is the Pre-Delay, which alters the chorus' range to produce effects from flange/chorus, to regular chorus, to chorus/doubler.
The secret weapon is the Multi Voice switch. Engage this to bask in the multiple chorus voices of an Ensemble-style effect
Tech 21 Boost Chorus Bass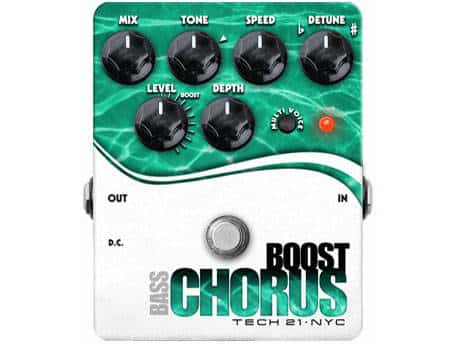 Because of the way traditional chorus pedals typically interact with their amps, most bass players would rather put an angry badger on their pedalboard. The Boost Chorus Bass avoids seasick tones, and badgers, through a specially-tailored design.
It features the same control set as the standard Boost Chorus, including the Multi Voice switch, but differs in having a Detune control in place of the Pre-Delay. The Detune control adjusts the pitch of the choral voices, adding sonic girth to create thick, lush, bass-perfect chorus.
Speed and Depth controls add modulation, so at minimum your fundamental notes are preserved. Finally, a chorus that works in harmony with your bass.
Roto Choir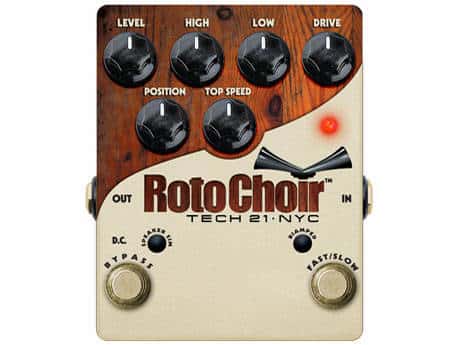 No musician can deny the deep, swirling glory of a vintage rotating speaker cabinet, that uniquely lush, pulsing tone that brings any instrument to life. So, why doesn't everyone use one? Because they're the size and weight of a bulky refrigerator, cost big bucks and are more high-maintenance than a platinum diva.
But, imagine getting all of that inspiring rich modulation with cutting-edge features in a studio-quiet, road-worthy pedal. Just one little pedal. Now imagine you can use that pedal with guitar and to record direct.
The Roto Choir recreates both the rotating lower speaker and the treble rotor horn – the only way to attain that complex, multi-dimensional tone. In fact, the Roto Choir utilities a specifically formulated SansAmp technology to deliver the entire signal chain – from the original tube power amp to the speaker and high-frequency rotor horn, to the microphone used to capture it. This is HD, 3D emulation.
The simple controls hide a wealth of options. Drive adds just the right amount of compression, harmonics and grit. Low and High sculpt the tube amp emulation with powerful EQ curves. The Fast/Slow footswitch allows users to ramp up, slow down or even stop the rotating speaker. There's also a dedicated control to custom set the Top Speed of your rotor. Want to vary the intensity of the effect? Simply adjust the Position control to move the Roto Choir's virtual mic closer or further from the horns.
Other features include a biamped/single-speaker mode switch, stereo output and a Speaker Sim switch for direct recording. Find the easy way to celestial sounds you can get lost in with the Roto Choir.
Tech 21 Guitar Pedals
Compare Prices
...................................................................................................
Check Price
...................................................................................................
Check Price
...................................................................................................
Check Price
...................................................................................................
Check Price
...................................................................................................
Check Price
...................................................................................................
Check Price
...................................................................................................
Check Price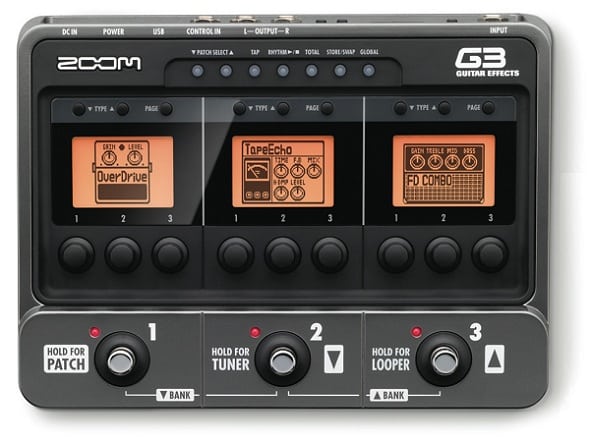 NAMM 2011 — Zoom's G3 Guitar Effects and Amp Simulator Pedal unites the ease of a stompbox pedalboard with the power of a multi-effects pedal and adds a USB audio interface to the mix. With complete control over both individual effects and amp modeling, you can modify your tones on the fly while performing. An onboard drum machine and looper make the G3 an incredible new option for guitarists of every level. Read more
Tags: pedal effect guitar, zoom stompbox,