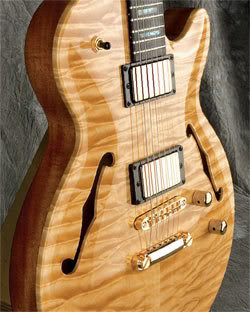 *Update: Carvin Guitars changed their name/re-branded to the name of original founder of Carvin Gutiars (Lowell Kiesel) to Kiesel Guitars in 2015.
Kiesel-Carvin SH550 Electric Guitar Review — Kiesel-Carvin had a long tradition of producing semi-hollow-body guitars dating back in the 1950's. The companies newest edition was introduced in 2008, named the SH550 (SH stands for semi hollow), this model has a carved top and it is a true precision semi-hollow custom shop masterpiece.
Semi-hollow body guitars are suitable for legendary artists such as B. B. King, Ted Nugent, Steve Howe (Yes) and Alex Lifeson (Rush). These legends have relied on hollow guitars as mainstays of their respective guitar arsenals.
The Kiesel-Carvin SH550 AAAA flamed maple is the standard top, yes, we said "AAAA" maple top, and unlike most "archtop" style guitars, the SH550 features an actual carved top. In addition, you can also choose an optional AAAA quilted maple top or a flamed koa top.
The top starts out as a 2″ thick slab of solid curly flamed maple wood. After the top is bookmatched, it is top sculpted, and the underside of the top is also carved to follow the contour of the top, while increasing the overall size of the sound chamber to improve the tonal characteristics of the instrument. Read more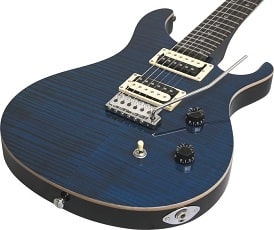 Do not think of the Paul Reed Smith SE Custom 24 as an "economical" guitar. Think of it as an awesome types of electric guitars for guitar buyers guide.
Ever since the mid 80's, Paul Reed Smith Guitars have earned a respectful reputation for their instruments, which are known for being excellent sounding, effortless to to play, and, all too often, high priced. Comparable to most guitar manufacturers, Paul Reed Smith have released a low-priced series of guitars to render PRS instruments more reachable to a broader crowd who may not otherwise be able to afford a Paul Reed Smith axe. With this series, the Korean-made SE Custom guitars, have been very well received by guitarists on a budget.
PRS' original axe was the Custom 24, so, of course, it's only appropriate that one of the finest SE guitar models is the SE Custom 24, a lower-cost version of the original Custom 24 flagship electric guitar. It priced nearly at a quarter of a "original" PRS Custom 24, so how do they compare? Read more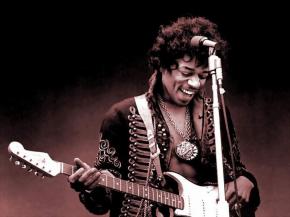 The Greatest Guitar Hero, Jimi Hendrix still remains one of the most influential forces in rock music. Pulling unprecedented sounds out of his Fender Strat, Hendrix challenged musicians and guitarists to explore a wild new world of tones and textures, dazzling and confounding guitar greats like Jeff Beck, Pete Townshend and Eric Clapton, who still speak of Hendrix with a hushed reverence. Other players before him might have experimented with feedback and excessive distortion, Hendrix turned those practices into an art fashion. He was the first player to use the whammy bar as an instrument unto itself, making his Stratocaster talk, scream and howl. Read more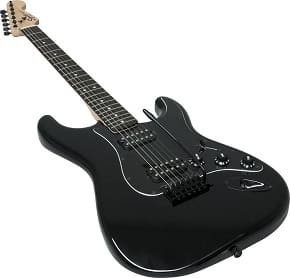 Many guitar players tend to make a certain face when they hear the word "Squier". It's the same face you make when someone says "telemarketing job" or "infomercials". Forever destined to be the Yugo of the music world, the good folks overseas who make Squier guitars for Fender have pushed out a new model that is already changing the minds of those who put their hands on it: The new Squier Bullet Strat HH. Read more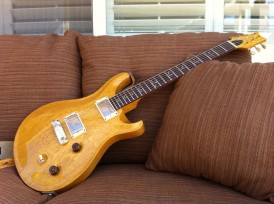 White Korina wood, also known as African limba, provides a thick solid tone much like mahogany wood is known for. Korina wood is also the same high-quality wood used for many of the early [Gibson] Flying Vs and Explorers that now demand such high dollar. Notably, a Korina wood Ibanez Destroyer guitar had played a large part in Eddie Van Halen's legendary "brown" sound. A nice piece of lightweight wood, like the ones used to construct the Korina McCarty guitars, provides renowned dimensionality and depth, screaming highs, rich rounded mids, thick lows while providing vocal-like velvety warmth backed with tremendous sustain.
The Korina McCarty's body is carved from sold slab of Korina wood, as is the 22-fret thick-wide neck. For those who have not played the liked PRS carved neck, it's a beefy C shape that's positioned into the 25-scale body. The chrome-covered McCarty humbuckers are similar to the highly commended humbuckers in the standard McCartys, and a Duncan-wound soap-bar is offered as an option for those who want something a little more unique. Vintage style tuners and a fixed aluminum bridge add a touch of sparkle to the Korina McCarty's highs. Read more
Hey Gear-Vault readers! An interesting debate was brought before our attention earlier this week and we thought we'd pass it along to you guys. Let's put your mad guitar knowledge to the test! Comment your answer at the end of this kick ass discussion!
Can you tell which is Gibson and which is the Epiphone?
Now let's take a closer look at these two guitars:
At first glance, these two guitars appear quite similar. In fact, many players might even have trouble distinguishing between the two. However, did you know that the left guitar often costs as much as NINE TIMES than the one on the right? That's right. The axe on the left is perhaps one of the most recognizable guitars in the world: a Gibson Les Paul Standard. You can typically purchase one of these for around $2500-3500. Pictured just to the right of the Gibson is the Epiphone Les Paul Standard, which usually clocks in at just under Read more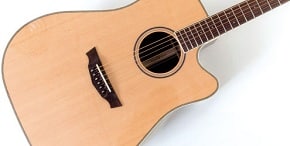 It seems as if market is flooded with hundreds of similar-looking dreadnought acoustic guitars, all with seemingly identical specs. You know the drill: solid spruce top, solid Indian rosewood back and sides, mahogany neck, scalloped X-bracing and, well, Read more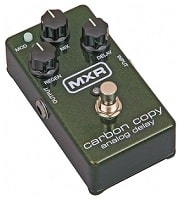 The innovation of the bucket brigade delay circuit in 1969 made compact, stageworthy analog delay pedals a reality and allowed guitarists to retire their bulky and unreliable magnetic tape echo units. Although bucket brigades were eventually replaced by digital signal processors, suffice to say that–like skinny ties and Donnie and Marie Osmond–the analog delay has made a comeback. Nearly every music manufacturer is currently releasing its own take on the analog delay, and for good reason: most guitar players cherish the soft, lo-fi sound quality produced from these units.
Fortunately, MXR, who have been making some of the most popular and innovative stompboxes, has jumped on the bandwagon. The company's Carbon Copy Analog Delay pedal is the brainchild of MXR senior engineer Bob Cedro, and its design is noteworthy for the company: it's MXR's first delay pedal in nearly 20 years. What's more, it offers 600ms of analog delay time in a compact unit the size of MXR's Phase 90 pedal. Read more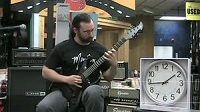 Just when you think you've seen it all, then this happens… Grab you hat and sit back for the ride, because this video will blow your hair back and make our lips pucker. Guitarist, John Taylor of Colorado, plays Nikolai Rimsky-Korsakov's "Flight of the Bumblebee" at 600 Beats Per Minute — According to RecordSetter.com, this is a new world record for 'fastest guitar player', ever.
As you'll see in the video, John starts off at 170 BPM and slowly works his way up to 600 BPM.
"Flight of the Bumblebee" is an orchestral interlude from Rimsky-Korsakov's opera "The Tale of Tsar Saltan," which he wrote in 1899 through 1900. The piece closes Act III, Tableau 1, of course!
People are attempting to break this record all the time. To check the current status of the category, visit RecordSetter's Fastest Guitar Player page. I'd love to see Herman Li from Dragonforce attempt to break this. Watch the video below… Read more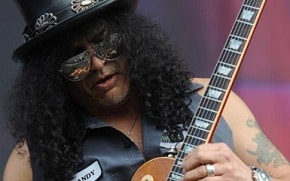 Happy 4th of July, everyone! In honor of today's independence day, I think it's fitting to share some videos of, what I would consider, some of the greatest guitar players to ever perform "The Star Spangled Banner". Read more