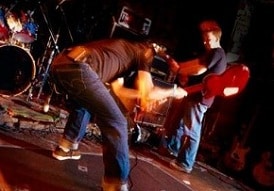 Last weekend, my band and I dropped in the studio to lay down some tracks for three songs. Recording is always a tedious process, and involves so much work from the band as well as the recording engineer. Depending on the degree and seriousness of the project, the process can take anywhere from two days to 2 months, maybe even longer.
Our progressive rock quintet is composed of a drummer, a bassist, two guitarists, and a vocalist. Everyone but our drummer does vocals, so you could say 4 vocalists. We record drums first, then guitars, bass, and finally vocals. When necessary, all five of us get in the room together to throw down gang vocals. Read more
Waves Audio revealed that three of its essential audio processors are being bundled with the new Velocity ESX™ by Harris® Corporation's on-SAN editing system. This is a turnkey high-resolution workstation for journalists, reporters and broadcasters, which is also a part of the Harris NewsForce™ comprehensive HD/SD news platform.
In addition, the Velocity ESX bundle features advanced tools for equalization, time compression and pitch shifting. Wave doesn't stop there, the Wave components include UltraPitch, a voice disguiser and pitch shifter; Renaissance EQ, a paragraphic equalizer with 2-, 4- and 6-band components; and SoundShifter, a time compression and pitch shifting processor. Of course, these are the same tools used by top engineers on hit records, major motion pictures and popular video games the world over. The Velocity ESX workstation arrives with these processors fully loaded for user expediency.
"Waves is proud to contribute to the high-end feature set of Harris Corporation's turnkey Velocity ESX system," says Waves CEO Gilad Keren. "Our tools have been used for years in the broadcast world, and we're delighted to see products developed specifically for journalists working in electronic media."
For more information, visit their web site at www.waves.com.
Gear-Vault Classifieds is an eBay alternative. Come sell with us.
Advertisement————————————
[% oiopub-banner-3-left %]————————————————————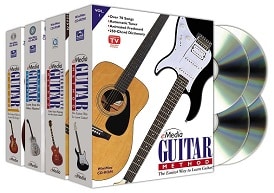 There are as many ways to learn to play the guitar as there are students who want to play. Some people enjoy and do very well on the more formal, traditional path of private lessons, books, and study. While formal lessons are a proven, time-tested method for musical improvement, they are not for everyone, as they require a fairly large commitment of time and money to be truly effective. Many guitarists of the modern generation have turned to their computers in their efforts to conquer the guitar with mostly mixed results. Video guitar lessons, which really began with Arlen Roth's Hot Licks tapes in the 1970's and 80's, have truly come into their own with DVDs and the Internet but, these, too, are not for everyone and seem to work better for more advanced students than for those looking to learn the basics. Lesson software is another popular choice and can represent a great alternative for those who wish to use it. The eMedia company is one maker of instructional software and sells a number of programs that can be of use to many different guitarists. One of eMedia's most popular offerings is the Guitar Collection Pack, which is a bundle of four programs, Guitar Method, Intermediate Guitar Method, Blues Guitar Legends, and Guitar Songs Volume I, that provide the advancing guitarist with enough learning options to keep busy all winter. Read more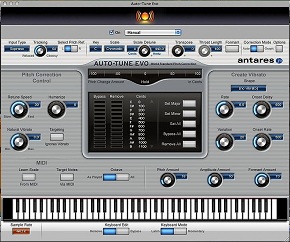 Have you ever listened to T-Pain? You know how his voice always sounds like a robot? Well, thanks to something in vocal technology called Auto-Tune, sensible style and effort to make music has been lost over the past few years. Thank god, the actual end of auto-tune can be seen on the horizon. Read more
Paul Reed Smith Guitarbud iPhone — The iPhone peripheral guitarists have been waiting for?
Paul Reed Smith Guitars has released Guitarbud – a unique cable system that allows budding axe heroes to plug their guitar directly into their iPhone or second generation iPod touch. Read more
There is no doubt that the emergence of YouTube has forever altered how we all make, teach, and discover music. These days, if you aren't doing it on video, you're just not doing it. Thusly, some sort of camcorder has become part of just about everyone's kit and many of us are always on the lookout for a machine that does its thing easier and cheaper. Read more
Guitar technology has come a long ways, especially in the effects world. From stompboxes up to digital amplifiers, the evolution is always evolving. By the time you buy the latest-and-greatest effects processor, to the time it gets delivered to your door step… to the time you get it unboxed… manual read… and plugged in, two generations of newer/better Multi-Effect processors have been released. You can never keep up with technology! That said, old guitar equipment is still good. There's no reason why you should try to stay up-to-date with the new coolest and latest piece of equipment, you'll just go nuts (and broke) trying. Forget that, jump on Craigslist right now and look for these following Boss ME pedals — Let's take a walk through these different generation Boss ME Mutli-Effects pedals that you can buy cheap.
Boss ME-25
Boss ME-30
Boss ME-70
Boss ME-80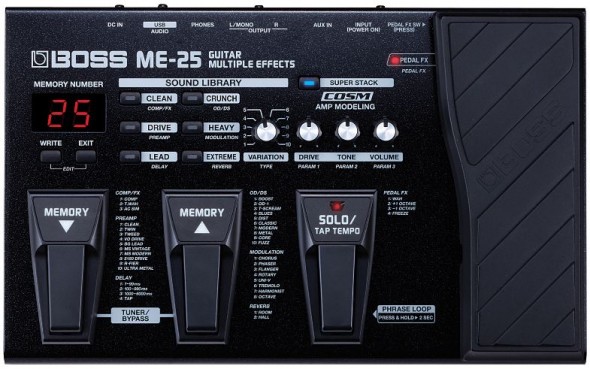 Boss ME-25 Multi-Effects Processor
BOSS is proud to announce the addition of the ME-25 Guitar Multiple Effects processor to its popular line of floor-based multi-effects. The compact and durable ME-25 inherits its high-quality sounds from the flagship ME-70, and packs a ton of BOSS tone tools into one amazingly affordable package.
Sporting a quick and easy user interface for professionals and newcomers alike, the ME-25 features a full compliment of COSM amplifier models. The onboard Sound Library comes loaded with 60 effects combinations suitable for a wide range of playing styles. The ME-25 runs on six AA batteries or AC power, and its portable size makes it ready to rock anywhere.
The ME-25 is stocked full of the best BOSS effects — distortions, overdrives, modulation effects, Delay, Reverb, Harmonist, and many more. The built-in expression pedal controls a number of pedal effects, including wah, octave up/down, and a unique freeze effect. Three heavy-duty footswitches allow the user to select sounds and perform other functions, such as accessing the built-in tuner, tapping in delay times, and enabling the SOLO feature. Read more

Crate–In recent years, all-in-one PA systems have become a hot item. These units offer a mixer, power amp and a pair of speakers in one portable package. The problem with many of them, hover, is that they don't give you much room to grow. And while a two- or three- channel PA with small speakers and a meager amount a lot of power is fine for solo gigs, it won't be much use when you decide to add a bassist or a second guitarist. Read more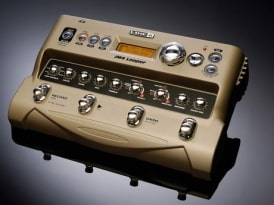 Combining exhilarating jam tracks with sound-on-sound looping and a full arsenal of legendary Line 6 tones, JM4 Looper sparks inspiration in ways other looping pedals can only dream. Read more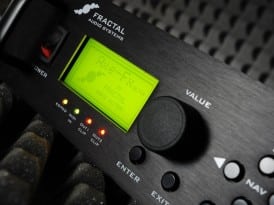 Overview
The Axe-Fx is a breakthrough guitar amp simulator and studio effects processor. Unprecedented computing power is dedicated to driving its highly detailed algorithms which deliver the sound and feel of real tube amps as well as a suite of breathtaking, world-class effects. The unit's rugged 2 RU steel chassis is designed to easily withstand the demands of touring and comes equipped with all the essential professional I/O options.
Ultra Advantage
The Axe-FX Ultra utilizes a faster processor with more memory than the "standard" Axe-FX. This allows the unit to run more instances of effects simultaneously. The Ultra also adds an arpeggiator, synth effects, vocoder, looper, multi-band compressor, ring modulator, quad chorus, diffuser, resonator, crossover and more complex delay and pitch based effects.
Amps & Effects
Ultimate Amp Collection
The Axe-Fx is peerless in its ability to sound, feel and respond like a limitless array of guitar amplifiers, ranging from vintage clean and overdrive types to the most brutal modern high gain variety. Fractal Audio's tube amp algorithms accurately recreate the nuances of the circuit down to the component level. This includes the varying frequency response of the amps they're simulating. Unlike conventional tube modelers where the frequency response is static, the Axe-Fx gives the guitarist a true dynamic experience.
Critical power amp characteristics like sag, damping factor and transformer response are accurately modeled in painstaking detail. This and the fact that they are user modifiable parameters, puts the Axe-Fx in a league of its own – It also affords the player the ability to get that cranked amp experience at any volume!
Pristine Effects
The Axe-Fx's onboard effects (amp simulations aside) are in a class with the finest multi-effects and dedicated processors available. A full arsenal of reverb, delay, drive, compression, pitch-based effects, intelligent harmony and more are included. Up to 12 simultaneous effects instances can be routed in series or parallel for the ultimate in flexibility. All effect types have deep editing functionality and can be bent to the user's will with editable parameters that most processors don't allow access to.
Axe-Fx Features
A Virtual Studio Full of Effects
50+ Amp Models · 39 Cabinets · 10 Microphones · 17 Drive Models · 12 Reverbs · Dozens of Delays · Modulation · EQ · Pitch · Intelligent Harmony · Tremolo · Wah · Compressor · Gate · Precision Tuner · Swappable Tone Stacks · Two Rigs at Once · Custom IR Player · Effects Loop · And too many more to list!
Studio Quality Components
Top-of-the-line, 24-bit Cirrus Logic converters assure signal purity. Our proprietary analog front end features no electrolytic capacitors in the signal path, only high-quality film types. The output signal path likewise has no electrolytic capacitors. High-performance Analog Devices® op-amps are used in all signal paths. All this adds up to an extremely low noise floor (better than -105 dB).
Processing Power!
A state of-the-art, dual-core processor equips the Axe-Fx with more raw computing power than many desktop computers. With the ability to process 2 Billion floating-point instructions per second, other gear can't even come close to the power of the Axe-Fx. In addition to being able to process multiple instances of super high-quality effects, the unit can run two completely different rigs simultaneously.
Functionality
Easy Interface
The foundation of the U/I is a simple grid which represents the signal path. Effect/amp "blocks" are laid out in the grid (in series or parallel) in the same way a guitar rigs signal path normally takes. Each block can be selected and recalled for editing. A high quality rotary encoder and quick access keys along with a graphical LCD makes routing and editing easy and intuitive. No cryptic menus or single line alphanumeric displays to contend with. Real-time monitoring of controlled parameters is also provided.
Studio or Stage
The Axe-Fx is uniquely suited to excel in the studio or in a live environment. With the choice to have power amp, microphone and cabinet simulations either enabled or disabled on a per patch basis, the unit works equally well in a direct recording environment, as part of a rack rig with power amp and cabinets, in the loop of an amp or as dedicated effects processor. The Axe-Fx also has a mode optimized for use with Atomic Amplifiers' Reactor Series amps.
For more information, visit fractalaudio.com