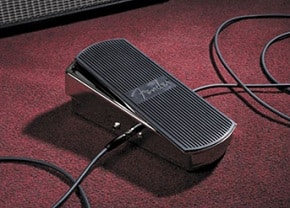 During the late Sixties and early Seventies, it seems like everything related to music was literally huge: amp stacks, stack heel platform shoes, rock star mustaches and hairstyles, crotch padding and, especially, effect pedals. Stomp boxes were the size of shoe boxes, and the average pedal board was so big that it took two roadies to haul one from the back of a Chevy van to the stage of the Cow Palace or Winter land. Of course, that all changed later in the decade as microchips replaced the transistors and cherry bomb-sized components in primitive effect circuits, and soon after, the size of the average pedal shrunk significantly.
Fender's latest Classic Series pedal reissues bring back in their full glory four of the company's big-honkin' stomp boxes from the Golden Era of effects: the sensibly named Volume, Volume-Tone, Fuzz-Wah and Read more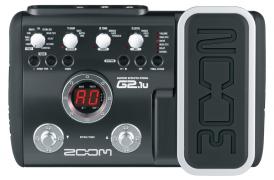 Even the best signal processor can't make up for a bad guitar sound.
Too often engineers and producers tell worried guitar players, "We'll fix it in the mix," or, "I know it sounds a little funny now, but we'll sprinkle some fairy dust on it and it'll sound killer." Statements such as these are, in my humble opinion, a crock. There are many things you can do to a bad guitar sound—you can flange it, EQ it, play backwards or bury it in reverb—but 99 percent of the time you'll just end up with a bad guitar sound that's been flanged, EQed, played backwards and buried in reverb. Read more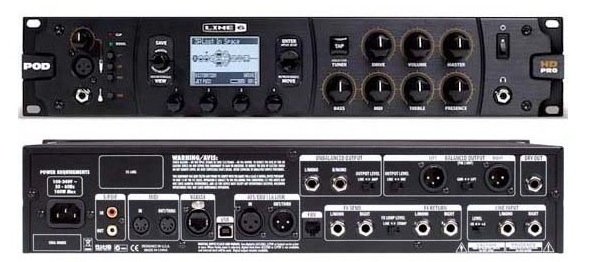 The art of competing in a modern industrial world is constantly changing, and constantly getting more difficult. Each year, companies give it their all and toss their eggs in a basket, hoping it will pan out for them and be the next big thing. Line6 sits at the table with the big guys when it comes to innovation and the forefront of effect technology, but just how well does their flagship unit, the POD HD PRO, stack up?
Construction and Controls
This thing is sturdy, to say the least. It's all metal construction gives a nice comfort to any of us who put our equipment through the paces, and expecting it to keep chugging along. The face of the unit has a nice tactile control system, reducing the menu-surfing to a much better level, and giving more direct control over things like drive, volume, and EQ. Other controls are a mic preamp, an XLR input for vocal effects, and a brightly lit LCD screen, displaying signal chain, effect options, and user presets.
I/O
There isn't much the HD PRO can't handle as far as inputs and outputs in a guitar setting. The unit offers a standard guitar in and headphone jack out front, but turn the unit around, and now we're really talking. In back, you are given the option of sending the dry signal out for later processing, connecting other mic preamps through the line input section, adding your own effects in the FX stereo loop, or using the HD PRO directly with your computer via a usb port.
Amp Modeling
The HD PRO's undeniable strength is its amp modeling. The vast array of amps and tones available is eye-popping, and the sounds that can be achieved are even better. From thick, crunchy tube drive, to airy, light acoustic tones, clearly there is quite a lot left to the imagination here, to play and create with as you please.
Effects
This is where things get a bit cheeky. Once again, Line6 gets close to a climactic group of effects, but misses the mark on a few things. For starters, the idea of a visual effect chain right in front of you is revolutionary, and a great concept that can be utilized to the greatest extent, if one puts in the time to program and set everything up in advance. Even with a great display however, it seems that there are just way too many effect packed into one box, and to control and manipulate them all is no easy task, despite the more hands-on approach taken on the control system. As with the previous POD HD 300, 400, and 500 units, all of the effect sculpting is done through menus, and is accessed by 1 or 2 knobs. Furthermore, the more digital and processed effects are not very responsive to the player, and the guitar signal itself. With the more digital effects, the guitar acts as more of a midi guitar, with the effects not using the guitar's signal at all, but rather listening to what notes you are playing, and producing a sound of its own based on the pitch. With these flaws though, there is still room to work with creating new tones, starting from scratch and making something all your own.
Flexibility
I was a little put off by the rackmount idea; in as much as that it does not come with an included footswitch, although there are rear ports to accommodate one. Without a footswitch, the idea of playing out live with the HD PRO seems all but impossible. The HD PRO would probably fit in better in a studio setting, tone creating and shaping, and as the middle man in a recording project.
All in all, I would have to say the POD HD PRO is an effective piece of gear, but is better left to a studio setting, or small gigs, unless you have a footswitch to operate it with. The tones are phenomenal, and the effects are interesting, but the price seems a bit high at $699.99. Overall, a good, reliable piece of gear that can open countless doors to the unknown of guitar tone.
Line 6 POD HD PRO Review
7/10
Line 6 POD HD PRO Video Review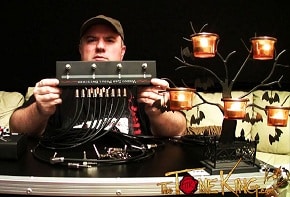 Longtime friend of Gear-Vault.com, TheToneKing.com is now on its third year of pedal reviews for its TTK viewership. And, in the thick of this otherwise dreary November, the potential for winning big with gear giveaways coming at the end of this month is just beginning to warm up. The Tone King says, "This year, we've stepping up our game Read more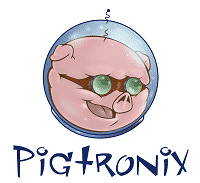 Pigtronix is not your typical guitar effects maker. Starting with the original Envelope Phaser, Pigtronix pedals have been anything but conventional. According to David Koltai, president of Pigtronix, "With companies like BOSS and Dunlop to compete with, it seemed crazy to come out of the gate as a startup trying to compete on their terms." That's why Koltai and long-time friend Brian Bethke teamed up to form Pigtronix. They decided to focus exclusively on effects pedals that were unlike anything on the market.
Unique effects such as an envelope-controlled phase shifter, a parallel-distortion box, an ADSR dynamics generator, and a freakishly accurate pitch-tracking mono synth quickly made Pigtronix pedals popular among modern creative musicians. Driven by a never-ending quest to discover new kinds of effects, Koltai still turns to customer feedback for future design concepts. Andy Summers, Vernon Reid, Red Hot Chili Peppers, Jack White, Adrian Belew, Bootsy Collins, Weezer, The Roots, Primus, and other artists have been instrumental in establishing Pigtronix as a top-level effects maker, both as customers and as sources of critical feedback.
In fact, legendary rocker Frank Marino encouraged Pigtronix's development of the Philosopher's Tone. The Philosopher's Tone – arguably the cornerstone of the Pigtronix lineup – is one of the most popular compression/sustain pedals ever made, renowned for its near-infinite sustain. Likewise, the brilliant NYC guitarist Craig Brodhead introduced Koltai to the idea of using the "Golden Ratio" as the basis of the rhythmic delay lines in the instantly musical Echolution delay pedal. Read more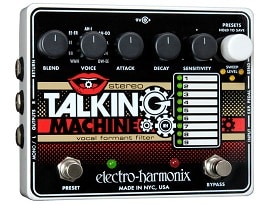 Buying a pedal that offers multiple exciting sounds and finding that you can't save any of them is frustrating. Consistently re-creating onstage all of its cool effects is virtually impossible, forcing some players to buy multiple identical units, each set for a single sound.
Fortunately, Electro-Harmonix–purveyors of some of the coolest sounds ever–introduced its first programmable pedal a few years ago. Since then, they have been churning out amazing effects, like Ring Thing and POG2, capable of a wide range of usable tones, storable as nine presets. The latest addition is the Stereo Talking Machine, a vocal formant filter that offers wah, auto-wah, envelope filter, and talk box effects. Read more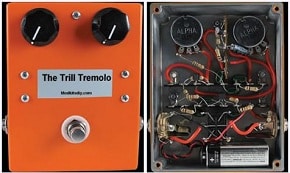 I've played on a lot of pedals. Wahs, tremolos, distortions, phasers, you name it. I've only built a few. So when I got the chance to review a diy pedal, I jumped at the chance. Building an effect pedal is more than a simple task at hand; it's more like an experience. It's a journey through a myriad of parts, numerous references to the build sheet, and a whole lot of patience. Read more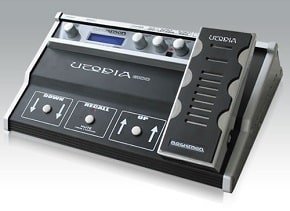 Floor-mounted guitar multiteffect units are unrivaled when it comes to stow-and-go convenience, but too often that convenience comes at a price. Most pro-quality units with rugged construction and versatile performance capabilities can cost as much as a good amp, while many affordably priced units have severely limited parameters and tones that aren't quite good enough for stage use. For many guitarists, dreams of a compact, rugged multieffect unit with an affordable price tag and a reasonable selection of professional-quality "meat-and-potatoes" tones seemed as unattainable as a perfect society.
With the Utopia G100 Professional Guitar System, Rocktron hopes to prove that dreams can become reality. This compact multieffect floor unit is built like a tank, packed with an impressive selection of versatile effects and priced less than what you'd pay for a boutique stomp box. Unlike many other low-priced multieffect units, which seem to suffer from a "jack of all trades, master of none" design, the Utopia G100 is designed to deliver the tones, effects and features that matter most to guitarists and operate in a streamlined and straightforward fashion. Read more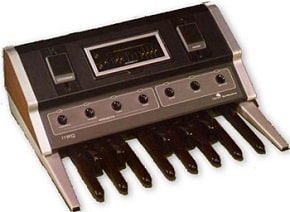 Looking like the amputated bass pedals from a home spinet organ, the Moog Taurus synthesizer was introduced in 1974 to bring synthesis to musicians' nether regions. Odd as it may seem, over its seven years of production, the Taurus found favor with, of all people, guitarists and even bassists. Among its users were Andy Summers and Sting, Alex Lifeson and Geddy Lee, Pink Floyd, Genesis and, even the great shredder, Yngwie Malmateen.
The Taurus (shown here) was a monophonic synth, and while it had just 13 pedals, its two oscillators had a range of five octaves. It offered three preset sounds—Tuba, Bass and a signature tone called Taurus—and one user- programmable patch that could be created with the unit's voltage-controlled oscillators, filter and amp. Two foot sliders on top of the unit gave control over filter cutoff and volume.
Moog introduced the Taurus II in 1981. It upped the ante with 18 pedals, modulation and pitch-bend wheels, and a waist-height control panel that made settings easier to change during performance. Moog ceased making the Taurus In 1983 as digital synths came into vogue. Read more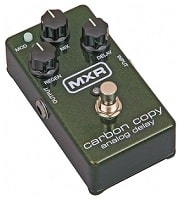 The innovation of the bucket brigade delay circuit in 1969 made compact, stageworthy analog delay pedals a reality and allowed guitarists to retire their bulky and unreliable magnetic tape echo units. Although bucket brigades were eventually replaced by digital signal processors, suffice to say that–like skinny ties and Donnie and Marie Osmond–the analog delay has made a comeback. Nearly every music manufacturer is currently releasing its own take on the analog delay, and for good reason: most guitar players cherish the soft, lo-fi sound quality produced from these units.
Fortunately, MXR, who have been making some of the most popular and innovative stompboxes, has jumped on the bandwagon. The company's Carbon Copy Analog Delay pedal is the brainchild of MXR senior engineer Bob Cedro, and its design is noteworthy for the company: it's MXR's first delay pedal in nearly 20 years. What's more, it offers 600ms of analog delay time in a compact unit the size of MXR's Phase 90 pedal. Read more