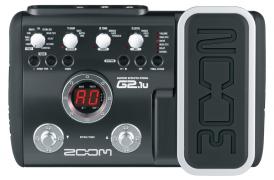 Even the best signal processor can't make up for a bad guitar sound.
Too often engineers and producers tell worried guitar players, "We'll fix it in the mix," or, "I know it sounds a little funny now, but we'll sprinkle some fairy dust on it and it'll sound killer." Statements such as these are, in my humble opinion, a crock. There are many things you can do to a bad guitar sound—you can flange it, EQ it, play backwards or bury it in reverb—but 99 percent of the time you'll just end up with a bad guitar sound that's been flanged, EQed, played backwards and buried in reverb. Read more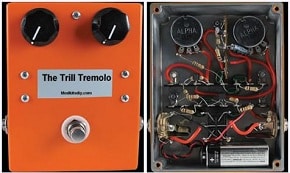 I've played on a lot of pedals. Wahs, tremolos, distortions, phasers, you name it. I've only built a few. So when I got the chance to review a diy pedal, I jumped at the chance. Building an effect pedal is more than a simple task at hand; it's more like an experience. It's a journey through a myriad of parts, numerous references to the build sheet, and a whole lot of patience. Read more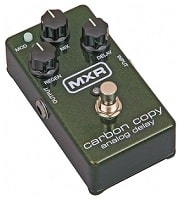 The innovation of the bucket brigade delay circuit in 1969 made compact, stageworthy analog delay pedals a reality and allowed guitarists to retire their bulky and unreliable magnetic tape echo units. Although bucket brigades were eventually replaced by digital signal processors, suffice to say that–like skinny ties and Donnie and Marie Osmond–the analog delay has made a comeback. Nearly every music manufacturer is currently releasing its own take on the analog delay, and for good reason: most guitar players cherish the soft, lo-fi sound quality produced from these units.
Fortunately, MXR, who have been making some of the most popular and innovative stompboxes, has jumped on the bandwagon. The company's Carbon Copy Analog Delay pedal is the brainchild of MXR senior engineer Bob Cedro, and its design is noteworthy for the company: it's MXR's first delay pedal in nearly 20 years. What's more, it offers 600ms of analog delay time in a compact unit the size of MXR's Phase 90 pedal. Read more
The Maxon's converted product line from the Seventies is being reissued, beginning with four models. Originally released in 1979, the Maxon OD808 Overdrive employs the IC chip of the original unit to create a vacuum tube-style overdrive, its smooth, creamy crunch tone caught on quickly, and helped to launch a long line of predecessors as well as imitators. While the D&S Distortion and Sustainer produces transistor distortion with tones that range from subtle overdrive to extreme fuzz. The AD80 Analog Delay creates 10-300ms of warm analog delay time, and the PT999 Phase Tone produces intense phasing with low-noise design and a wide dynamic range. List prices are as follows: OD808, $185.00; D&S Distortion and Sustainer, $180.00; AD80, $335.00; PT999, 190.00.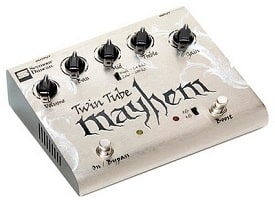 WHO COULD HAVE imagined that a decades-old company solely devoted to pickup winding would suddenly set the guitar industry on tilt with masterfully crafted pedals like the Twin Tube Classic, Lava box, Power Grid, Shape Shifter and Tweak Fuzz. Never before has a specialized company like Seymour Duncan so successfully diversified its product line and received such high marks for its freshman effort.
Another great addition to the company's stomp box line is the anxiously awaited Twin Tube Mayhem pedal. This is the Twin Tube Classic's criminally insane brother, born of Duncan's malicious intent and capable of terrifying acts of sonic aggression. Like the Classic, the Mayhem is more of a footswitchable tube preamp than a mere stomp box by virtue of its standalone ability to generate tube- derived gain and control a full-waveform signal, as opposed to only shaping or boosting portions of the sound to create a desired effect. Simply put, Duncan's Mayhem conjures diabolic high gain like you've never heard from a pedal. Read more
NAMM 2011 — The evolution of the chorus effect seems to have gotten stuck in '80s pop, along with over-processed guitars, cheesy synths and popped collars. This ain't that kind of chorus.
When we designed the Boost Chorus pedals we went back to the '70s, when choruses were rich, smooth and manly. We figured out what made these vintage stompboxes sound so good and poured that knowledge into a new kind of chorus pedal with greatly improved performance and a whole slew of never-before-heard sounds. Slapback, echo, flanging and doubling effects are all possible from the modestly named Boost Chorus pedals.
Tech 21 Boost Chorus
Designed primarily for guitar (but sounds great on everything else) the Boost Chorus features unprecedented tweakability for this type of pedal. No fewer than six controls allow players to easily dial-in the right tone, speed and depth of the effect.
The Mix control allows a 0-100% wet blend of the effect, while the Level control offers increasing amounts of boost to compensate for the volume loss perceived with chorus. The final control is the Pre-Delay, which alters the chorus' range to produce effects from flange/chorus, to regular chorus, to chorus/doubler.
The secret weapon is the Multi Voice switch. Engage this to bask in the multiple chorus voices of an Ensemble-style effect
Tech 21 Boost Chorus Bass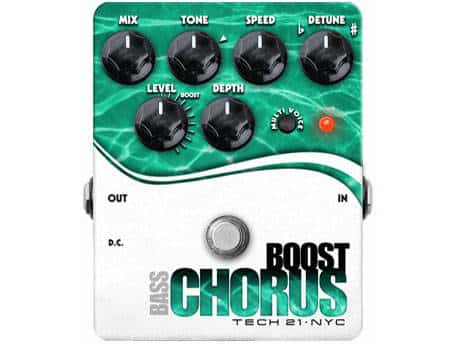 Because of the way traditional chorus pedals typically interact with their amps, most bass players would rather put an angry badger on their pedalboard. The Boost Chorus Bass avoids seasick tones, and badgers, through a specially-tailored design.
It features the same control set as the standard Boost Chorus, including the Multi Voice switch, but differs in having a Detune control in place of the Pre-Delay. The Detune control adjusts the pitch of the choral voices, adding sonic girth to create thick, lush, bass-perfect chorus.
Speed and Depth controls add modulation, so at minimum your fundamental notes are preserved. Finally, a chorus that works in harmony with your bass.
Roto Choir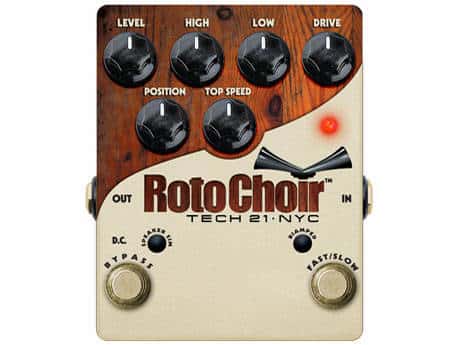 No musician can deny the deep, swirling glory of a vintage rotating speaker cabinet, that uniquely lush, pulsing tone that brings any instrument to life. So, why doesn't everyone use one? Because they're the size and weight of a bulky refrigerator, cost big bucks and are more high-maintenance than a platinum diva.
But, imagine getting all of that inspiring rich modulation with cutting-edge features in a studio-quiet, road-worthy pedal. Just one little pedal. Now imagine you can use that pedal with guitar and to record direct.
The Roto Choir recreates both the rotating lower speaker and the treble rotor horn – the only way to attain that complex, multi-dimensional tone. In fact, the Roto Choir utilities a specifically formulated SansAmp technology to deliver the entire signal chain – from the original tube power amp to the speaker and high-frequency rotor horn, to the microphone used to capture it. This is HD, 3D emulation.
The simple controls hide a wealth of options. Drive adds just the right amount of compression, harmonics and grit. Low and High sculpt the tube amp emulation with powerful EQ curves. The Fast/Slow footswitch allows users to ramp up, slow down or even stop the rotating speaker. There's also a dedicated control to custom set the Top Speed of your rotor. Want to vary the intensity of the effect? Simply adjust the Position control to move the Roto Choir's virtual mic closer or further from the horns.
Other features include a biamped/single-speaker mode switch, stereo output and a Speaker Sim switch for direct recording. Find the easy way to celestial sounds you can get lost in with the Roto Choir.
Tech 21 Guitar Pedals
Here is a video demonstration of the Rocktron Third Angel Guitar Pedal. It sounds quite rock 'n roll with a heavy metal edge. The pedal has great bass reflex and mids that cut through the mix really well. read the presser and watch the video below. Read more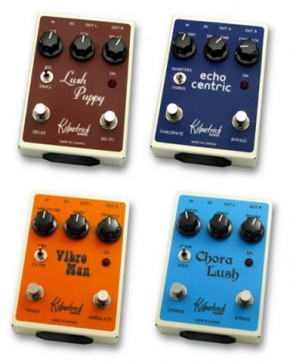 Canadian company Kilpatrick Audio has added two new models to their line of guitar effects pedals. All of the models are combination effects, giving players two or more effects in one pedal. The effects are highly adjustable and can be used simultaneously or switched on and off individually. The pedals are made of solid steel in an attractive vintage style and give off an impressive feeling of overall high quality and durability. Read more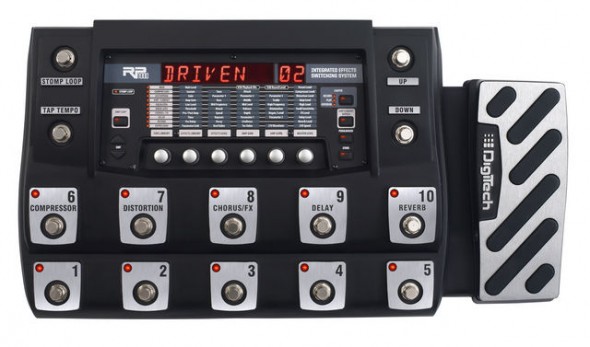 Guitar effects have really come a long way in recent years. Both multi-effects/modeling units and individual stompboxes are normal and every-day parts of many guitarists' arsenal of tones these days and players are getting used to this high degree of flexibility and are always looking for more. Enter the new Digitech RP1000. Read more
Line 6 M9 Presser–
With over immortal modern and vintage stompbox effects, M9 Stompbox Modeler provides the brilliant tones, old-school simplicity and necessary portability to be the all-in-one stompbox solution for every guitarist. Read more