Evolution of Boss ME-Series Guitar Multi-Effects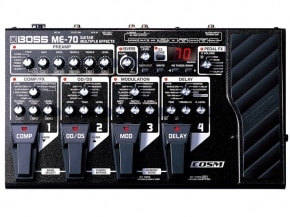 Boss ME-70 Guitar Multi-Effects Processor
Boss ME-70 is a floor-based processor that offers the compact design and simplicity of a stompbox. With dedicated knobs for each section, a new, high-quality COSM engine derived from the GT-10, and added EZ Tone and Phrase Loop features, the ME-70 is the ultimate easy-to-use floorboard powerhouse.
In addition to its superb Overdrive/Distortion section, the ME-70 now features a new Preamp section with the latest sound-modeling COSM engine for the most natural response and sound quality. The ME-70 is made to play, and the hardware now adds a fourth footswitch for even more real-time effects control.
The ME-70's dedicated knobs for each effect section allow full, fast control over sound creation, just like a stompbox. The knobs make the ME-70 incredibly easy to use compared to traditional multi-effects units. Users will also love the new Phrase Loop function for sound-on-sound creation, with up to 38 seconds of recording time. Its EZ Tone function allows for fast and easy tone creation via simple effects presets, so players of any level can create superb tones of any genre within seconds.
With a friendly design and unprecedented tone creation capabilities via COSM and EZ Tone, the ME-70 will be an essential live performance piece for guitarists. Plus, it will bring a diverse array of world-class COSM tones to any studio recording.
Dedicated knobs for each parameter for fast, friendly operation
New COSM Preamp section derived from GT-10 and Legend series
EZ TONE for quick, easy editing
Four footswitches and Expression pedal
PHRASE LOOP function in DELAY section, with 38 seconds of recording time
Amazing amps, preamps, and FX
In addition to its stellar COSM amp models and effects, the ME-70 is fitted with a new COSM Preamp section derived from BOSS's GT-10 and Legend series. With the ME-70 you can dial up a world of tone, from classic to cutting-edge, with simplicity and speed.
Stompbox ease
It's powerful and potent, yet the ME-70 offers the ease of a stompbox. The simple knob-based controls for each effect section makes dialing in tone easier than ever, especially with the innovative EZ Tone feature. And when you want to kick in an effect, just step on one of the four footswitches. Think of it as an array of stompboxes melded into one convenient pedalboard.
Phrase Looper
The ME-70's Delay section is equipped with a dedicated Phrase Looper, which offers a lengthy 38 seconds of recording time. Play a riff, capture and loop it, and solo over it, all in real-time onstage. Amaze your audience with live multi-layered magic.
Extra Expression
Breathe life into your performances with the built-in Expression Pedal. Simply dial up one of the six pre-programmed pedal-control destinations (Wah, Voice, Octave 1, Octave 2, Mod Rate, and Delay Level), put your foot down, and express yourself. For more information, visit Boss's official website at www.bossus.com.
Boss ME-70 Video Demo