Musicvox Space Cadet and Kustom TR12L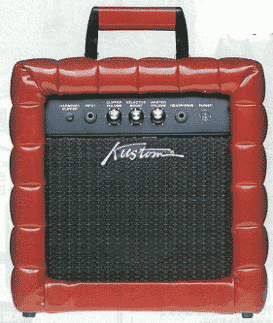 Here's a Pair for the comically inclined. The Musicvox gold-topped, 12-string Space Cadet lathers up some sweetly clean tones from its soapbar pickups. Although the trademark elephantitis headstock is exchanged for a compact Rickenbacker-style tuner arrangement, the overstuffed lower horn maintains Musicvox's geek appeal. The vintage-style neck is fast and easy, and it effortlessly accommodates those extra strings, which sound fat and happy through the vibrant pickups. Low action, gold hardware and a thick, lush jangle make this the foxy 12-string you thought you couldn't afford.
And what better accessory for a Space Cadet than the equally sparkle-tastic Kustom Tuck n' Roll? Part ottoman, part Huggy Bear hi-fi, this little guy is a must-have. Twelve watts and a six inch speaker deliver some surprising grunt from the closed-back cab. Enjoy some private moments via the headphone jack, or unleash the Tuck 'n' Roll's rock and roll. The switchable gain and contour master tone let you achieve everything from lean cleans to fat or scooped fizz. Best of all, your girlfriend has something comfy to perch on while you practice.
Kustom TR12L Guitar Amp Video