Les Paul's "LOG" Guitar, Circa 1939 – Birth of the Les Paul
Les Paul Passes Away August 13, 2009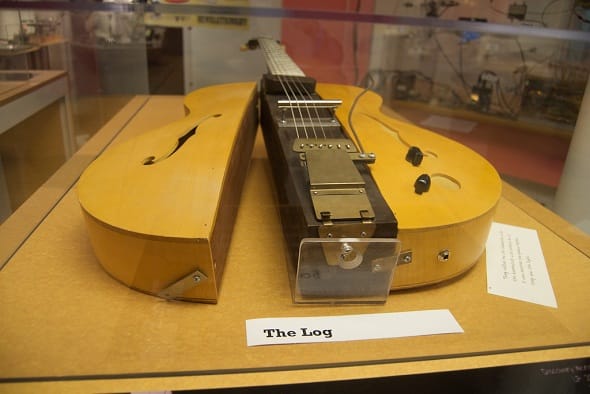 Continued from: Les Paul's journey to Gibson Guitars in 1951

Les Paul's "LOG" Guitar, circa 1939 is the guitar that came to bear Les Paul's name. Seeking to develop an up-market alternative to the plain, slab-body Telecaster, Ted McCarty [another towering figure in the early development for the electric guitar] came up with the idea of building a solidbody guitar with a carved maple top or "body cap." He knew that the Fender factory didn't have the machinery to do this kind of work. In 1950, McCarty brought this guitar to Les Paul, who approved the design, feeling it was right in line with what he'd been trying to achieve. He reportedly said to his wife and musical partner, Mary Ford, "They're getting too close to us, Mary. I think we better sign up with them."
So great were Gibson's reservations about getting into the newfangland solidbody electric guitar market that the company at one point considered leaving its name off the guitar and just putting Les Paul's name on. But they plucked up their courage, and in 1952 the first Gibson Les Paul model appeared on the market. It was very similar to the Les Pauls that are around today, with a few key differences. For one, it had a trapeze-style tailpiece. This was a source of some contention between Les Paul and the Gibson company: Gibson wrapped the strings under the tailpiece's crossbar in order to achieve lower action; Les wanted the strings wound over the crossbar so he could better execute the palm muting technique that became important element of his playing style in the Fifties.
Ted McCarty finally settled the dispute by developing the stop tailpiece, which replaced the trapeze on Les Pauls in 1953. Two years later, McCarty introduced another refinement: the Tune-O-Matic bridge. Both the stop tailpiece and Tune-O-Matic bridge have been staples of electric design ever since.
[% oiopub-banner-3-right %]
In 1957, the Les Paul's original P-90 pickups were replaced by a brand-new invention from a man named Seth Lover. The humbucking pickup featured two coils wound together to cancel out the hum that single-coil pickups generate under fluorescent lighting and in other dodgy electromagnetic circumstances. The humbuckers produced a bass-heavy, "dark" tone which combined with Les Paul's heavy mahogany and maple body wood and traditional dovetail neck joint to create a distinctly rich tone that would come to be identifiable as "the Gibson sound."
In the years that followed, Ted McCarty sought to broaden and diversify the essential Gibson aesthetic. Working with a local artist, he developed three revolutionary guitars—the Flying V, the Explorer and the ultra-rare Moderne. Both the Flying V and the Explorer debuted in 1957 (the Moderne apparently never developed past the prototype stage). With their radical angular lines, these instruments were a bit too wild for the late Fifties. Although they didn't sell well on their initial release, they returned with a vengeance latter in the rock era.
McCarty went in a completely different direction with the Gibson ES-335, the guitar that pioneered the concept of the semi-hollowbody electric. The thin-line body has much less depth than a conventional archtop, which seems bulky in comparison. This significantly reduced the potential for feedback that has always hounded full-sized electric hollowbodies. McCarty also came up with the idea of having a solid block of maple running down beneath the pickups. (The Log revisted!) The result was an instrument—also still very much in use today—that combined many of the best properties of solidbody and hollowbody guitars. Read more: The Gibson Firebird Guitar and Bass.