Mom & Pop guitar shops are a treasured rarity in the fast-paced world we find ourselves living in today. Screw Guitar Center! Check out Gear-Vault's Must-Stop Music City Mom & Pop Guitar Shops in the Nashville area that ooze that Southern hospitality we all crave!
Gruhn Guitars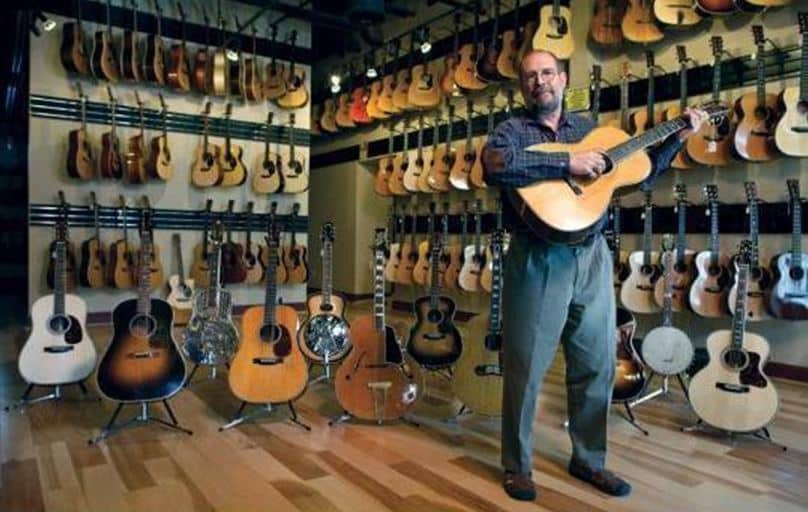 Read more

When the phrase "guitar solo" comes to mind, you picture a guy just shredding apart a fretboard on stage to a crowd going absolutely crazy. This may hold true for some instances, but there are just as many great, even better guitar solos that only consist of a few notes…and are absolutely breathtaking. Read more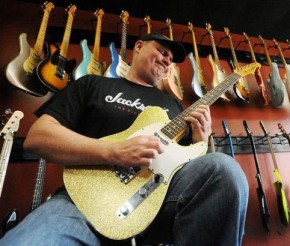 Just as every adult knows that it is inappropriate for one to clean one's ears at a fancy dinner; every self-respecting guitarist knows there are certain disgusting activities which have for many years been strictly verboten in music stores Read more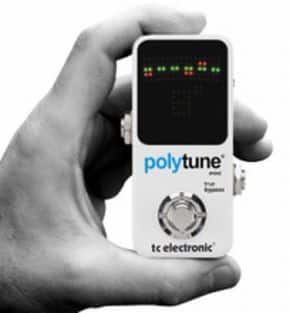 Two years ago, TC introduced polyphonic tuning to the world and since then guitarists everywhere have welcomed this next-generation way of tuning with open arms. Now TC reveals the world's smallest polyphonic tuner: PolyTune Mini that will fit on any pedal board. Sometimes size actually does matter and in such cases, PolyTune Mini is the perfect solution as no other pedal tuner in the world will take up so little space, which means more room for other pedals. Read more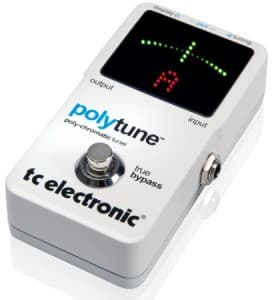 Being in tune is good, right? Personally, I am a tune-it-or-die type of person and can be very critical of electronic tuners that don't deliver all that they promise. Most of us use tuners that operate in the normal way: pluck a string, tune to pitch, move to the next one and repeat. Well, Pilgrim, that is all about to change.
The new T.C. Electronic Polytune ($149.00 retail) promises to change the guitar and bass tuning game forever with its ability to read multiple strings at the same time. You heard me right: strum all six strings at once and the Polytune reads them all and tells you which and in tune and which are out. Of course, it also tunes in the traditional way, too. It offers users a choice of needle or stream metering, true bypass when not in use, silent tuning, a 9-volt output to power other pedals, and a USB port for downloading future updates.
The Polytune may be just what many guitarists are looking for and should be a very popular unit. It speeds up the onstage tuning process a great deal and that is always appreciated. Plus, it is spectacularly visible on dark stages and direct sunlight, which is a big concern for those of us who play outdoors a lot. Time will tell how it does in the field, as with any new product, but initial reviews are favorable so be ready to see the Polytune in a great number of pedal boards this year and into the future. It is accurate, fast, and remarkably innovative in its design. What more do you really want in a tuner? Read more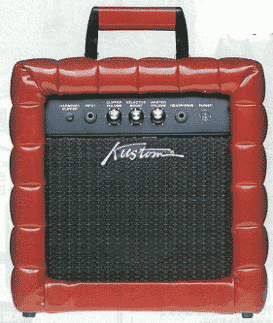 Here's a Pair for the comically inclined. The Musicvox gold-topped, 12-string Space Cadet lathers up some sweetly clean tones from its soapbar pickups. Although the trademark elephantitis headstock is exchanged for a compact Rickenbacker-style tuner arrangement, the overstuffed lower horn maintains Musicvox's geek appeal. The vintage-style neck is fast and easy, and it effortlessly accommodates those extra strings, which sound fat and happy through the vibrant pickups. Low action, gold hardware and a thick, lush jangle make this the foxy 12-string you thought you couldn't afford. Read more
As 2008 comes to a close, Gear-Vault decided to compile 10 reviews of 08's guitar gear. From some of the smorgasbord of products launched back in the first quarter at NAMM, to the mountain of equipment scrutinized by the experts, guitarist and musicians, there's been something new and exciting for all tastes, sounds and wallets. Read more