Epiphone LE 1956 Gold Top Les Paul Guitar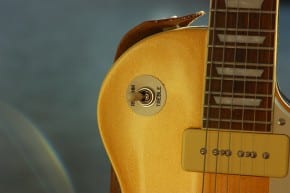 Gold tops are the coolest. There, I said it. I know, I know, '59 Burst, yadda, yadda, yadda, flame top, whatever. Give me the gold, Baby. Of course, the coolest of the gold tops are the 50's gold tops with P90's, which are the original Les Paul design, as humbuckers came along a few years later. The only problem is that real 50's Les Pauls pretty much require a mortgage to obtain, at least for most of us. Thankfully, Epiphone has come to the rescue with the Limited Edition 1956 Les Paul Gold Top.
The Epi is a loving recreation of one of the all-time classic electric guitars, an instrument that helped the blues and rock and roll make America great. It casts its familiar single-cutaway shadow on the stage and features all the appointments one would expect from one of these, including two Alnico V P90 pickups, a mahogany body, Tune-O-Matic bridge, and a stop tailpiece.
There is nothing really new or groundbreaking about the LE 1956, at least anymore, but that is hardly the point of this axe. The LE is a ticket to Yester-year, when cars had fins, Harleys were kick-start only, and the primordial ooze of rock and roll ruled the radio. This is a great guitar choice for those looking for the tones of Chuck Berry, Bo Diddley, and early Elvis with Scotty Moore. It will also get you into the territory mined by roots-influenced players like George Thorogood, who uses nothing but P90's. If vintage is your vibe, the Epiphone LE 1956 Les Paul Gold Top could be your next guitar. Hep cats and bluesmen are encouraged to apply at your local Epiphone dealer. Check for hot buys

Epiphone 1956 Gold Top Les Paul