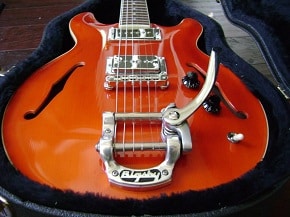 Call them the biggest of custom shops or the smallest of production plants; either way, Hamer knows how to put together some fine guitars. Even their most affordable instruments reveal an attention to detail you might expect to find only in high-priced guitars.
So it only goes to figure that a costlier instrument like Hamer's Newport Hollowbody electric guitar exhibits some truly topnotch craftsmanship. The Newport is part of Hamer's unique line of true hollowbody instruments, which also includes the Newport Pro. It features a hand-carved spruce top on a mahogany body and a mahogany set neck, all bound in ivoroid. The transparent orange finish is subtly flecked with silver sparkles, and the chromed hardware includes Grover Super Rotomatic tuners, chrome pickup surrounds, a Tune-O-Matic bridge and a Bigsby vibrato tailpiece.
The Newport sports a pair of single-coil Phat Cat pickups hand-built in Seymour Duncan's custom shop, master volume and master tone controls and a three-way toggle pickup selector. The Phat Cats are cleverly designed to humbucker dimensions, by the way, so if you must swap them, you can do so without taking a knife to the top. For those less inclined toward this model's rockabilly leanings, the Newport Pro comes with a Tune-O-Matic bridge with stop tailpiece and two Seymour Duncan Seth Lover pickups. Read more
Tags: hamer newport, hamer newport guitar player review, hamer newport guitar review, hamer newport hollowbody, hamer newport pro price, Hamer newport pro review, hamer newport review, used hamer newport,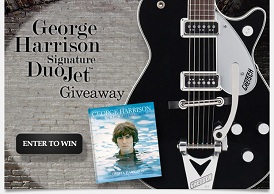 Gretsch is giving away one G6128T-GH George Harrison Signature Duo Jet guitar and copies of the book – George Harrison: Living in the Material World. Read more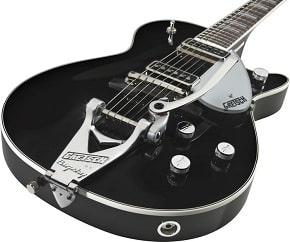 Fans of George Harrison may well remember the guitar he was holding on the cover of his Cloud Nine record: a black '57 Gretsch Duo Jet. When the Gretsch Company decided to honor the legendary guitarist with a signature guitar, it was this Gretsch Duo Jet they chose to re-create. Read more
Tags: gretsch george harrison duo jet review, george harrison gretsch guitar reviews, George harrison guitar gear, gretsch duo jet review white, gretsch george harrison duo jet,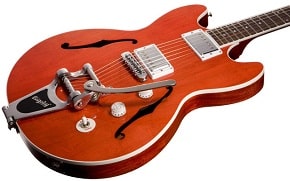 Every year or so, the big 2 guitar manufacturers [Gibson, Fender], release a guitar that is designated as their latest "Wow Guitar". You know, the ones that are pure eye and ear candy, that tempt you with selling your car to have one of your own. Read more
Tags: Gibson Midtown, Description : Midtown™ Standard with Bigsby®, midtown™ standard with bigsby®,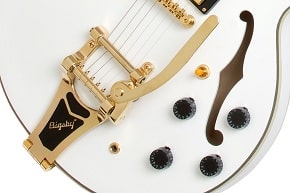 Here's how fresh the 2011 Epiphone ES-355 is at this point in time and space: I walked into two different music stores, one a giant corporate retailer and the other a small local shop (albeit one that specializes in Epis), and neither one of them even knew it existed much less had one in stock. Read more
Tags: epiphone es 355, epiphone 355, epiphone es-355, epiphone 355 vs gibson 355, epiphone es 355 alex lifeson, epiphone es355 guitar, epiphone es355 pro, epiphone flying v 355, where can i buy an epiphone es355,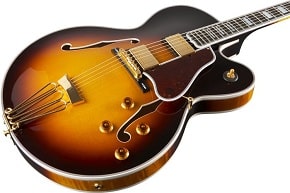 Introduced in 1955 Gibson's Byrdland was one of the first thinline hollowbody electrics. Designed with the help of hot-shot guitarists Billy Byrd and Hank Garland, whose surnames were combined to form the model's name, the Byrdland was a Venetian (i.e. rounded) cutaway archtop with a carved spruce top and solid maple rims and back. Though the body was only 2-1/4 inches deep, rather than the standard 3-3/8 inches. Also unusual was the instrument's short scale length 23-1/2 inches, a full two inches less than that of most archtops, allowing guitarists to play chords that required large stretches. Read more
Tags: gibson byrdland florentine, what guitar is cheaper than a gibson byrdland, birdland guitar, byrdland guitar, byrdland replica,
Washburn Guitars has announced a new Vintage Jazz Box archtop hollowbody, the J600, and two new additions to its range of Parlor acoustics, the R315KK and R321SWRK.
These guitars were on display at the NAMM show in January, alongside Stu Hamm's new signature Washburn bass, The Hammer.
The Jazz Series addition features a maple neck with rosewood fingerboard, spruce top, flame maple back and sides, gold hardware, bound f-holes and a Venetian cutaway. RRP is $1247.90, available mid-2011.
The Parlors are based on the R314K and R320SWR vintage models, minus the 'vintage' finish. Both feature mahogany necks with ebony fretboards and bridges, abalone rosettes and herringbone bindings. The R315KK has a spruce top while the R321SWRK boasts a solid spruce top and solid Rosewood back and sides.
R315KK RRP is $712.90, R321SWRK is $1,069.90, also available sometime in mid-2011. See Washburn Guitars for more. Read more
Tags: washburn r320swr review, washburn archtop, washburn r321swrk,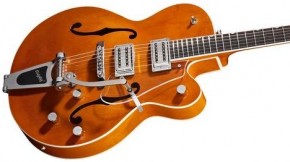 Gretsch guitars are among the most iconic images and sounds of rock and roll, especially the early years. They have also been used by modern players ranging from Dave Stewart to Brian Setzer and, like the Les Paul, Stratocaster, and Telecaster, have never really gone out of style. The only problem with Gretsch is they can be a bit expensive, like many of the finer things in life. Well, good news hep cats and kittens: now there is a Gretsch that sounds great, oozes cool, and can be had for a price that won't give your significant other indigestion. I am talking about the Gretsch G5120 Read more
Tags: geer hollowbody, Gretsch Guitars G5120, gretsch setup, setup gretsch 5120,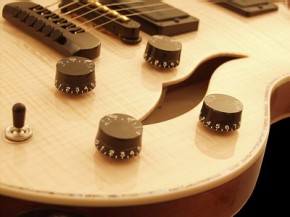 Semi hollow body guitars also known as semi acoustic or semi solid guitars are essentially electric guitars which offer a best of both worlds of sorts. They were created especially for players who wanted the resonance of a hollow body while having the feedback resistance, bite of the solid body guitars. As it has a solid block of wood running through the center with hollow body "wings" on both sides. The result is what is now popularly known as the Semi-hollow body guitars. Read more
Tags: SemiHollowBodyElectricGuitarBuyingGuide|Guitars|Gear-Vault, benefits of a semi hollow, USED HOLLOWBODY ELECTRIC GUITARS, the best semi-hollow guitars, the advantages of holowbody guitar, semi hollow guitars, semi hollow electric guitar, semi acoustic or solid body, NEW EPIPHONE SEMI HOLLOW BUYING GUIDE, hollow body guitars,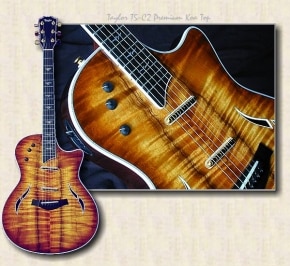 Over the last 35 years, Taylor guitars has amassed a sterling reputation as on of the world's premier guitar companies. Bob Taylor is widely recognized for bringing innovative refinements to the guitar-making process, and the proof is in the playing. But as Bob will point out, innovation is never an end unto itself. Bob and his product design group are driven by a deceptively simple goal Read more
Tags: taylor electric guitar, tayor t 5 sound,