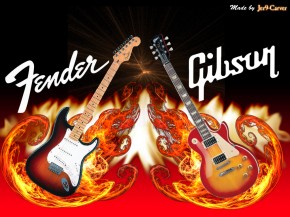 Ah, the classic Gibson vs Fender debate. This dispute has become so famous and so controversial that nearly all guitarists are forced to segregate themselves and declare their allegiances. But why form such specific, exclusive factions, driving a wedge between the guitar playing community? For good reason, as it turns out the two companies build different guitars for different purposes, making it perfectly reasonable that some players only pick a Fender while others are firm Gibson men (and women). But which is best for the player who has yet to pledge themselves to one brand? Read on and find out. Read more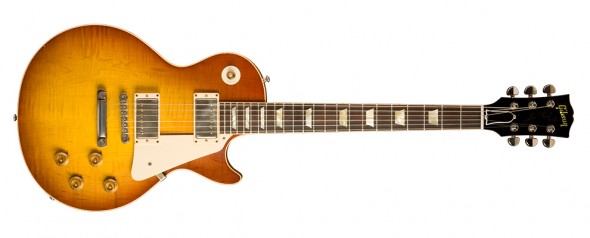 Eric Clapton's original 1960 Les Paul Standard is legendary for not one, but several significant reasons. Clapton's playing on John Mayall and the Bluesbreakers' Blues Breakers with Eric Clapton album of 1966 (forever after known as "The Beano Album" because Clapton himself was reading a Beano comic book in the LP's cover photo) is seminal blues-rock — searing, dynamic and ferocious. While anonymous street artists famously scrawled "Clapton is God" on the walls and train stations of London, the virtuosic ex-Yardbird brought the mighty sunburst Les Paul roaring back to popular music. One listen to the creamy, yet biting snarl of Clapton's playing on tracks like "Hideaway," "Double Crossin' Time," or "Key to Love," and countless guitarists the world over were instantly turned on to the power of this rare, and previously under-appreciated, Gibson solidbody electric guitar. Read more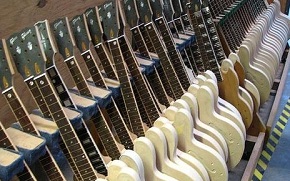 The Gibson Guitar Corporation is under fire once again for suspicion of violating foreign wood and labor laws.
On August 24th 2011, Fish & Wildlife agents raided Gibson's Memphis and Nashville facilities, seizing an unknown quantity of Indian ebony and rosewood.
No charges have been filed, no arrests have been made, and the Department of Justice has not given any explanation as to what was illegal about the wood.
The company is no stranger to the Feds. They were raided in 2009 on suspicion of illegally importing wood from Madagascar. As a result, Gibson no longer imports from there, and has been the center of some controversy since. Read more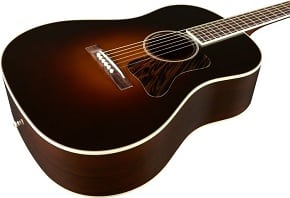 On January 12, 2011, the Jackson Browne Signature Gibson acoustic guitar was unveiled at the National Association of Music Merchants (NAMM) winter show in Anaheim, California. Hearkening back to Gibson's revered Roy Smeck models of the 1930's, Browne's baby took the better part of a decade to complete, as he went back and forth throughout the process with the Gibson Montana Acoustic Master Shop up in Bozeman, Montana. Read more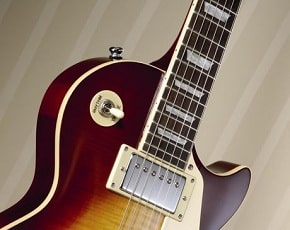 If you want a guitar that has a good sound and won't leave you begging on the street for spare change, the Epiphone Les Paul is a popular choice. But one of the ongoing questions is whether there's difference between those Made In China and the guitars Made In Korea and which you should be looking at buying. Read more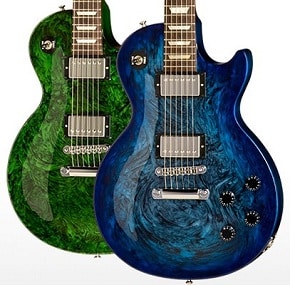 Though the Nashville flood is long behind us on the calendar, for many of us it is still fresh in our minds and hearts. The damage is done, the cleanup is all but finished, and things are back to where they should be, for the most part. Hell, Gibson is still rockin' and rollin' just as hard as they ever were. As you may or may not remember, Gibson's Nashville plant was hit especially hard in the flood, laying waste to every guitar they had, including some hall-of-famer guitars. Read more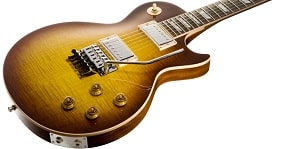 Alex Lifeson is known to have played a tremendous number and variety of guitars throughout his career, and even on one record – in the making of Rush's 2002 release, Vapor Trails, Lifeson used 50 different guitars and, for the first time in years, no keyboards whatsoever.
Now, Lifeson has teamed up with the good folks at Gibson, releasing his signature model Gibson Custom Alex Lifeson Les Paul Axcess. In some ways, Lifeson goes back to his roots with this guitar; in others, he uses it to summarize a lifetime of playing and recording experience.
Lifeson started out playing a Gibson ES-335 for Rush's first four albums, switching to a Les Paul (blasted through a Marshall stack) during the seminal 2112 Tour. By the early 1980s he was playing custom-built Fender Stratocasters, with a Bill Lawrence humbucker in the bridge position, almost exclusively. He rotated through four such Fenders – all with Floyd Rose locking tremolos – until 1986, when he switched to his own brand, Signature Guitars. For use in the studio, where time is money, it's an understandable decision since anyone would be more familiar (and no doubt more comfortable) working with a guitar of one's own design. Read more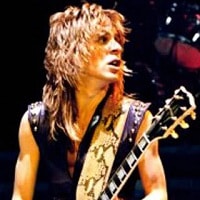 Randy Rhoads fans, here's some unseen video footage that recently surfaced. As a huge Randy Rhoads' fan, whenever some unseen audio or video is discovered, it's like finding the Holy Grail. And so it is, apparently, with the below video of Randy Rhoads performing an extended (7:50) solo from 1979 with his former band, Quiet Riot. Read more

Gibson Gear — a division of Gibson Guitar, announced the availability of Gibson Historic Spec guitar parts available exclusively through authorized dealers. Because of the overwhelming demand, Gibson Gear has added several new historic parts which have never been offered before to their product line. These new products range from a Historic Potentiometer, Historic Toggle Switch Cap, Historic Knob Pointers, Historic Output Jack, Historic Toggle Switch Washer, Historic '61 Truss Rod Cover, Historic Non-Wire ABR-1 Bridge, Historic Spec Bumble Bee Capacitors, and the ever popular '57 Classic Humbucker with 4-Conductor Wiring. Gibson Gear's Historic Parts are directly based on the original specs of guitars used by such greats as Billy Gibbons, Joe Bonamassa, and Lenny Kravitz. Read more
Seventy years after his birth and three decades after his untimely passing, John Lennon's message of peace continues to touch the masses, and his songs still resonate in the hearts and minds of fans around the world. At the request of Yoko Ono, Gibson Acoustic is very proud to offer three 70th Anniversary John Lennon J-160E acoustic guitars to celebrate the legacy of this extraordinary artist. Accordingly, only a very limited number of these handmade acoustics will ever be available. Read more