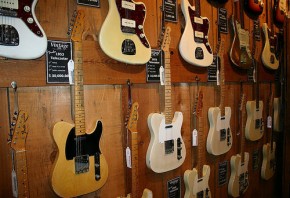 There is a lot of fuss made in the guitar community about so-called 'vintage' guitars, 'vintage' being another word for 'old'. There is a certain part of our world that longs to play a 30-, 40-, or even 50-year-old guitar or bass for a variety of reasons. To be honest, there is something to this argument when it is applied to instruments that truly are products of what many to be the 'golden era' of guitar production in the USA which, if we combine acoustic and electric guitars, would be roughly from the 1920's to about 1970.
Read more
Hey Gear-Vault readers! An interesting debate was brought before our attention earlier this week and we thought we'd pass it along to you guys. Let's put your mad guitar knowledge to the test! Comment your answer at the end of this kick ass discussion!
Can you tell which is Gibson and which is the Epiphone?
Now let's take a closer look at these two guitars:
At first glance, these two guitars appear quite similar. In fact, many players might even have trouble distinguishing between the two. However, did you know that the left guitar often costs as much as NINE TIMES than the one on the right? That's right. The axe on the left is perhaps one of the most recognizable guitars in the world: a Gibson Les Paul Standard. You can typically purchase one of these for around $2500-3500. Pictured just to the right of the Gibson is the Epiphone Les Paul Standard, which usually clocks in at just under Read more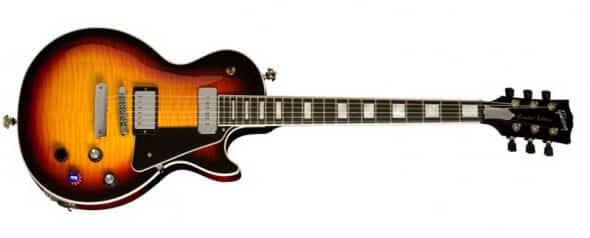 Gibson brings innovation to Robot Guitar tuning technology with the Les Paul Standard 2010 Limited Electric Guitar. Les Paul, Gibson, and the Les Paul guitar have always been about innovation. With a legacy as one of the most versatile electric guitars available, the robot Les Paul knocks versatility right off the charts, courtesy of Gibson USA.
With Robot Guitar automated tuning capabilities, 2 different but seminal magnetic pickups, a piezo-loaded bridge, and Chameleon Tone Technology courtesy of its Master Control Knob (MCK), the Les Paul Standard 2010 Limited packs a dizzying array of sonic capabilities, all primed to unlock your inner creative potential. From the raw, biting crunch of a hot, chrome-covered, hum-canceling P-90H in the neck position and the sizzling wail and punch of an overwound BurstBucker 3 in the bridge, to the subtle acoustic response of its piezo bridges saddles — and any conceivable blend of the three, accessed instantly from the MCK — the Les Paul Standard 2010 Limited really does pack all the tonal colors of the rainbow. And to keep it all sounding true, Gibson's exclusive Robot Technology puts you perfectly into tune in seconds at the push of a button, or shifts you into any of a countless number of open and alternate tunings, all accessed at your command. Read more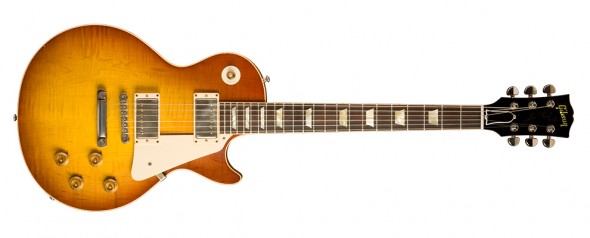 Eric Clapton's original 1960 Les Paul Standard is legendary for not one, but several significant reasons. Clapton's playing on John Mayall and the Bluesbreakers' Blues Breakers with Eric Clapton album of 1966 (forever after known as "The Beano Album" because Clapton himself was reading a Beano comic book in the LP's cover photo) is seminal blues-rock — searing, dynamic and ferocious. While anonymous street artists famously scrawled "Clapton is God" on the walls and train stations of London, the virtuosic ex-Yardbird brought the mighty sunburst Les Paul roaring back to popular music. One listen to the creamy, yet biting snarl of Clapton's playing on tracks like "Hideaway," "Double Crossin' Time," or "Key to Love," and countless guitarists the world over were instantly turned on to the power of this rare, and previously under-appreciated, Gibson solidbody electric guitar. Read more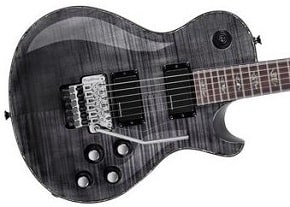 Why is it that your first electric guitar often tends to be your most forgettable? The only thing I remember about my first guitar was that it had strings like a cheese cutter and came with a beaten-up case. It took many years of trading and selling before I could finally afford my first decent electric. Charvel Guitars has found a way to break this dubious tradition with their new Desolation Guitar series, a line of entry-level electric solidbodies aimed squarely at rock and metal players on a budget Read more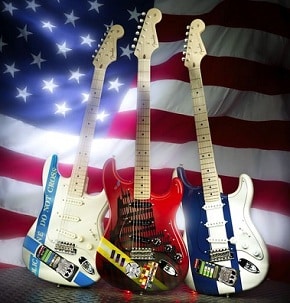 I'm a little late to the party, but thought this was something worth posting. I thought it was a classy move by both Fender and Gibson guitars. Below are the press releases and images of the 9/11 tribute guitars. Read more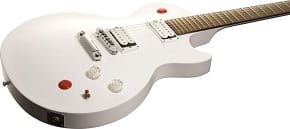 The guy has played with everyone. From Les Claypool to Guns N' Roses, the illustrious Buckethead (aka Brian Carroll) has done a whole lot in the past decade. Commonly known for his usually unusual stage costumes and wicked guitar playing ability, he's dually recognizable as toting around a different style of Gibson Les Paul when he plays. Gibson's finally given him a proper signature axe that's somewhat affordable Read more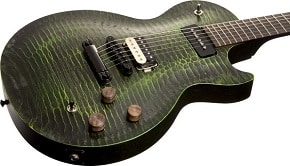 For a little bit of money, nearly any guitar of standard design (Teles, Strats, Les Pauls, SGs) can be clad in a full-wraparoud graphic decal. Common themes of such artistic measures include lightning bolts, snake skins, glowing cracks and the like. The attraction of such cladding is that the look of your guitar can be altered dramatically without the effort, cost and time consumption involved in stripping and repainting – something which is done all the time in those dark buildings where musical instruments are born. Read more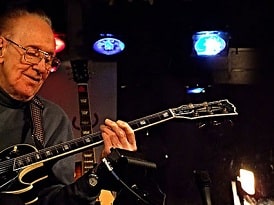 The world has seen many advances in music technology in recent years, but if you dig down about 80+ years ago, you'll find a young curious boy tinkering with electronics. He would be the reason that the solid body guitar and multi-track recording exists. His name was Les Paul.
At the age of eight years old, Les Paul was interested in music, and started off playing the harmonica. Fast forward 11 years, and he was in Chicago, playing on the radio. Les had an avid ability to hear things that others did not, and appealed to listeners all around. Playing mostly country and jazz, Paul had always been playing on archtop guitars, because that's all that existed. This would all change soon enough.
Les didn't enjoy the sound of the archtops. The body resonated the sound of the strings too much, and made the instrument feedback when playing at louder volumes. He wanted to change that. Once he realized that a solid piece of wood would end this inconvenience, he invented what we now know as the Gibson Les Paul. The first version of the guitar was built in the Epiphone factory in 1940, and when Gibson decided to market it, it became an instant success. Without the Les Paul, who knows what Jimmy Page would have played… would it have been a Stratocaster? Read more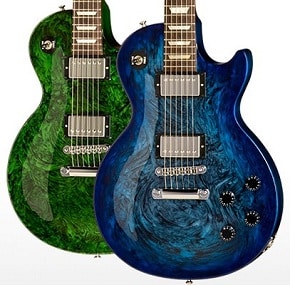 Though the Nashville flood is long behind us on the calendar, for many of us it is still fresh in our minds and hearts. The damage is done, the cleanup is all but finished, and things are back to where they should be, for the most part. Hell, Gibson is still rockin' and rollin' just as hard as they ever were. As you may or may not remember, Gibson's Nashville plant was hit especially hard in the flood, laying waste to every guitar they had, including some hall-of-famer guitars. Read more