Jackson JS Series Hands-On Review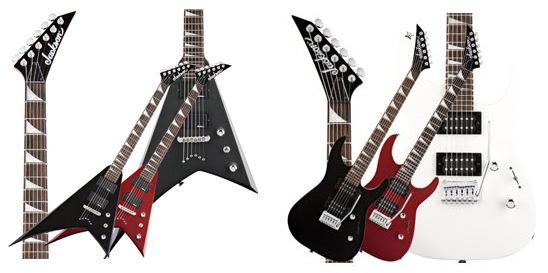 What do modern metal masters such as Iron Maiden's Adrian Smith, Lamb of God's Mark Morton, Machine Head's Phil Demmel, and Anthrax's Scott Ian have in common–aside from being highly influential players in venue-packing bands, of course? Jackson Guitars.
Anyone who grew up on early MTV recognizes Jackson guitars as a symbol of the high-energy metal born in Los Angeles clubs in the '80s. A new breed of guitar hero had emerged and they demanded higher performance from their axes. They wanted shred-friendly setups, super-fast necks, molten tones, and attention-grabbing aesthetics. Former Tennessean Grover Jackson and his small but highly talented and dedicated team listened and delivered the goods.
Thirty years later, predictions of metal's demise still remain totally unfounded: punk, disco, grunge, nor Djs have been able to kill this staple of teenage rebellion or the popularity of Jackson's axes. So to serve a new generation of budding shredders, Jackson offers their new JS series, a truly affordable line that features no fewer than five iconic instrument shapes. For now, let's look at the JS32T Rhoads ($299) and the JS22R Dinky ($219).
In the beginning. . .
The very first Jackson, built in the early '80s, was for Ozzy Osbourne's new guitarist: Randy Rhoads. This amazing young player wanted an angular, asymmetric body that resembled a shark's fin rather than the more typical Flying V. And so an iconic, modern guitar shape was developed from an idea initially sketched on a paper napkin!
Sadly, the guitar world lost this talented picker before he could fully enjoy the realization of his concept. But not before the guitar became the stuff of legend. . .
Advertisement
Carrying on the legacy
The JS32T Rhoads bears more than a passing resemblance to Randy's dream machine, as well as to the current, pricier Jackson RR Rhoads models. The classic Jackson headstock and shark fin inlays are in evidence, as is the same strings-through-body styling as the Pro Series RR5.
This model also retains the compound-radius fingerboard, crucial to the legendary playability of Jackson guitars. Starting with a 12" radius near the nut for comfortable chording and riffage, the rosewood fingerboard gradually flatens out to a 16" radius as you ascend the neck, allowing for maximum shred and super-wide bends with no chance of fretting out. Playability is further enhanced by 24 professionally finished jumbo frets–no buzzing whatsoever even on clean, low-volume settings–as well as the satin sealer on the back of the maple neck.
Of course, at this price, some features must change, like the bolt-on neck rather than a neck-through configuration, one volume control instead of two, and no after-market Seymour Duncan pickups. I was pleased to not that despite these economy measures the sound and playability of the instrument remain topnotch.
I plugged the Rhoads into an Egnater Rebel 30 amp, cranked the gain on the overdrive channel, and found I was riding metal monster–all I had to do was hold on for dear life. The bridge pickup puts out plenty of warm mids, providing fat distortion and sustain, simultaneously severing up enough edge for pinch-harmonic squeals and perfect definition even at the highest gain levels and when playing the fastest riffs. The neck pickup also has enough highs to cut though heavy distortion, yet is warm enough that in the event you need to play a jazz gig on this guitar, you certainly could.
Small yet mighty
The second instrument I checked out is part of the Dinky series. It's a bolt-on, more streamlined version of the famed Jackson Soloist–the ultra-maneuverable machine that inspired Jeff Beck to switch from his trademark Stratocaster long enough to record some scorching tracks for Tina Turner and Rod Stewart.
The JS22R offers many of the same specs as the slightly more expensive JS32T Rhoads. Once again the few cost-saving measures have no effect on either sound or feel. The Dinky has the same compound-radius fingerboard–an astounding and unheard-of option on an instrument at this price. The pickups are voiced a little brighter than the Rhoads, but is merely a differ flavor, not an issue; they sounded great through both the clean and dirty channels of the Egnater. I cranked up the gain, rolled off the tone on the bridge pickup, played up by the 24th fret, and presto–instant Flash-era Jeff Beck.
Value plus
Back when the Jackson brand was born, guitars at this price-point had actions that sat inches above the fretboard and sonics as ice picks. Instruments that sounded and played like the ones reviewed here cost the equivalent of at least a grand in today's dollars. The JS32T Rhoads and the JS22R Dinky not only offer quality guitars for beginners of a metal bent, but also can easily function as fully operational instruments in a professional axe-slinger's arsenal. Happy 30th Jackson!