Vox V845 Wah Pedal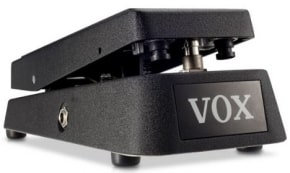 Wah pedals have been around since the 1960's and have become one of the must-have effects in just about every guitarist's arsenal. Vox was the company to first introduce wahs to the guitar market and remains a favorite brand to the present day for those seeking to release their inner "Voodoo Chile." Their newest offering, the V845 Wah, is a new version of their original wah design that offers guitar players the vintage sound they crave in a modern, sturdy, and affordable unit. The V845 is a simple and to-the-point pedal, providing everything one would expect in a classic wah with no extra bells and whistles to confuse or infuriate the end user. Players will find an input jack, and output jack, a power connection, and the pedal, itself. No real need for a manual with this one, unless you just started playing guitar this morning.
The V845 will deliver the goods to any players seeking the famous "talking tone" that put Vox wahs on the map back in the day. It is a sound that has been featured on countless hit records and legendary live performances. Those interested in getting their "Shaft" on will want to hurry down to their local Vox dealer and take a funky spin on one of these. The Vox V845 Wah will be available in November, 2009 and will carry a retail price of $155.00.
About the VOX Wah-Wah
VOX developed the world's first Wah-Wah effect during the '60s in an effort to allow guitarists to emulate the sound of a trumpet being muted — an important musical ingredient of the day. VOX's original Wah-Wah pedal quickly gained widespread popularity and its unique sonic characteristics have encouraged further experimentation by guitarists ever since. Having made spotlight appearances on some of the most famous recordings of all time, the Wah-Wah is still considered "must-have equipment" for guitar players of all levels and abilities today.