I love a Fender Stratocaster, they are one of my favorite guitars. My biggest inspirations aside for Randy Rhoads, was Eric Clapton, Stevie Ray Vaughan, and Jimi Hendrix. Not only were their playing style legendary, but they created a sound that everyone wanted to emulate, and a big part of that was, of course, the Fender Stratocaster.
Today you have a chance to win a Fender Eric Clapton Signature Stratocaster guitar. This 'Blackie' Stratocaster has all the bells and whistles you'd expect from a USA made Fender, this guitar sells for $1,600! Read more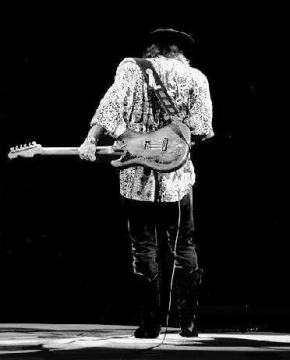 To understand what made Stevie tick, to get the whole story of the man behind the music, we have to turn to his closest confidants, the people who knew him best and miss him most. Given the opportunity to tell Stevie's tale and open up, revealing things they'd never revealed before. Read more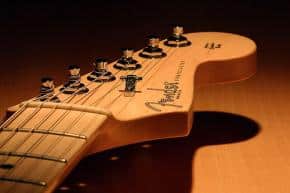 It's easy to get bamboozled if you're purchasing a vintage Fender guitar. Because these instruments are bolted together, their parts can be swapped, stripped or replaced faster than you can say "rip-off." A buddy of mine who has been in the vintage game for years recently estimated that between 15 and 20 percent of the "Sixties Strats" out on the market are bootlegged. And if that number sends a shiver down you fuzzy fretboard, the number of "all-original" Strats that feature replaced pickups, pots, bridges and other parts is even higher.
By and large, G-V has found that vintage guitar dealers who have a good reputation have earned it. Likewise, if the word on the street is that a certain seller is not on the up and up, he's probably guilty as charged. Avoid him like the plague. Read more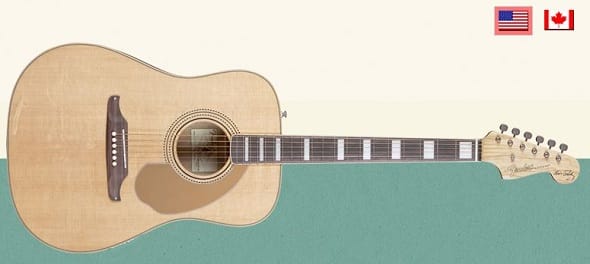 Fender hails the King of Rock 'n' Roll and transports you back to 1967 with the Elvis Presley Kingman acoustic guitar—a sharp looking, rich-sounding, hip-swaying evocation of the freewheeling Fender acoustic that Elvis Presley wielded with consummate cool in '67 cinematic romp Clambake, and now it can be yours.
One grand-prize winner gets the guitar, which features Presley's signature on the headstock and the return of Fender's striking '60s-era "Wildwood" finish. The grand prize winner, plus twenty second-place finishers will also receive Elvis Country: Legacy Edition, a deluxe two-CD package featuring the original 12-song Elvis Country and the original 11-song Love Letters from Elvis and six bonus tracks. Read more
It's that time of year again, when everyone is on the edge of their seat—waiting and watching, for the shiny new products to be rolled out at NAMM. Calm down – this isn't a game changing miracle device, but it's still pretty cool.
Fender has introduced the new Squier models for 2012, putting some nice touches on a guitar line that has had less than impressive results in the past. Read more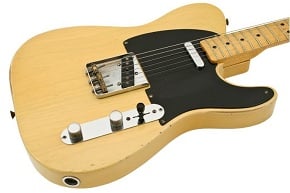 The Fender Telecaster is seen by many as the primordial electric guitar. Sure, one can argue that Paul Bigsby was also developing solid body instruments at the same time and in the same general area as Leo Fender but it is the Telecaster that is generally accepted as the first production solid guitar and the start of the modern guitar manufacturing business. Since its debut in 1952 Read more

Enter for your chance to win a Fender Modern Player Telecaster Thinline Deluxe, Modern Player Jaguar, Modern Player Telecaster Plus, Modern Player Marauder, Modern Player Telecaster Bass, or choose a Modern Player Jazz Bass or Modern Player Jaguar Bass.
Fender Guitars would like to introduce to you its awesome new Modern Player guitar family by giving you an chance to score a shiny-new Modern Player electric guitar or bass guitar. One lucky grand-prize winner in the USA or Canada (among other countries) will get to choose any one of the seven distinctive Fender instruments. Better hurry, this offer ends January 26, 2012. Read more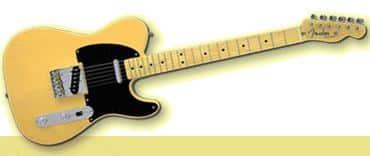 A Fender Telecaster was brought back from the grave, allegedly stolen from a casket of a 67-year-old Army veteran by a Wisconsin cemetery worker. Read more


Squier has teamed up with Joe Trohman of the Fall Out Boy and The Damned to create the Joe Trohman Telecaster, which is loosely based on the early '70s Fender Telecaster Deluxe.
The Joe Trohman Telecaster guitar, like the other artist signature series of Squier was designed to provide inspiration to guitar players by making great value guitars that have the approval of great artists, ensuring quality workmanship and superb sound. Read more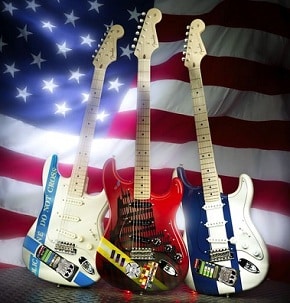 I'm a little late to the party, but thought this was something worth posting. I thought it was a classy move by both Fender and Gibson guitars. Below are the press releases and images of the 9/11 tribute guitars. Read more