Fender first revealed the Road Worn Series guitars and basses at the Winter NAMM 2009 show four years ago, and seemed to have been a hit. These axes are for players who desire that banged up, beaten, used and abused vintage relic'd appearance but don't have the spare $2,000 – $3,000 for a Fender Custom Shop Time Machine relic, let alone the cash to purchase an authentic vintage Fender. Read more
Tags: ibanez art 300 electric guitar black caiman,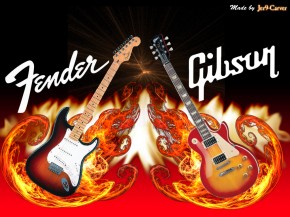 Ah, the classic Gibson vs. Fender debate. This dispute has become so famous and so controversial that nearly all guitarists are forced to segregate themselves and declare their allegiances. But why form such specific, exclusive factions, driving a wedge between the guitar playing community? For good reason, as it turns out the two companies build different guitars for different purposes, making it perfectly reasonable that some players only pick a Fender while others are firm Gibson men (and women). But which is best for the player who has yet to pledge themselves to one brand? Read on and find out. Read more
Tags: gibson vs fender, fender vs gibson, Gibson Stratocaster Guitar, fender vs gibson guitars, gibson vs fender guitars, gibson versus fender, is fender or gibson acoustic guitars better, guitars similar to fender guitars, gibson vs stratocaster vs fender, which is better a fender guitar or a Gibson,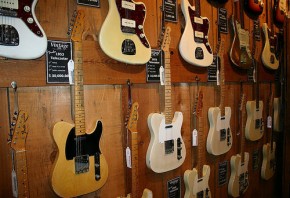 There is a lot of fuss made in the guitar community about so-called 'vintage' guitars, 'vintage' being another word for 'old'. There is a certain part of our world that longs to play a 30-, 40-, or even 50-year-old guitar or bass for a variety of reasons. To be honest, there is something to this argument when it is applied to instruments that truly are products of what many to be the 'golden era' of guitar production in the USA which, if we combine acoustic and electric guitars, would be roughly from the 1920's to about 1970.
Read more
Tags: is there a fix to keep a pee wee guitar by Epiphone is tune?, just guitars, new guitars versus 30 year old, plain old fashion guitar amps, What is the price of a conn guitar that is over 30 years old?,
I love a Fender Stratocaster, they are one of my favorite guitars. My biggest inspirations aside for Randy Rhoads, was Eric Clapton, Stevie Ray Vaughan, and Jimi Hendrix. Not only were their playing style legendary, but they created a sound that everyone wanted to emulate, and a big part of that was, of course, the Fender Stratocaster.
Today you have a chance to win a Fender Eric Clapton Signature Stratocaster guitar. This 'Blackie' Stratocaster has all the bells and whistles you'd expect from a USA made Fender, this guitar sells for $1,600! Read more
Tags: enter to win closet classic stratocaster, Fender Stratocaster Blackie, win a fender custom shop stratocaster, win stratocaster on the sound la,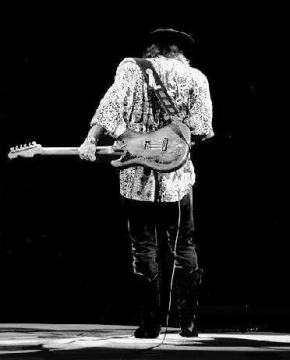 To understand what made Stevie tick, to get the whole story of the man behind the music, we have to turn to his closest confidants, the people who knew him best and miss him most. Given the opportunity to tell Stevie's tale and open up, revealing things they'd never revealed before.
At a young age, Stevie remembers a western swing band called Texas Playboys, they hung out at his house all the time. "They were a lot of character hanging around" Stevie continues "They would do some playing and liked to get drunk." Every once in awhile his dad would yell [affects heavy rural Texas accent], "Hey Jim, Steve, come out here and show them what you can do!". We can all imagine little Stevie and Jimmie Vaughan performing some music with the Roy Rogers roping a cow guitar.
Stevie got his first guitar when he was just seven years of age given to him by Michael Quinn. It was a Roy Rogers guitar with the picture of a cowboy roping a cow. Stevie also had a blanket that matched his Roy Rogers guitar.
Jimmie gave him his first guitar lesson. "Jimmie showed me a lot of stuff on guitar, but there was a time when Jimmie warned me, "if you ask me to show you anything again, I'll kick your ass." Well I did, and he did" –Stevie continued on "My brother Jimmie actually was one of the biggest influences on my playing. He really was the reason I started to play, watching him and seeing what could be done."
Seventeen years after his death, Stevie Ray Vaughan's influence only continues to grow. It can be heard in bar-rooms and arenas around the globe, in the playing of everyone from protégés like Kenny Wayne Shepherd to mentors like Buddy Guy to rockers like Mike McCready and Kirk Hammett. It can be seen in the popularity of vintage gear and straight-forward, ear-ringing tone, both of which were considered passé before Stevie proved there was plenty of influence in Fender Strats.
But perhaps the most telling evidence of Stevie's continued relevance is that his music still speaks volumes to millions of listeners. Some voices are stilled by death, but his has grown only louder.
The first flash comes over the Associated Press wire at about 7 a.m. on Monday, August 27, 1990: "Copter crash in East Troy, Wisconsin. Five fatalities, including a musician."

Keen-eyed staffers at the Austin American Statesman catch that item and begin putting two and two together. The AP updates its story every half hour with fresh details: The mysterious "musician" becomes "a member of Eric Clapton's entourage"—and then, "a guitarist." By 9:30, rumors spread that Stevie Ray Vaughan was aboard the doomed craft.

At 11:30, Clapton's manager confirms the worst: Vaughan was indeed among the passengers in the five-seat helicopter, which slammed into a fog-shrouded hillside near southeastern Wisconsin's Alpine Valley ski resort. Stevie Ray had boarded the aircraft after he and a stellar cast of guitarists that included Eric Clapton, Robert Cray, Jimmie Vaughan and Buddy Guy performed before a crowd of 25,000 at a blues show at the resort. The wildly successful show concluded with Vaughan, Clapton and the others taking part in an all-star finale/jam on Robert Johnson's "Sweet Home Chicago." It was a short time after this triumph that Stevie Ray met his fate.

On Friday August 31, just a few days after the accident, more than 3,000 of the faithful gather at Laurel Land Memorial Park in Dallas, Texas, braving 100-degree heat to say farewell to Stevie Ray. Stevie Wonder, Bonnie Raitt and Billy Gibbons, among others, join the assembled mourners in an emotional chorus of "Amazing Grace." Crowding the burial site are more than 150 floral arrangements that have been sent from around the world. Nearby stands a placard: "We will cherish what you have given us and weep for the music left unplayed."
"Unfortunately, you never fully grasp someone's greatness or importance until they're gone" says B.B King. "And I think that's true with Stevie. As the years go by and he's not here, it just becomes more and more clear how special he was, and how much he's missed."
Missed so much that hungry fans eagerly await news of "lost" SRV tracks discovered in the vaults, crossing their fingers with the hope that a mother-load of unreleased material sits waiting to be unearthed and aired.
At least some of these prayers were answered on March 23, 1999 when Sony Legacy released Stevie's four studio albums with Double Trouble (Texas Flood, Couldn't Stand the Weather, Soul to Soul and In Step), each of them were updated with four bonus tracks recorded in the same time frame as the original. A new Greatest Hits, Volume Two was released back in 1999 as well and both are still hot sellers to this date.
Stevie Ray Vaughan is a portrait of an artist completely dedicated to his craft, and of a man who had wrestled with his demons and emerged victorious, with a new lease on life and rededicated passion for his life's work. Stevie was undoubtedly making the finest music of his life when he died at age 35.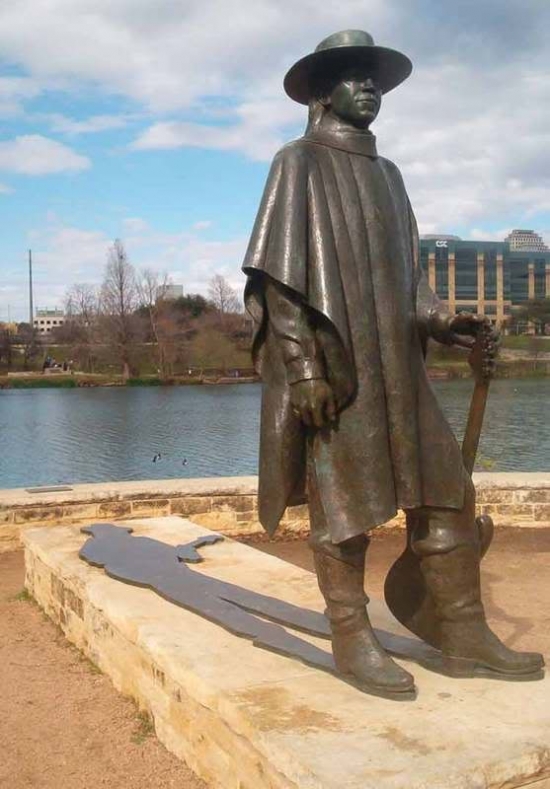 Stevie Ray Vaughan died, August 27, 1990, just a few moments after midnight in a helicopter crash after being in the air just a few seconds in East Troy, Wisconsin was just a short distance from his destination in Chicago and his new sweetheart Janna, Stevie's former fiancé.
Tags: michael quinn and stevie ray vaughan, Stevie Ray Vaughan photos for sale, warrant band guitarist gear,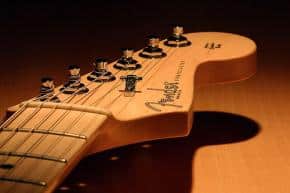 It's easy to get bamboozled if you're purchasing a vintage Fender guitar. Because these instruments are bolted together, their parts can be swapped, stripped or replaced faster than you can say "rip-off." A buddy of mine who has been in the vintage game for years recently estimated that between 15 and 20 percent of the "Sixties Strats" out on the market are bootlegged. And if that number sends a shiver down you fuzzy fretboard, the number of "all-original" Strats that feature replaced pickups, pots, bridges and other parts is even higher.
By and large, G-V has found that vintage guitar dealers who have a good reputation have earned it. Likewise, if the word on the street is that a certain seller is not on the up and up, he's probably guilty as charged. Avoid him like the plague. Read more
Tags: fake fender guitars, fake stratocaster, fake fender, fender custom shop fakes, fake fender stratocaster, how to spot a fake stratocaster, how to spot a fake fender stratocaster, Counterfeit Fender Guitars, how to spot fake fender guitars, how to tell an original fender guitar,
It's that time of year again, when everyone is on the edge of their seat—waiting and watching, for the shiny new products to be rolled out at NAMM. Calm down – this isn't a game changing miracle device, but it's still pretty cool.
Fender has introduced the new Squier models for 2012, putting some nice touches on a guitar line that has had less than impressive results in the past. Read more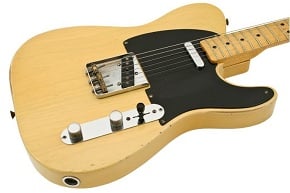 The Fender Telecaster is seen by many as the primordial electric guitar. Sure, one can argue that Paul Bigsby was also developing solid body instruments at the same time and in the same general area as Leo Fender but it is the Telecaster that is generally accepted as the first production solid guitar and the start of the modern guitar manufacturing business. Since its debut in 1952 Read more
Tags: fender telecaster history, telecaster history, fender stratocaster history, history of the fender telecaster, history of the fender stratocaster, history of the fender thinline telecaster, history of the telecaster, history of the telecaster guitar, 1952 telecaster history, mexican telecaster history,

Enter for your chance to win a Fender Modern Player Telecaster Thinline Deluxe, Modern Player Jaguar, Modern Player Telecaster Plus, Modern Player Marauder, Modern Player Telecaster Bass, or choose a Modern Player Jazz Bass or Modern Player Jaguar Bass.
Fender Guitars would like to introduce to you its awesome new Modern Player guitar family by giving you an chance to score a shiny-new Modern Player electric guitar or bass guitar. One lucky grand-prize winner in the USA or Canada (among other countries) will get to choose any one of the seven distinctive Fender instruments. Better hurry, this offer ends January 26, 2012. Read more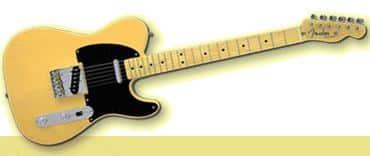 A Fender Telecaster was brought back from the grave, allegedly stolen from a casket of a 67-year-old Army veteran by a Wisconsin cemetery worker. Read more
Tags: lou reed guitar gear, prototype to the birdland guitar,