Swirly Gig Shtick Holder – Drum Gear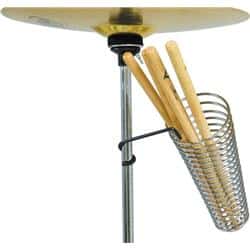 It may have been an epiphany when the idea for her Swirly-Gig products came about. Maybe it was too much time spent playing with a Slinky, maybe it was frustration from too often reaching for extra sticks that have slipped in their holder. Either way, the Swirly-Gig Shtick Holder (a.k.a. stick holder… har-dee-har-har) was born and boy-oh-boy am I glad.

Swirly-Gigs feature a patented design and are made right here in the USA. Their simple aesthetic is elegant, ingenious and durable, with no moving parts or screws to tighten and seemingly that can break off. Swirly-Gigs can be placed one-handed to any stand that is "about" and inch in diameter such as cymbal stands, microphone stands, or even a lawn chair! – If that's your thing! These elongated spirals twirl down into a basket-like cone shape that is a perfect solution for stick placement on either side of your kit or percussion set up. The Swirly-Gigs have a twisty stand-gripper that uses leverage, gravity and weight to hold it in place Did I mention they also make a drink-holder? Genius! How much is this stuff? Check for price.
For more info on how Swirly-Gig products can make your life easier, visit their website at www.swirlygig.com
[% oiopub-banner-3-left %]