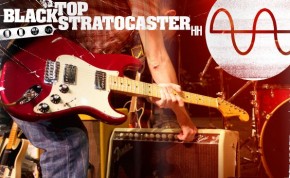 I'm constantly getting emails from readers asking if I have ever played the the Fender Blacktop guitar to ask me if they are any good. And today I can finally give you a definitive answer. In an effort to meet the needs of the constantly changing guitar market, over the years Fender has brought forth numerous variations on old favorites like the Strat and Tele, without veering too far from the successful formula that has given these makes their longstanding reputation. Still, the acknowledged king of the single-coil understands that evolution is key to building the fan base—and if you can package great sound with a nice price, all the better. Speaking of which, watch the video below so you can hear this axe in action. Read more
Fender Guitars have announced four cool new versions of some of their top most venerable guitars – Those four guitars include: the Telecaster, Stratocaster, Jazzmaster and Jaguar. What's even more cool is how affordable these guitars are. Fender outdone themselves with the Fender Blacktop Series. Read more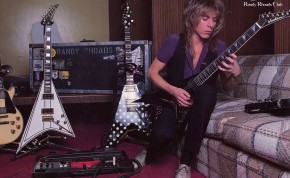 As many know, Jackson Guitars started when the heavy metal wave was on its peak. Grover Jackson first in-scripted his name on a guitar that was designed by the late Randy Rhoads in 1980, when he was still teamed up with Charvel guitars. The reason behind this was that Jackson thought that a guitar with such design would be too shocking for the regular Charvel customers. Read more
Squier is a second-line guitar company that sells low cost products akin to those of Fender Guitars, which was not always the case. Read History of Squier Guitars.


Squier's trademark comes from the Squiers, an English immigrant family. The family's first settler, Jerome Bonaparte Squier, built and repaired violins together with his son in Boston during the late 19th century. Victor Carroll Squire, Jerome's son, eventually settled at Battle Creek, Michigan, where he founded his own string shop named V.C. Squier Company. The company's first contact with Fender came in the 1950s, when Squier began making electric guitar strings for Fender's first products. Read more

1960 was a great year for the Fender Company. It had been around long enough to see its designs road-tested under all manner of playing and recording conditions and was becoming the legend that we know today. Honestly, every real vintage piece of Fender gear from 1960 I have experienced myself has been tremendous, including a brown 4×10 Concert amp that got away from me that I still yearn for in the dark of the night. It was the year when Fender got it all right. Read more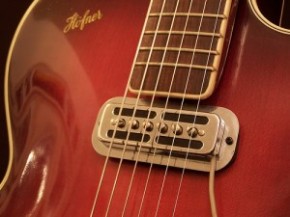 We all love guitars and gear, right? That is why you are reading Gear-Vault and that is why I am writing this article. Those of us who have been doing this for more years than we might care to admit have seen the guitar market rise and fall and many different pieces of gear fall in and out of favor with the musos, collectors, and fetishists out there. Of course, the real vintage stuff, like 50's and 60's Strats, Teles, and Les Pauls, have risen to obscene levels of value that have put them into the realm of fantasy for most of us. Read more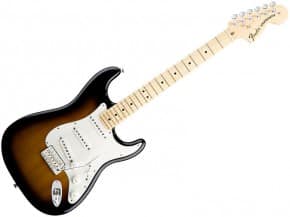 The phrase "Made in America" seems to have a lot more meaning these days than it did in previous years. A wave of nationalistic pride has swept the U.S. guitar market recently, as more and more imported instruments hit our shores. Many players aren't interested in foreign-born guitars anymore, preferring to spend the extra bucks to get a U.S.-made axe. Sometimes, however, you might not have to spend as much as you think to get a badass new instrument that was built right here in America, the land that gave birth to rock and roll. Read more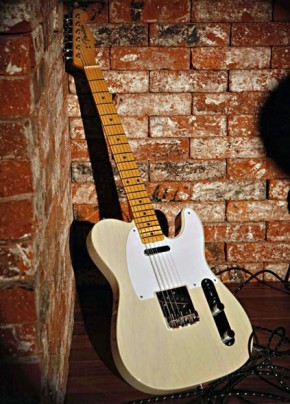 Fender is currently taking pre-orders on the new Jim Campilongo '59 Top-Loader Telecaster. The guitar is a replica of Campilongo's own vintage 1959 Tele that dates from the brief period that Fender changed the Telecaster from a string-through-body design to a string-through-bridge, or "top-loader" design. Read more
Squier Guitars are extremely proud to release details of the Biffy Clyro Signature models. The instruments designed in collaboration with Simon Neil and James Johnston from the band will be available from 20 October 20 2009 in Europe only. Read more

Only in the world of "Charlie and The Chocolate Factory" would the guitar-world have such craziness and drama, right? Wrong! We are all too familiar with the recent debacle the past few days–the ongoing internet buzz over the new Gibson 'Authentic' Hendrix Stratocaster–nothing should surprise us anymore.
Yesterday I saw an analogy posted on Harmony-Central message board from a poster with the alias of 'Belva', this poster had made a response in regards to the Gibson 'Authentic' Hendrix Strat.
Belva wrote: "I'm not gonna cry about Honda building a clone of a Harley either. If you say this isn't the same thing you're f**ked in the haid!".
While the poster's analogy holds somewhat of a valid point, it doesn't exactly sum up the entire situation surrounding the event. So I decided to take the initiative to produce another analogy. Allow me to paint the picture, erm–excuse the pun… photoshop the picture. Read more