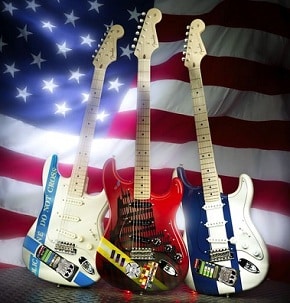 I'm a little late to the party, but thought this was something worth posting. I thought it was a classy move by both Fender and Gibson guitars. Below are the press releases and images of the 9/11 tribute guitars. Read more

Here is an older video of Mike Edison, former publisher of High Times, performing on his bong guitar. What Mike is playing (and smoking from) is a guitar named "ChroniCaster", which is essentially a bong built into a Jaguar-style guitar, with a body made of high-impact, see-thru plexiglass. The guitar's hot P-90 pickups are shielded by a special mold that helps keep marijuana resin out. The bong guitar was built by Joe Naylor of Reverend Guitars. Now he just needs to fit his leopard print fez hat with a beer can holder. Check out the video below… Read more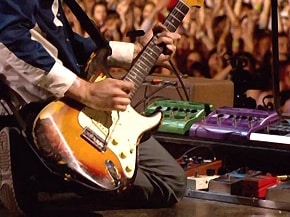 Fender Stratocaster is, along with the Fender Telecaster and the Gibson Les Paul, one of the most iconic electric guitars ever made and has been the ride of choice of literally generations of guitar players ranging from rank beginner to seasoned pro. It's seductive contours and curves have come to define what an electric guitar looks like and feels like for untold numbers of our guitar-slinging brothers and sisters out there, and there will be someone playing one somewhere for as long as there is any kind of interest in electric guitar playing. The Strat made its debut in 1954 Read more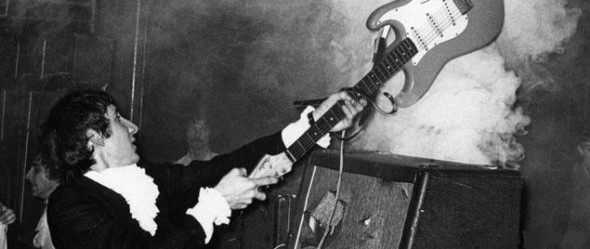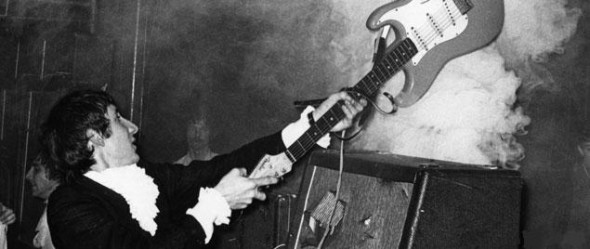 Before there was punk, there was Pete Townshend. No one in the music world prior to Pete Townshend was so able to channel young rage into aggressive and fierce guitar playing. Certainly people like Clapton and Hendrix demonstrated that the electric guitar was a liberating instrument, but it was Townshend who first turned it into a symbol of anger, rebellion, and even danger. If it was Elvis' hips and sneers that had mothers locking up their daughters in fear of rock and roll, it was Townshend's crashing guitars (and his smashing of guitars) that mothers want to lock up their sons.
The Who were the loudest, the brashest, and the roughest of the hard rock bands to emerge in the late '60s. They were in the original sense of the term, punks (and let's not pick nits over the "mods vs. rockers" stuff). Zepplin was more musically experimental, although no less excessive in their personal and public pursuits; The Rolling Stones were nastier and more lewd; but The Who were the maddest, and they weren't afraid to show it. They broke each others' noses, they broke up hotel rooms, and they broke their equipment. They mouthed off, they drove expensive cars into swimming pools, and generally taunted anyone that didn't understand them or got in their way. But under Townshend's leadership, The Who played some fo the most memorable guitar tunes in the history of rock. Townshends was—and is—and incredible songwriter who created the defining rock anthems for the "post-flower power" generation. The structure he created for Tommy became the formula for all "rock operas" to follow, from The Wall to Operation: Mindcrime. Read more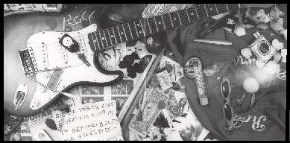 Irrespective of time, place or anything, whenever people talk about guitars, be it anywhere in the world, the name Fender Stratocaster inevitably creeps in.
Most people rip on anything made by foreign manufacturers, and demand it be made in America. Those who fit this bill are missing out on one of the best reissued guitars to date, the Fender '72 Telecaster Deluxe.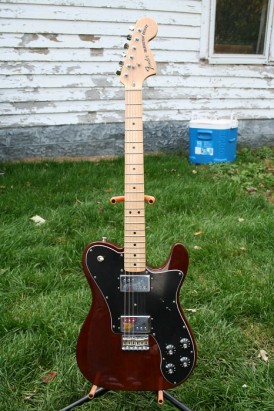 I've owned this guitar since October 2006. I saw it hanging in a Guitar Center. I noticed the strings were brand new; the plastic still on the pickguard… this axe must have just hit the floor that morning. But the one detail about this beauty that blew my mind was the neck: it was flamed… so beautifully flamed. I had been lucky enough to find a stock Tele Deluxe with a flamed maple neck, and I wasn't letting it get away.
Pulling it off the wall, I found a sales rep, told him I wanted to put this baby on lay away (which of course he was ecstatic about because he may make a sale without any effort whatsoever, talk about a reverse world!) I gave him all the money I had on me, which happened to be $20. I went home, put my Read more
Fender Custom Deluxe Stratocaster Flame Top
The previous guitar's sibling, the 2011 Fedner Custom Deluxe Stratocaster Flame Top, shares those features and finishes but boasts the additions of a scorching AA flame maple veneer top and an equally scorching Seymour Duncan TB-11 humbucking bridge pickup. Price check Read more

There's no denying that relic'd guitars are the hot thing right now, and with Fender Guitars' original "Road Worn" Series axe doing so well, it only makes sense that Fender would want to continue the success by making some grittier sounding Road Worn geared towards the edgier-, dirtier-style player. Below is 3 new guitar models by Fender, named Road Worn Player. which expands the Road Worn Series guitars.
Fender — The popular Road Worn series instruments struck a chord with guitarists with their aged, well-played look and feel and their incredible value. New Road Worn Player series guitars take the experience a step further with modern player-centric modifications including hotter pickups for smoldering, gritty tone and a flatter fingerboard for smooth, effortless bends. Lightly aged with care, Road Worn Player guitars feel immediately comfortable and familiar, offering endless miles of musical inspiration. Read more
Telecaster lovers, rejoice! Fender has introduced a very sweet 60th Anniversary Telecaster. This guitar is to honor six decades of lasting Fender legacy: the Telecaster!
The rich history of Fender guitars begins with the Telecaster, an enduring marvel of form and function; of style and substance. Still elegantly simple after six decades, it is the versatile voice of remarkably diverse and creative players worldwide. Read more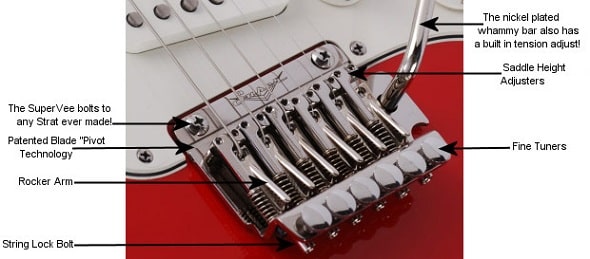 When Leo Fender created the Stratocaster's six-screw tremolo bridge, he was simply hoping to find away to provide subtle vibrato and pedal steel effects. Though effective, Leo's bridge didn't provide the most stable tuning and certainly wasn't designed to stand up to wild whammy whacking. The Floyd Rose locking hem solved this problem, but it requires modification to install and robs some of the Strat's beautiful airy tone.
Enter the Super-Vee. This ingenious double-locking bridge is a drop-in replacement for any six-screw or two-point Strat bridge. It bolts down In minutes and requires no permanent modification to the instrument Instead of pivot points, the Super-Vee rides on a patented frictionless blade that won't wear out You can even set the position of the bar to suit your style. Read more