Nashville Flooding, Part 2 – Musicians Hall of Fame instruments destroyed in flood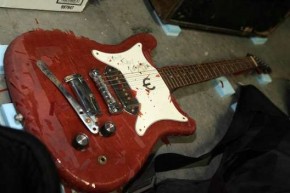 There are many sad stories coming out of Nashville this week, as people begin to clean up and rebuild after last weeks' catastrophic flooding that saw the destruction of many lives, homes, businesses, and musical instruments. Many of the instruments were at a facility called Soundcheck, which provided rehearsal space, storage, and cartage to many of the area's musicians. Also stored at Soundcheck were instruments that were part of the Musicians Hall Of Fame.
The MHOF is run by Joe Chambers, a long-time part of the Nashville community. Chambers lost his building to an eminent domain ruling earlier this year and put his collection of instruments, which includes guitars played by Jimi Hendrix, Pete Townshend, and Johnny Cash, among others, in storage at Soundcheck while he looked for a new home for the Hall. Then the rains came and we all know what happened after that. Watch the video below if you dare, but it is not for the faint of heart.
Kept in storage after demolition of Hall of Fame building in Nashville — Musicians Hall of Fame instruments destroyed in flood

The loss of all this musical history at once is stunning and will take a long time for the musicians of Nashville to recover from. All of us who are having a better month than our Music City brothers and sisters should remember how lucky we are and should give what we can to help the effort to get things back to normal. Visit www.unitedwaynashville.org to find out how to become part of the solution.
Images of Nashville Musicians Hall of Fame instruments destroyed in flood
[nggallery id=63]
[% oiopub-banner-3-left %]