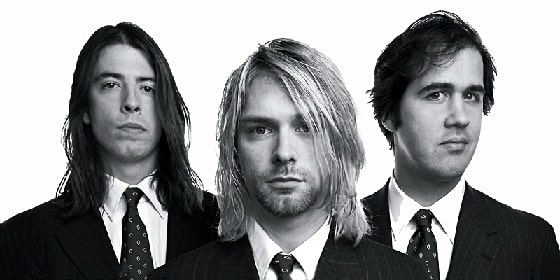 I'll admit it. I love pop metal: Bon Jovi, Poison, Motley Crue, Def Leppard. Bring on the cheese. I'm in. Despite the fact that much (though not all) of the music was awful, I still enjoy it today. Pop metal was the soundtrack for a good portion of my childhood. There was an honesty to it. That's right. I said "honesty."
Conventional wisdom says that music from the late 80's was too "fake." Too much hairspray, too many cookie cutter songs, too many of the same "sluts and concert footage" videos on MTV over and over again. Fake. Then the bands from the Seattle grunge scene (Nirvana, Soundgarden, Pearl Jam, etc.) broke the mold and supposedly fixed everything. These bands were "real." They wore flannel shirts, didn't jump around on stage, wrote depressing songs and generally connected with the anti-corporate rock sentiment that had been building throughout the pop metal era.
I am not here to tell anyone what's good music and what isn't. I am here, however, to overturn the hypocritical notion that pop metal bands were "fake" and grunge bands were "real."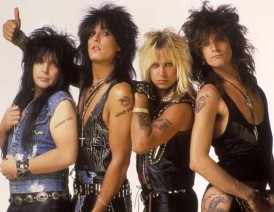 Pop metal bands wanted to be rock stars, and freely admitted it. Pop metal bands wanted to have sex with lots of girls (your wife, girlfriend, daughter, etc.) and freely admitted it. Pop metal bands wanted to party and smoke / drink / snort various substances, and freely admitted it. They wanted to be rock stars so badly that they were willing to pay the ultimate price: being seen and photographed wearing a horrific amount of spandex, makeup and hairspray. They played huge stadiums, sold tons of records, and cashed huge checks.
That is the ultimate honesty… "I want to party, get rich and bang chicks, and I will look and act like a complete idiot in order to do so."
Grunge bands, on the other hand, stared at their shoes a lot. They were part of a reactionary movement against the extroversion of the 80's. Grunge bands were uncomfortable with the idea of being rock stars, or at least projected that image. They wrote songs about darker, often politically charged topics like teen suicide, domestic abuse and poverty. They played huge stadiums, sold tons of records and cashed huge checks.
Wait… what?!?!?!?
I've got an idea. If you're uncomfortable with the idea of being a rock star, then don't be a rock star. Don't sign a major label recording contract. Don't play arenas and stadiums. Definitely don't cash those huge checks. Only rich capitalist a-holes (you know, all those people you don't like) cash huge checks. Stay with that independent label and stick to the local underground scene. It's "who you are," right? RIGHT?!?!?
OK, rant over. That's been building up for about 20 years.
Again, I'm not here to pass judgment on the quality of anyone's music, but merely to point out that being a rock star yet clinging to an underdog, everyman, indie label image while at the same time going platinum and playing to tens of thousands of people a night is the fakiest faky McFake-a-lot hypocrisy of all time, at least musically speaking.
There. I said it. Deal with it.
About the author: Dan Vuksanovich received his Master of Music degree in classical guitar performance from the Peabody Conservatory of The Johns Hopkins University in 1999. He currently teaches and blogs about how to get better at guitar via his website, www.whyisuckatguitar.com.
Tags: GrungeMusicvsHairBands-WhosRealvsWhosFake|Gear-Vault, grungevs hair metal, hair metal vs grunge, hypocrisy of grunge,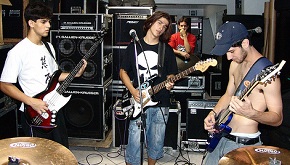 Music should be loud. That's just a simple fact. Sure, it applies more to rock than, say, Mozart, but you need to be able to feel the music. Preferably in your fillings as they shake loose from your teeth. But I don't need to tell you this, because as a guitar player you know this instinctively. Read more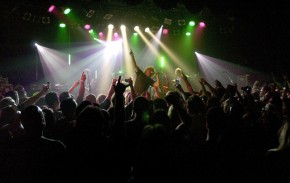 One of the hottest topics of discussion in musical circles these days is the idea of music licensing, copyrights, and musicians getting paid for their work. It is usually part of the covers vs. originals argument that rages every few days on most musician forums and message boards. Some writers of original music get very touchy about anyone who plays covers and think that cover bands should have to pay the writers of the songs they play some kind of royalty. Read more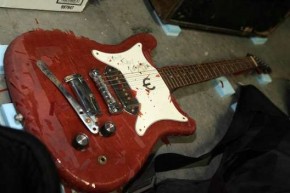 There are many sad stories coming out of Nashville this week, as people begin to clean up and rebuild after last weeks' catastrophic flooding that saw the destruction of many lives, homes, businesses, and musical instruments. Many of the instruments were at a facility called Soundcheck, which provided rehearsal space, storage, and cartage to many of the area's musicians. Also stored at Soundcheck were instruments that were part of the Musicians Hall Of Fame. Read more
Tags: 2010 nashville flood famous guitars ruined, soundcheck flooding in nashville,
One of the biggest divides in this thing of ours is between those who play their own original material and those who play other people's songs in cover bands. If you believe the arguments that continually rage on the forums and on craigslist, original bands are made up of self-indulgent wankers that really believe their take on the two-note power chord will land them on the cover of Rolling Stone Read more
Tags: original bands vs cover bands, original music verses covers,
Can you give me some information on earplugs? How well do they work, and do most rock musicians use them?

Rockin' Billy Bong
xxxx@rocketmail.com
While they're relatively new to the world of rock music, earplugs have become a popular item with many musicians, and with good reason. I've worked for a lot of particularly loud rock bands, and the groups who didn't wear earplugs usually have something in common with each other—it's called "tinnitus," a constant ringing of the ears that result from prolonged exposure to high volume levels. Tinnitus produces varying degrees of discomfort, depending on the amount of abuts that has been inflicted upon a person's ear. Read more
Tags: ear plugs for guitarists, guitarists with tinnitus forum, best earplugs for drummers, drummers wear earplugs, ear plugs used by rock guitatists, rock guitarists ear plugs, what are the best earplugs for drummers to wear,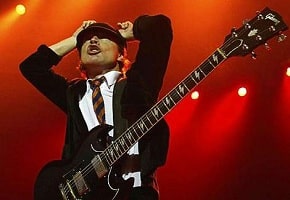 The topic of Angus Young, who is, of course, the lead guitarist in everlasting rock gobstopper AC/DC, comes up frequently in guitar circles, both with students and with peers. There are a lot of folks out there who aren't sure if Angus is really any good and wonder if he might be a bit overrated as a guitar player, mostly due to the simple and straight ahead music his band plays. Read more
Tags: angus young overrated, ac/dc overrated, is angus young really a good guitarist,
Dot On Shaft Guitars, which has quickly become Canada's fastest-growing maker of fretted instruments, continues its conquest of the music industry with the launching of its very own record label, DOS Records. The label, a subsidiary of Dot On Shaft/Carparelli Guitars, will join the company's two brick-and-mortar retail stores, its online store, and its music academy and makes Dot On Shaft Canada's first guitar maker to open a record company. Read more


Young Tallan Nobel Latz is a name to remember. After you watch the video below you'll know why.
A 9-year-old who plays blues guitar? Sounds like perfect fodder for a talent show. With an interest in "rocky blues," this little soul man wows the audience with his technical prowess. As host Nick Cannon exclaims, "Tallan got talent!" The boy has class, too — he says he'd like to win the prize money so his mom can quit her job and they can spend more time together.
GEAR: DBZ Croc Skin Bolero Guitar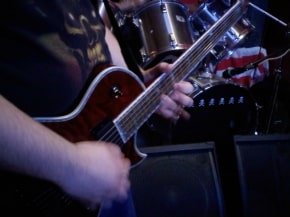 Sooner or later, it happens: band practice. For many people, rehearsal, or "re-hassle", is a necessary evil, one that must be endured in order to get that glorious stage time that they (and their girlfriends) live for. Very often, however, rehearsal time seems like an exercise in futility, indecision, or intoxication and many bands practice over and over and never get any better. Why is that? I think it mostly happens because many players aren't totally clear on what a rehearsal should be and what should be happening when the band gets together. I, your humble scribe, will try to give you, my faithful readers, an idea of what a productive band practice includes and what you should have together to maximize the time that the band is in the same room so that the time you have is put to its best use. I have short list of band commandments that, if followed, will be a big step towards getting your bands' sound closer to where you want it to be. Read more
Tags: dont waste my time guitar lesson,