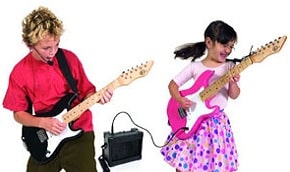 Discovering music and aspiring to play guitar can be one of the most wonderful experiences of childhood. Playing music with your children is also an excellent way for parents and children to bond with each other. Read more
Tags: zakk wylde kids guitar, best kids electric guitar, ZAKK PAKK, les paul kids guitar, epiphone kids guitar, epiphone kids electric guitar, best kids guitar, top rated kids electric guitars package, what is the best 7/8 size electric guitar for kids to learn on, youth zakk wylde guitar,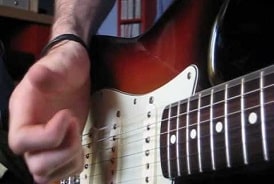 When you decide you're serious about learning how to play guitar, it's imperative to learn as many new songs as you can. I would highly suggest learning easy guitar songs to play to start and progress your way up to more difficult guitar songs.  Make sure you have the CD or mp3 of the song available so you can play along with it; this will help you build structure and timing.
There are cool programs and tools available in the guitar world which allows you to slow down the song, which slowly helps you build your speed and timing. Do a search here on Gear-Vault.com for training guitar gear.
That said, I recommend learning easy guitar songs to begin with. There are many great songs to choose from, your options are virtually endless, and, perhaps, subjective to some Read more
Tags: easy songs to play on guitar, easy guitar songs, easy rock songs to play on guitar, Easy Guitar Songs to Play, easy guitar songs for beginners, easy songs for guitar, easy electric guitar songs, easy to play rock songs for electric guitar, Easy to play guitar, easy to learn electric guitar songs,

So… you wanna take up bass guitar? Lotsa people have lotsa reasons for wanting to learn how to play the bass.
Now to clarify things and for the purpose of this multi-part discussion, we'll be talkin' bass guitar (though I've always wanted to give the upright a try and I LOVE, I mean REALLY LOVE Nikki Perrot. Check her out, so will you if you have a pulse!). Read more
Well folks, its time for you to sit up straight, sticks in hand, mouths shut, eyes front and center! Today let's get you familiar with the wonderfully tasty little rudiment that is the roll. Rolls are used to give the drums a sense of sustain. They're how we drummers hold the snare drum note to increase tension in the music and how we call attention to an important happening.
The Star Spangled Banner starts with a snare drum roll! Rolls come in many shapes and sizes, but are all made using the same sticking pattern…RRLL, RRLL, RRLL, RRLL. There are long rolls, buzz rolls, numbered-stroke rolls, closed rolls, dinner rolls, sushi rolls, all kinds of rolls…I digress. The common building block to them all is the sticking: RRLL. Read more

Rudiment Round-Up
Episode 1: Why you need 'em! An introduction
Well partners, this, I'm afraid, is something that I encounter far too often in the real world… maybe some of you do too. You're minding your own business, picking up a new pair of sticks and a fruit shaker at the local Guitar HQ when, all of a sudden, you're under siege by some twenty-something hipster in skinny jeans who thinks he's being artful (and obstinate about it) when in reality, he's just whacking off in public. You're helpless; it's just like 3rd grade grammar class when your teacher picked the "slow kid" to read all you can do is stand there and take it. I realize that no one reading this would ever freely admit to committing such a vulgar display of public fugga-duggaery. But (just between us) if you're reading this and want to free yourself from the limits of your own expression, there is a good place to start. Rudiments! Read more
Tags: rlrrlrll,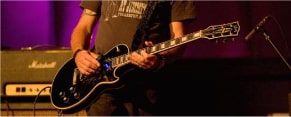 When it comes to guitar playing, there seem to be two main camps that most of us fall into: those that value chops and technically-based music and those who prefer more simple, earthier, played-from-the-heart styles. There always seems to be some friction between the two, with the chops guys looking at the feel fellows as the musical equal of a knuckle-dragging caveman and the feel folks viewing the sweep pickers as soulless, over-practicing robots. Read more
Learning guitar at home, on the go or pretty much any where you have access to a laptop with a dvd drive just got a lot easier. Legacy Learn systems guitar lesson dvd programs, Learn & Master guitar has come out with a new expanded edition containing 20 dvds (that's 10 more then the fist edition) as well as home school editions. Read more

Press Release–Lick Library, one of the world leading suppliers of guitar tuition DVD's, have just released the ultimate guide to playing Guns N' Roses with a series of professional works shops and tutorials totaling more than eleven hours of lessons. Read more