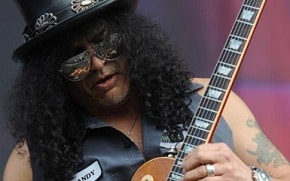 Happy 4th of July, everyone! In honor of today's independence day, I think it's fitting to share some videos of, what I would consider, some of the greatest guitar players to ever perform "The Star Spangled Banner". Read more
This is a new song titled 'On the Backs of Angels,' will be the first track on the upcoming A Dramatic Turn Of Events album.
The song is the first time anyone has heard any new music from the group since founding member Mike Portnoy departed. On the Backs of Angels features Mike Mangini, the recently acquired drummer who replaced Portnoy after a lengthy audition process that was filmed for a documentary.
The song will be featured on 'A Dramatic Turn of Events,' Dream Theater's upcoming 11th studio album. Mixed by veteran engineer Andy Wallace, who was involved in Slayer's Reign In Blood and Nirvana's Nevermind albums. Wallace also mixed Avenged Sevenfold's Nightmare. Read more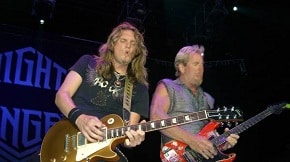 Many other guitarists have tried to emulate Angus Young's distinctive guitar tone and fail. Night Ranger's rhythm guitarist, Brad Gillis, stated in an interview conducted by Noisecreep.com if he had any reservations about taking on such a feat. Read more
Limp Bizkit have released their new video titled Gold Cobra — The song is the title track of the band's long-overdue 5th studio album, which is scheduled for release on June 28th 2011. The album was recorded with the group's original line-up; Fred Durst, Wes Borland, John Otto, Sam Rivers. and DJ Lethal. Wes Borland has a savvy-ness about the way he plays guitar. Notice how his costume in the video changes from white to black. His hair looks like it could kill someone.
Fred Durst commented:
We've come full circle to absolutely own who we are as a band, an undisputed five-piece rap rock powerhouse who crushes every stage we play.
Gold Cobra will come in several configurations. The standard release will feature 13 new songs while the deluxe edition will feature 16 new songs. Additionally, fans can purchase a physical CD that has 17 original songs exclusively at Best Buy [chain stores], and that same release of 16 songs will be available digitally at Napster.com [online]. Read more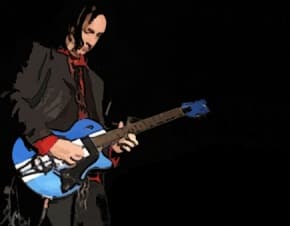 Stand on any street corner and yell "AND I'M FREEEEE!",  and you will undoubtedly get the response "FREE FALLIN!". Now walk up to one of the responders, and ask them, "Who is that?" Again, they will surely say, "Tom Petty". Which is true—to a point. Everyone knows the jaw-dropping  catchy hooks and choruses that can be found in the lining of Pettys songs, but few of them really know where the guitar credit should go. Read more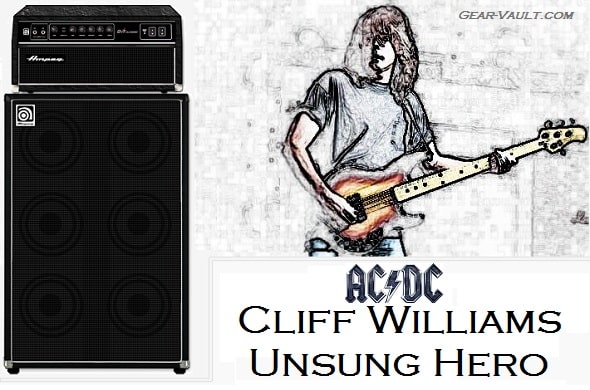 Since the beginning of time, there has always been an unspoken feud between guitar players and bass players. This feud has always been somewhat playful, somewhat serious. But in the end, we really do care for you bass players. Oh sure, we poke fun at you guys constantly, for whatever reason will get a laugh at the moment it seems like.
But when you take away the rock stars and bring out the musicians, well then it's a different story. The true musicians understand that a good bass player is an invaluable resource. Bass players that can work well in tandem with a drummer is something that gives the music exactly what it needs: Drive. Read more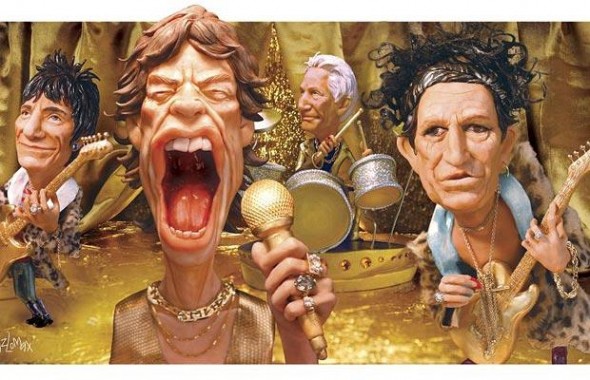 What makes a classic rock song? Is it the legendary era it was born? The fact that you know within the first two beats that this is YOUR SONG!?! The fact that time slows down and the world shuts up followed by the inevitable yet involuntary foot tapping/head banging as you Crank it Up? Maybe, that spark that keeps you Rockin' Out to it in your brain all day? There's No Way anyone could perform your Jam better! Are YOUR favorite classic rock songs untouchable?
Let's consider Limp Bizkit's cover of The Who's "Behind Blue Eyes." There was nothing particularly different or special about the song to make it unforgettable. Honestly, their mediocre at best cover sounds like a last-minute studio track filler. Fred Durst lacks the emotion and passion Roger Daltry brings to the table in the original version. To top it off, the best part of the song was cut out completely! Overall, an anticipated disappointment. Read more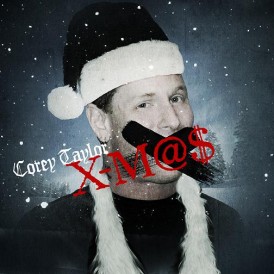 Corey Taylor Releases Christmas Single, singin' "Merry F@cking Christmas". The thought of Stone Sour/Slipknot frontman Corey Taylor doing a Christmas Song is 'bout enough to make everyone cringe. When the news came out that he was working on a dirty (explicit) Christmas single called "X-M@$," hardcore metal purists had their palms primed and ready to smack their forehead in disgust.
Without the accompanying announcement (read below), I'd think Corey felt uneasy and butthurt when it came to Christmas. But as it turns out, the song is quite humorous, which makes it much more accepting. Read more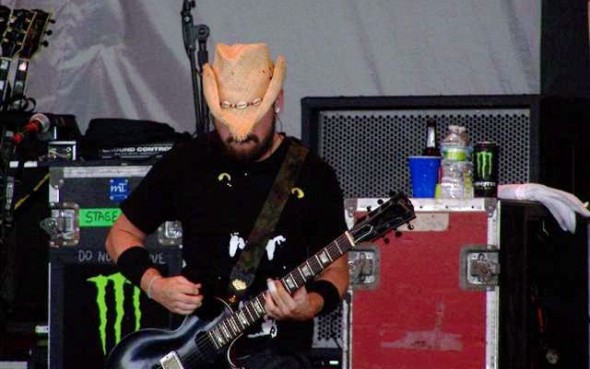 Ryan Johnson (aka Tater) is one of the founding members of the alternative metal band, 10 Years. Tater wanted to play guitar at the early age of 13 years old, but coming from strict Southern Baptist roots, his mother didn't want him to play music, especially rock 'n roll. After Tater went to his first show (Rancid and Offspring), he knew that's what he wanted to do.
Tater never took any guitar lessons, instead he would just try to surround himself with the most talented musicians he could to help him learn. Tater's guitar influences were more on the side of punk and alternative music such as Nirvana and Alice In Chains. Tater is also in another band called American Plague. See pictures of Tater's gear taken from the Carnival Of Madness Tour at the DTE Music Theatre in Clarkston Michigan.
Fun fact: Tater loves destroying shit on stage. Watch the YouTube video of Tater demolishes his guitar on stage.
Tater's Gear List
Rack:
Furman PL-Plus Series II
Rocktron HUSH
Monster Power PRO 2500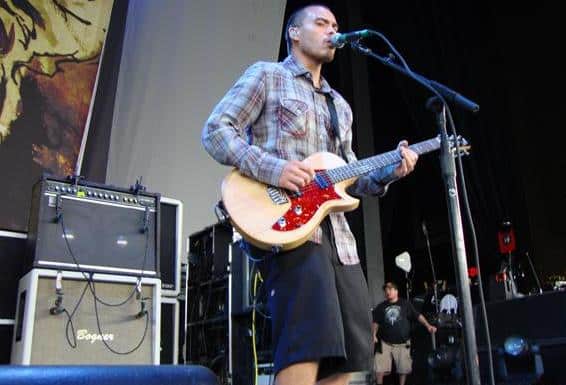 Brian Vodinh is one of the founding members of alternative metal band, 10 Years. He started off as the drummer for the band, but later switched to guitar. Some of his band members say he is a guitarist first, a drummer second.
Brian started taking guitar lessons at the age of 11 years old. He grew up around music as his father was a first-chair violinist in a symphony orchestra and his mother was a huge Elvis Presley fan. Brian says growing up with rock 'n roll meets classical helped shaped his style.
Brian's guitar influences growing up was bands like Deftones, Metallica, and Korn. Brians says you can hear a James Hetfield-style in his guitar playing, especially in his right hand attack. What helped him develop that style was his determination to learn Metallica songs, especially Master Of Puppets at the age of 13. See pictures of Brian Vodinh's gear taken from the Carnival Of Madness Tour at the DTE Music Theatre in Clarkston Michigan.
Brian Vodinh's gear list
Talor Standard Guitars (single cut)
Demeter TGA-2 guitar amplifier
Bogner Custom Shop Shiva guitar amplifier
Roland JCM120 2×12 combo
Bogner 4×12 speaker cabinets
Photos of Brian Vodinh's Gear

[nggallery id=65]