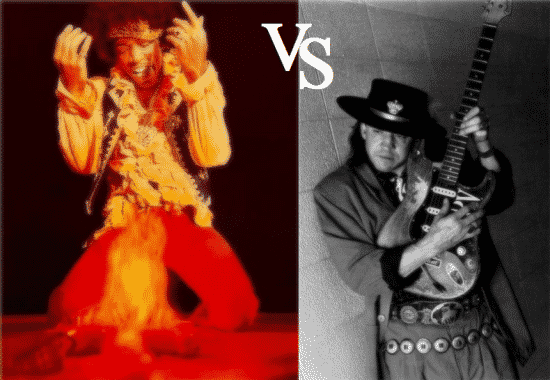 Two of the most revered guitar players in the blues/rock universe are Jimi Hendrix and Stevie Ray Vaughan. Both men helped define the sounds of their respective eras and are icons of the instrument and are most likely responsible for launching more guitar-playing careers (both real and air) than any post-Beatle guitarist outside of Eddie Van Halen. Today, however, your humble man of letters here at Gear-Vault has been given the difficult task of pitting Jimi and SRV in a head-to-head battle for musical supremacy, which is truly no easy task. In the flyover, both man share many similar qualities, from their explosions into public consciousness to their preference for Fender Stratocasters to their untimely deaths. When examined more closely, however, there are some major differences between the two that just might give one the edge over the other. Want to watch the fur fly? Keep reading. Read more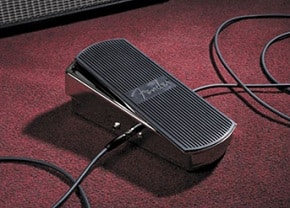 During the late Sixties and early Seventies, it seems like everything related to music was literally huge: amp stacks, stack heel platform shoes, rock star mustaches and hairstyles, crotch padding and, especially, effect pedals. Stomp boxes were the size of shoe boxes, and the average pedal board was so big that it took two roadies to haul one from the back of a Chevy van to the stage of the Cow Palace or Winter land. Of course, that all changed later in the decade as microchips replaced the transistors and cherry bomb-sized components in primitive effect circuits, and soon after, the size of the average pedal shrunk significantly.
Fender's latest Classic Series pedal reissues bring back in their full glory four of the company's big-honkin' stomp boxes from the Golden Era of effects: the sensibly named Volume, Volume-Tone, Fuzz-Wah and Read more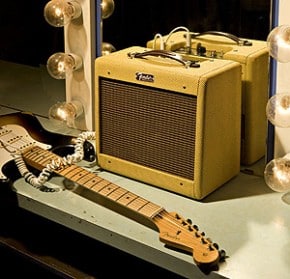 The introduction of Fender amplifiers almost coincided with the company's electric guitars in the mid 1940s. The earliest venture into the amp market by Fender was marked by the production of what they named the "Tweed Amps" which had an output ranging from three to seventy five watts. However, these amplifiers had an inbuilt Read more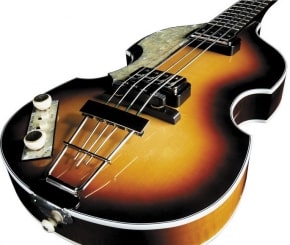 It's an old cliché, but there really is safety in numbers. This holds true in many aspects of life, but is especially true in the world of musical instruments. Trends may come and go, but the instruments that the majority of players choose to play usually are the best at doing their job. Read more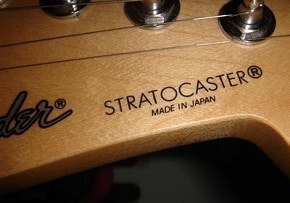 Every guitar player, at some point or another, aspires to own one of the top brand-name instruments on the market, whether made by Fender, Gibson, Gretsch, Paul Reed Smith or anyone else. In some ways, the guitar one plays becomes an identifying symbol; Stevie Ray Vaughn, for instance, was seldom seen with anything other than a Fender Stratocaster in his hands. Not many people could pick Peter Frampton out of a lineup today, but they know he played a Gibson Les Paul. Read more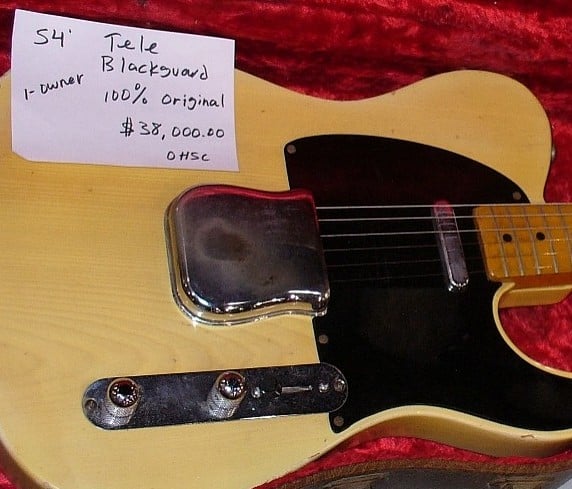 Just over a week ago I had the chance to visit the Orlando International Guitar & Music Expo 2012. That's fancy-talk for 'guitar show'.  If you're not familiar with what a guitar show is then try thinking of it this way – we all get the concept of a convention or conference for business professionals – a big room with various vendor booths showing off the latest products (expo hall) and there are usually some speakers/presenters teaching or otherwise discussing the latest industry news, etc.  Well, other than NAMM, guitar shows are the closest thing to a business convention that we players, collectors and all-around guitar lovers have for our favorite subject!
While some of the largest guitar shows may offer special 'clinics' (training sessions are often sponsored by a manufacturer hoping to show you why you need to buy their latest products) not all guitar shows will offer much in the way of training.  However, what they ALL do have in common is their version of the 'vendor expo hall' where guitar dealers bring lots of cool (and often vintage) guitars, amps, effects and more hoping to sell/trade them to/with show attendees. In other words, it's a lot like a big flea market for guitar and music gear!  And for the guitar lover it sure beats just about any other kind of shopping experience since you have so many cool old guitars under one roof.  I'll take a guitar show over going to the mall with my wife any day! Read more
The Mustang Floor shares its name with Fender's range of Mustang digital modelling amps, and is similarly packed full of digital effects and amp models. The unit also connects to a computer via USB for direct recording and preset editing. Read the press release below for full details. Read more

In the mid-1940s, Leo Fender invented a distinctive solidbody guitar design intended to address feedback issues by amplifying the guitar strings without effecting the resonance. Leo's vision led to the creation of the Fender Electric Instrument Manufacturing Company. By late 1951, the company's first showing two-pickup guitar model, the Fender Telecaster, started rolling off the factory's assembly line. Alongside Fender's three-pickup pickup, the Stratocaster, the Telecaster would eventually become the most commonly used six-string guitar in the world, altering the direction of prominent music in the process.
Sixty years later, the Tele's excellent playability and yielding sound makes it one of the industry's most adaptable solidbody guitars, similarly at home in jazz or rock, alternative or country styles. To celebrate this landmark year, Fender Guitars have constructed a limited-edition 60th Anniversary Telecaster which combines features originated on the '51 Telecaster prototype with several exclusive updates which makes this a Tele to outdo all Telecasters. Read more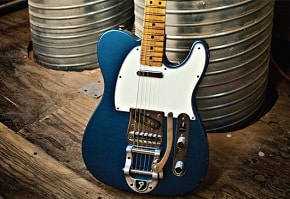 Every year Fender attempts to recreate their classic Stratocaster or Precision/Jazz bass somehow. Whether they call it "road worn" and relic the guitar for you, or call it "closet classic" and make it with 100 year old wood with a post-CBS appearance, they never stray too far from the original formula that has made their instruments a worldwide phenomenon. Strangely, this is where Fender is beginning to miss the mark in the consumer-based guitar industry. Read more


Fender introduces the Roger Waters Precision Bass guitar, named for the world-famous bassist/singer/songwriter whose elegant grooves and infectious riffs are hallmarks of the legendary Pink Floyd sound and an acclaimed solo career that continues stronger than ever today. Read more