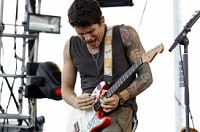 No matter what anyone says, every musician pulls influence and is inspired by at least another musician(s) in his or her lifetime. For me, my list of artists spans a few different genres, and I really don't think some of my playing would be what it is today if not for them. Read more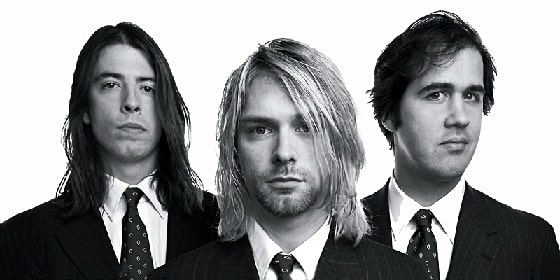 I'll admit it. I love pop metal: Bon Jovi, Poison, Motley Crue, Def Leppard. Bring on the cheese. I'm in. Despite the fact that much (though not all) of the music was awful, I still enjoy it today. Pop metal was the soundtrack for a good portion of my childhood. There was an honesty to it. That's right. I said "honesty."
Conventional wisdom says that music from the late 80's was too "fake." Too much hairspray, too many cookie cutter songs, too many of the same "sluts and concert footage" videos on MTV over and over again. Fake. Then the bands from the Seattle grunge scene (Nirvana, Soundgarden, Pearl Jam, etc.) broke the mold and supposedly fixed everything. These bands were "real." They wore flannel shirts, didn't jump around on stage, wrote depressing songs and generally connected with the anti-corporate rock sentiment that had been building throughout the pop metal era.
I am not here to tell anyone what's good music and what isn't. I am here, however, to overturn the hypocritical notion that pop metal bands were "fake" and grunge bands were "real."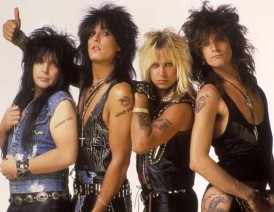 Pop metal bands wanted to be rock stars, and freely admitted it. Pop metal bands wanted to have sex with lots of girls (your wife, girlfriend, daughter, etc.) and freely admitted it. Pop metal bands wanted to party and smoke / drink / snort various substances, and freely admitted it. They wanted to be rock stars so badly that they were willing to pay the ultimate price: being seen and photographed wearing a horrific amount of spandex, makeup and hairspray. They played huge stadiums, sold tons of records, and cashed huge checks.
That is the ultimate honesty… "I want to party, get rich and bang chicks, and I will look and act like a complete idiot in order to do so."
Grunge bands, on the other hand, stared at their shoes a lot. They were part of a reactionary movement against the extroversion of the 80's. Grunge bands were uncomfortable with the idea of being rock stars, or at least projected that image. They wrote songs about darker, often politically charged topics like teen suicide, domestic abuse and poverty. They played huge stadiums, sold tons of records and cashed huge checks.
Wait… what?!?!?!?
I've got an idea. If you're uncomfortable with the idea of being a rock star, then don't be a rock star. Don't sign a major label recording contract. Don't play arenas and stadiums. Definitely don't cash those huge checks. Only rich capitalist a-holes (you know, all those people you don't like) cash huge checks. Stay with that independent label and stick to the local underground scene. It's "who you are," right? RIGHT?!?!?
OK, rant over. That's been building up for about 20 years.
Again, I'm not here to pass judgment on the quality of anyone's music, but merely to point out that being a rock star yet clinging to an underdog, everyman, indie label image while at the same time going platinum and playing to tens of thousands of people a night is the fakiest faky McFake-a-lot hypocrisy of all time, at least musically speaking.
There. I said it. Deal with it.
About the author: Dan Vuksanovich received his Master of Music degree in classical guitar performance from the Peabody Conservatory of The Johns Hopkins University in 1999. He currently teaches and blogs about how to get better at guitar via his website, www.whyisuckatguitar.com.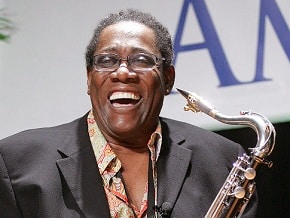 June 18th, 2011. A somber day for the world. For on that day, we lost a true musical hero; a veteran of blue collar, down and dirty rock n' roll… and his name was Clarence Clemons. Read more
Jani Lane, the former lead singer of the glam metal rock band Warrant, has died in Los Angeles. He was 47. Read more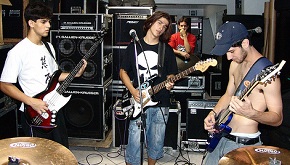 Music should be loud. That's just a simple fact. Sure, it applies more to rock than, say, Mozart, but you need to be able to feel the music. Preferably in your fillings as they shake loose from your teeth. But I don't need to tell you this, because as a guitar player you know this instinctively. Read more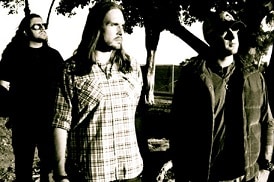 Kyng is all about heavy riffs and a good melody. 'Falling Down' brings just that! Known as the "California Heavy" sound. "Can't wait to unleash this to the universe and beyond," Veliz says about the jam. 'Falling Down' was mixed by Mike Watts and will available for sale on iTunes starting July 26th. Completing dates with The Sword, Kyng is currently out touring with Black Stone Cherry and Pop Evil and plan on touring forever as the road is the life's blood of any young hard rock band looking to conquer the world.
The band consists of three band-mates who make it heavy; guitarist-vocalist Eddie Veliz, bassist Tony Castaneda and Pepe Clarke Magana, the Southern California power trio came together in 2008 bound by influences including Black Sabbath, Led Zeppelin and Queens of the Stone Age. Check out these heavy melodic riffs…. Read more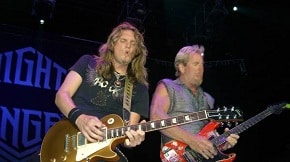 Many other guitarists have tried to emulate Angus Young's distinctive guitar tone and fail. Night Ranger's rhythm guitarist, Brad Gillis, stated in an interview conducted by Noisecreep.com if he had any reservations about taking on such a feat. Read more
Limp Bizkit have released their new video titled Gold Cobra — The song is the title track of the band's long-overdue 5th studio album, which is scheduled for release on June 28th 2011. The album was recorded with the group's original line-up; Fred Durst, Wes Borland, John Otto, Sam Rivers. and DJ Lethal. Wes Borland has a savvy-ness about the way he plays guitar. Notice how his costume in the video changes from white to black. His hair looks like it could kill someone.
Fred Durst commented:
We've come full circle to absolutely own who we are as a band, an undisputed five-piece rap rock powerhouse who crushes every stage we play.
Gold Cobra will come in several configurations. The standard release will feature 13 new songs while the deluxe edition will feature 16 new songs. Additionally, fans can purchase a physical CD that has 17 original songs exclusively at Best Buy [chain stores], and that same release of 16 songs will be available digitally at Napster.com [online]. Read more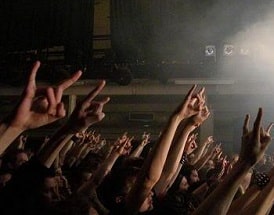 How many concerts have you been to? You've probably been to at least one, and aside from booking the band and getting the security, a lot of other work can go into it. Being the promoter and actually doing it is another thing, and I once got lucky and made a ton of money doing it. Read more
AC/DC, one of the heaviest hitters in the hard rock music world, has been in the studio working on their first new album in eight years titled, Black Ice; an album that will give any hairy woman a boner, including you – don't believe me? Watch the video at the end of this story. Be sure to comment and tell us what you think of AC/DC's album, Black Ice, or else you will be sent down the Highway To Hell and Thunderstruck! For Those About To Rock, read on…
Read more