This kid built his own DIY homemade – Mesa Boogie Dual rectifier (2 channel). He says it's created from old Tesla music 70 amplifier parts. You can see more photos here.
Mesa Boogie Dual rectifier Home Brew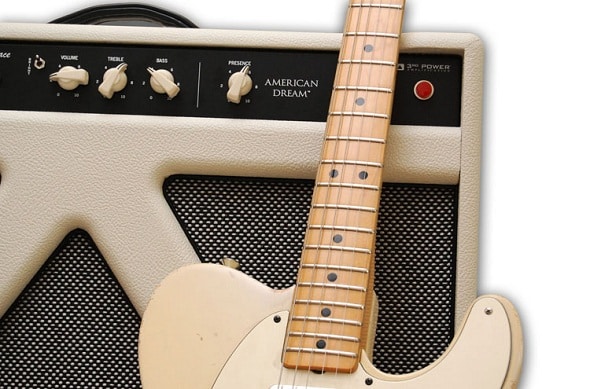 In browsing the list of new releases from Winter NAMM this year, the amp company 3rd Power caught my eye. In further research, I found a You Tube video featuring blues/rock aficionado Ford Thurston playing an amplifier that he co-created with 3rd Power so appropriately named The American Dream. Read more
NAMM 2011 — As the world moves more and more towards home recording, PRS is offering the new full production run Recording Amp. This "universal" amp is ideal for recording and for producing heavy tones, super clean tones, and everything in between.
External switches on many internal gain and tone components normally inaccessible on other amps provide a nearly infinite tonal and gain palate. Two distinct covering options are available for both the head and cabinet. Covering is available in both Stealth (black Tolex) and Paisley, and both options come standard with distinctive curly maple panels.
"When I came up with this concept, my goal was an amp that does it all in a simple and efficient manner – the results are highly musical," said Paul Reed Smith.
25 Limited Edition Experience PRS 2010 versions of the Recording Amp were created for the open house this past September and were featured as part of the "studio-style" demonstrations lead by famed producer Peter Denenberg and guitarist Nick Moroch. Read more
Marshall is proud to present the AFD100 Slash Signature amplifier: a dual mode, all-valve 100. head that captures the tone and spirit of one of rock's most celebrated and sought after sounds – Slash's guitar tone on Guns 'N' Roses legendary, "Appetite for Destruction" (AFD). Released in 1987, this highly influential has sold in excess of 18 million copies worldwide and is the best selling debut album of all time.
Using the original AFD master recordings, Slash and Marshall painstakingly worked together to replicate his AFD sound. "This is an idea I've had for quite some time," the guitarist reveals. "So many fans have been trying to duplicate that sound. I thought, 'who better than to really perfect it other than Marshall?' We spent a lot of time together developing this amp. We stripped a couple of guitar tracks off the original AFD masters and basically got in there with a fine tooth comb so we could suss out exactly what made that sound the way that it was."
After countless hours and several prototypes, the Slash AFD100 was born with two distinct, footswitchable modes labeled #34 and AFD – both offering 100% pure Slash sounds. The first is based on the modified JCM800 2203 he's used since the late '80s and had "34" stenciled on the side, hence the "#34" name. The second is, of course, pure, unadulterated AFD. "We used 'Night Train' as one of the man reference tracks and the amp sounds just like it." Slash concludes. "I think we've been totally successful!" The amp boasts a mixture of both traditional and modern Marshall aesthetics – a unique blend of Plexi, JCM800 and Silver Jubilee cosmetics. In addition to its dual, footswitchable modes, the Slash AFD100 also has the following features:
1. Two inputs – high and low sensitivity
2. Built in Electronic Power Attenuation. Controlled by a front-panel knob, this allows you to adjust the amp's output from 100% to 0.01%, and anywhere in-between, without sacrificing the tone and feel of those all-important power valves
3. Footswitchable* Series FX loop with Return Level control
4. Valve Fault Indicator: meaning that if one of the output valves develops a fault, a visual indicator on the rear of the amplifier shows which one is working incorrectly. This "roadie friendly feature" will save valuable time getting the amplifier back up and running again, should a valve issue occur
5. Auto-Bias & Bias Current Trimmer to ensure correct power valve biasing and optimal valve life and function
*NOTE: A two-way, LED Footcontroller (PEDL-00054) comes supplied with the AFD100, facilitating switching between the #34 & AFD modes, plus FX Loop on/off.
To commemorate the 23 years that have passed since the recording of "Appetite for Destruction", the AFD100 is Limited to 2300 units worldwide, 500 in the US. Retail price is $2899 (but can be had for much cheaper – surf the online stores below to find better deals).
SLASH BACKGROUND
Slash is widely considered one of the greatest rock guitar players of all time. He has received countless accolades and awards including a 2007 star on the Hollywood Walk of Fame alongside his idols Jimmy Page and Jimi Hendrix. An original member of iconic rock band Guns N' Roses, Slash helped the band create signature sounds like the guitar riff of #1 hit "Sweet Child o' Mine" and "Welcome To The Jungle." The band dominated the 1980's and 90's music scene selling more than 100 million albums worldwide and ushered in a decade of hard charging rock music. After leaving the band, Slash went on to critical acclaim in his personal project Slash's Snakepit, and global success with supergroup Velvet Revolver.
Slash has been widely sought after by the biggest musicians of all time, performing with everyone from Michael Jackson to Stevie Wonder to Ray Charles. Slash is one of the marquee playable characters in Guitar Hero III, has two signature Gibson guitars in his name, and authored his own top-selling biography Slash in 2007. Slash recently landed on the top of the charts with his first true solo album, SLASH, which debuted as #1 Rock Album and #3 overall on Billboard's coveted Top 200 charts, in addition to going #1 in more than 13 countries. The album features an all-star roster of guest musicians including Ian Astbury, Chris Cornell, Rocco DeLuca, Fergie, Dave Grohl, Myles Kennedy, Kid Rock, Lemmy Kilmister, Adam Levine of Maroon 5, Duff McKagan, M. Shadows of Avenged Sevenfold, Ozzy Osbourne, Iggy Pop, and Andrew Stockdale of Wolfmother. In addition to a long career filled with prestigious awards and accolades, Slash was recently honored by the Hollywood Chamber of Commerce who named him as an official selection for 2011 to receive a star on Hollywood's iconic Walk of Fame. A date for the ceremony has yet to be determined. See the Marshall Randy Rhoads JCM800 1959RR Guitar Amplifier.
Roland is proud to announce the Cube-XL series of guitar amplifiers, the latest generation of its top-selling Cube amp family. With over one million Cube amps sold and still going strong, Roland continues its quest for innovative technology and design with the new Cube-XL series, consisting of the Cube 80XL, 40XL, 20XL, and 15XL.
The Cube-XL amplifiers include new ultra-heavy COSM amp models, updated effects, and onboard phrase looping. There's a wide range of sounds from crystal clear to crushing metal, along with the addition of extra-powerful amp models such as Extreme, and Metal Zone.
Among the many additional features found in the Roland Cube-XL series amplifiers are onboard effects (including a new COSM vintage Spring Reverb effect), an Acoustic Guitar Simulator, and Solo and Memory functions.
All the new amps feature a JC clean channel, using the modeling from the legendary Roland JC-120 amp. Read more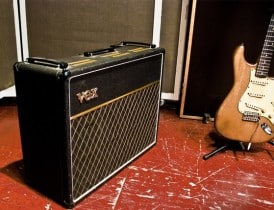 The Vox AC30 is one of the longest-lasting and most popular guitar amplifiers ever produced. Its appeal is wide enough that it could be considered to be the Fender Twin of Europe and it has powered as many legendary recordings as Leo's finest or anything Jim Marshall ever created. Used by artists ranging from The Beatles to Brad Paisley, the AC30 is one of the primordial flavors of guitar amplifiers Read more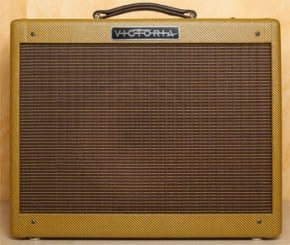 Victoria Amplifiers are produced in Naperville, IL and, though the company features an expanded product line these days, are still best known for the loving and accurate 50's tweed Fender recreations that put them on the map in the first place. Victoria is excited to announce a new addition to its tweed line, the brand new Ivy League model. Read more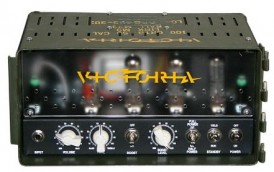 Victoria Amplifier was thrilled to demonstrate the new VIC105 amplifier on video for us all to see (watch video below). Victoria Amps went military-style with this unique looking rugged guitar amplifier. Read more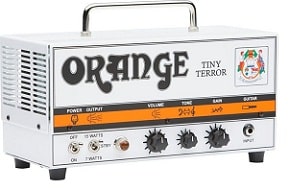 The Orange Tiny Terror is the amp we have to thank for making lunchbox-sized amplifiers a very trendy and popular part of the guitar amp market. Sure, there have always been builders out there who cooked up gourmet/boutique welterweights for the well-heeled low-volume slinger, but the Tiny Terror put this sort of thing in front of Read more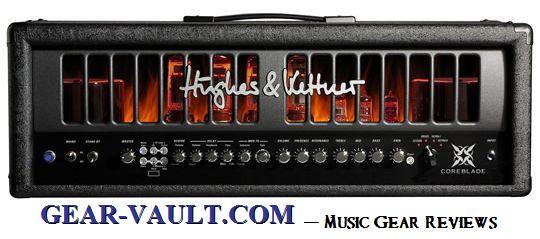 COREBLADE by Hughes & Kettner — Okay metalheads, lets take a look at the COREBLADE all-tube guitar amplifier. COREBLADE is the flagship of Hughes & Kettner's line of high-end tube amps. Packing a whopping 100 watts, the head delivers tough tone, devastating dynamics, and an explosive punch. We have posted soundclips by Jan Laacks at the end of this review… so be sure to check that out.
We're clearly stoked about this four-channel amp's advantages, here's what metal meister Jeff Waters has to say:
"This amp has everything a metal guitarist needs. And I had always loved the idea of the programming aspect being introduced into real tube guitar amps. But no one had ever perfected it. Until now!"
Four independent channels, three parallel FX modules, an intelligent noise gate, automatic power tube management, and analog programming technology – all this adds up to an awe-inspiring arsenal of merciless sounds. And that makes COREBLADE the top-notch tube amp of choice for all metal axe-slingers. Grind your axe, indeed! Read more