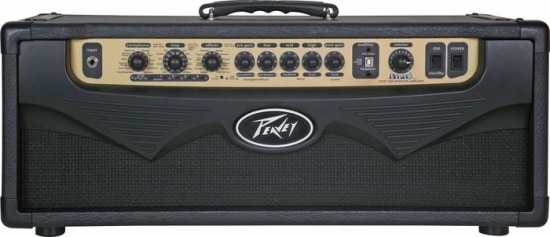 Since 1965, Peavey has built a reputation for making awesome guitar amplifiers, and they continue to evolve under the guidance of the company's founder, Hartley Peavey. Their reputation has been solidified with a series of amazing amps, such as the 6505, JSX Joe Satriani signature amp, the Valve Kings, XXX, the Classic series, the Windsor, and others. In the non-tube amp category, their patented TransTube technology is almost indistinguishable from real tube-driven amps, setting the standard for performance, tone, and affordability. And now, with their VYPYR series of amps, Peavey finds themselves at the forefront of the modeling amp race as well. Read more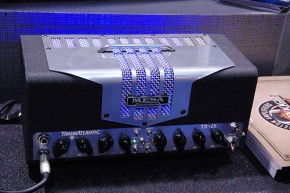 There seems to be an awful lot of interest these days in tube amps that put out lower amounts of power, especially in more boutique, cork-sniffing circles. Just about every amp company has some kind of lunchbox-sized head or ankle-biter combo that puts out five to fifteen watts of power, it appears, and many players are taking the bait and paying top bucks for these little guys. Devotees of these things claim that "five watts is plenty to gig with" and they are more than able to hang with a drummer. Personally, I have a hard time with that statement. Read more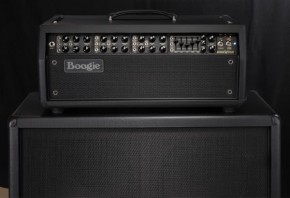 There are a few central debates that continually rage in this thing of ours, topics that never seem to get exhausted during online forum or real time arguing: Gibson vs. Fender, Fender vs. Marshall, Ginger vs. Mary Ann, Bud vs. Miller, and, most importantly, tube amps vs. solid state amps. These are the things guitarists think about. Now, I can't help you decide to play a Les Paul over a Strat or who to spend Read more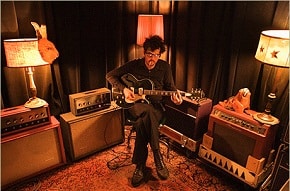 Tone is one of those things that guitarists look for, long for and obsess over. Non-guitarists often don't understand our mania for it and our ability to split endless hairs in pursuit of it. We all have our tonal benchmarks that set our ears ablaze and gave us something to aim for in our lives, and it is always interesting to find out what tones inspire what people out there in Gear-Vault-land. To that end, your ever-grooving staff here at GV has compiled a list of favorite guitar tones from the 1950's-1980's classic rock period that got most of us going on the tone questing lifestyle. It will surely cause much discussion and argument amongst all of you, but that is kind of the point. Let us know your favorites, too, as we like to keep these conversations going and see who all of you dig. Read more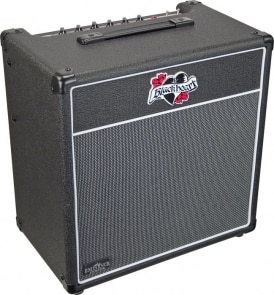 Following the highly successful 2008 Manson's Guitar Show, Ampeg and Blackheart amps are pleased to announce they will be exhibiting at this year's show with a host of cool new products and exciting gear on display.
The exhibition will be held at the Riverside Leisure Centre, Exeter on the 24th & 25th October 2009, which promises to be an unmissable event. Ampeg and Blackheart will both be debuting for the first time in the UK, new products including the Ampeg Micro VR Head and SVT-210AV cab, BA300 and 600 combo's.
Blackheart will be showing the BH100H Hothead amp as well as the entire Blackheart range of amps, cabs and combo's. Even better there will be special deals at the show and each day there will be a chance to win a BH15-112 Handsome Devil combo worth $449. Read more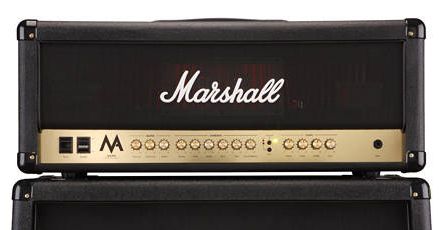 For the best part of 50 years the sight and sound of a Marshall valve amplifier has been the envy and dream of many a guitarist. Legendary artists such as Slash, Jeff Beck and the late great Jimi Hendrix, plus rising stars like Ray Torro (My Chemical Romance) and Alexi Laiho (Children Of Bodom) continue to inspire with their raw talent and mighty valve-powered Marshall backlines. So when it comes to tone, it's clear that professional guitarists love valves.
Now Marshall invites you to experience valve tone for yourself with our most accessible range of valve-driven guitar amplifiers ever – introducing the all-new, all-valve MA Series. Read more
Don't believe the hype. After the barre chord, the most important thing I learned as a guitarist was to take any and all advertisements that promise "monster tone at affordable prices" and budget friendly, triple-digit-decibel orgasm" with a grain of salt. After all, what are manufactures suppose to say? "Our product sounds cheesy and tinny, but what do you expect for $500?" I think not. Read more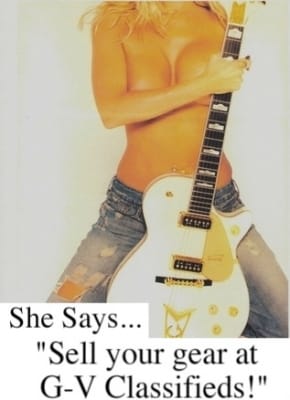 Gear-Vault webzine has been rockin' steadily online for about a year and a half, bringing you new, not so new and vintage music gear news and information. Our contributions to the music- and guitar- world does not stop there.
We also offer a great (and growing) feature where you can buy, sell and trade your music gear for free. We don't charge any of those pesky listing fees, selling fees (final value fees as eBay calls it) or membership fees. We also don't force you to use any certain payment methods, how you and the buyer/seller mutually decide to close the deal is entirely between you! What's more, we don't constraint information, such as website links listed in your auction. Meaning you are more than welcome to post your banner and/or URL or product reviews in your listing. And last but not least, trust and safety is our #1 goal on Gear-Vault Classifieds. Bullshit is not welcome! Lucky for us, Gear-Vault will not draw in all the sleazebay crowd from eBay, only musician's equipment and musical gear will be sold at Gear-Vault Classifieds. Read more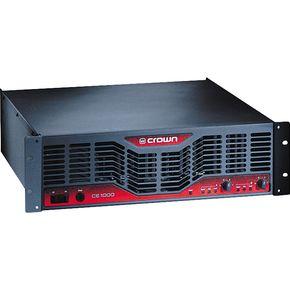 Crown is another name with a solid rep among pros the world over. The CE series seems designed for the first-time buyer or musician who has been forced to be a soundman without actually being a soundman. Hence the colorful, informative and sometimes even playful owner's manual, chock full of tips and other useful info.
The three-rackspace steel chassis is as rugged as you might expect but weighs a manageable 40.3 pounds; rear rack ears are included. The amp vents front and back but is shallower than most, so you can house it in shallow or wallmount racks without blocking the rear exhaust fan. Crown offers a three-year warranty.
The CE 1000 provides 400 watts per channel in stereo 8-ohm mode and up to 1950 watts in bridge-mono at 4 ohms. The reported frequency response is 20 Hz-20 kHz. Connections on the back include a barrier strip and ¼-inch phone or XLR inputs, all balanced or unbalanced. Outputs are via Neutrik's Speakon connectors, which don't come with the amp, so make sure you buy them before you leave the store. The rear also houses the mode switch and input sensitivity switch, which lets you optimize performance to the output of your mixer.
Individual volume, power, breaker reset and indicator lights all reside up front. Among the CE 10000's coolest features are controls that can be removed to prevent unauthorized tweaking.

Advertisement————————————
————————————————————
The Crown makes moderate ambient noise under power but sounds clean through the speakers and doesn't pop on power down. In our limited tests, the Crown delivered clear response and plenty of headroom with nice distinction between low-and-high frequency content, improving the bass response of our little JBLs.
The End Line
Simple, rugged and pretty too, the Crown seems equally at home on stage or in the studio.
Gear-Vault Classifieds is an eBay alternative. Come sell your used music equipment with us for free!
Recording engineers know that it's never been easy to get good guitar tone by "going direct" into a mixer. Yet, for many guitarists with home studios, miking an amplifier to achieve a more natural-sounding live tone isn't always an option. Maybe you don't have the best sounding amp and cab setup; perhaps you do, but your home studio environment prevents you from cranking it up. Maybe you're recording live in a small space and you don't want your guitar sound to leak into the drums or vocal mikes. Obviously, there are any number of reasons to record directly—and there are number of devices to help you do it. Read more