John Lennon of the Beatles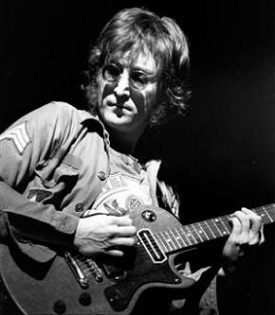 John Lennon's blend of pop instincts and restless experimentalism set the agenda for modern rock music. His driving, feisty rhythm guitar work energized the Beatles' early singles, and his imaginative songcraft elevated the three-minute rock tune to an art form. Rock's first intellectual, Lennon profoundly influenced all of the sixties great guitarist-poets, including Pete Townshend, Ray Davies and Roger McGuinn. To this day, on one level or another, every rock group defines itself in relation to the Beatles.
A tireless musical innovator, Lennon was the first electric guitarist to employ feedback on a record ("I Feel Fine" in 1964). He led rock music into psychedelic dream and out into the cold turkey reality of political activism. A painter and writer as well as a musician, Lennon infused rock with avant-garde ideas. He was never afraid to embrace chaos and cacophony. But he also wrote songs that moved the masses.
After a long period of seclusion, Lennon had just re-entered public life with his Double Fantasy album when he was gunned down by a deranged fan on the evening of December 8, 1980. Mark David Chapman waited outside Lennon's home at the Dakota apartment building on Central Park West in New York City. When ex-Beatle and his wife, Yoko Ono, returned from a recording session, Chapman said the words "Mr. Lennon?" and opened fire. Five bullets struck Lennon and he died of blood loss shortly thereafter at Roosevelt Hospital. By the next morning, and inconsolable grieving crowd had begun to gather outside the Dakota; the vigil eventually spilled into Central Park just across the street. Yoko Ono later had that area of the park dedicated to John's memory officially named "Strawberry Fields." Here, at the John Lennon "Imagine" Memorial, fans still gather to celebrate the life of the man who told the world "All You Need Is Love."
The Beatles – I Feel Fine