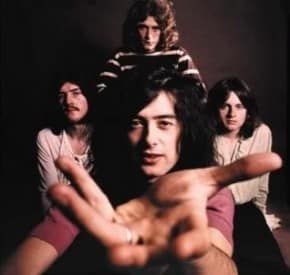 It was early in the summer of 1968 and Jimmy Page was deeply preoccupied. Tired and a little depressed, he retreated to his renovated Victorian boathouse on the Thames River to mediate on his past achievements and consider his options for the future. Read more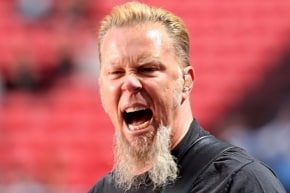 Video footage of METALLICA frontman James Hetfield getting covered in cream pies for his birthday at the conclusion of the band's performance at the Sonisphere festival on Sunday, August 2 at the legendary Knebworth Park, United Kingdom can be viewed below. Read more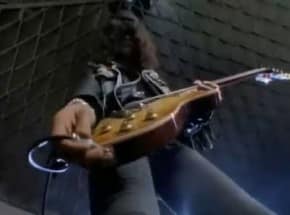 The guitar riff is central to rock and roll as we know it. A great intro riff identifies and emboldens a song and kicks the band (and the crowd) into overdrive. Rock history is filled with riffs that have changed the world and it is all of our jobs to learn to play as many of these as we can. That's how we learn what greatness really is and how we absorb the vocabulary needed to craft our own riffs and songs. Read more
This is Joe. He's four years old, he's been drumming for less than a year, and if you watch him covering The Who – "Won't Get Fooled Again" without cracking a smile, you're out of blood.
Advertisement—————————————
—————————————————————
Gear-Vault just Recieved an Urgent Press Release
Over £60,000 / $115.000 of Orange Guitar Amplifiers stolen
One of the world's most famous British amplifier brands, Orange Amps, has just announced a major theft of a container load of amplifiers from its Borehamwood premises. Used by some of the biggest stars such as Madonna, Led Zeppelin Prince and Kaiser Chiefs, the robbers targeted this prestigious brand to carry out a daring raid on Saturday 16th August.
The one hundred forty one Orange Tiny Terror Combo guitar amps, which have a combined value of over £60,000 ($115,000 USD), were part of the first shipment of the much anticipated amps into the UK. The product was launched at the Frankfurt music exhibition earlier this year, on the back of the award winning acclaimed Tiny Terror amp which has sold over 30,000 units and proven to be one of the most in-demand amps in the world.
The combination amp and speaker has a value of £439 ($817.00 USD) each and was stolen from a temperature controlled, sealed forty foot container. The robbers couldn't break the locks so they attempted to use an acetylene welder and then angle grinders to cut through the quarter inch locking steel plates.

Advertisement————————————
————————————————————
As this was part of the first delivery into the UK, only 121 units had been shipped into music shops, so this is still a highly sought after amp with very limited availability. Orange recently won the Queens Award for Enterprise – International Trade.
The Police have launched a major investigation and informed all relevant port and home authorities. Orange Amplifiers are putting up a reward of £5000 for information that will lead to a successful conviction and recovery of these amplifiers. If you have any information please contact the local Police force on 0845-3300222, quoting Crime Number J1/08/3588. The company have the serial numbers of all the products stolen which is available on it's website at http://www.orangeamps.com/
info@omec.com
http://www.orangeamps.com/
Tel ; +44 208 905 2828
Fax ; +44 208 905 2868
Gear-Vault Classifieds is an eBay alternative. Come sell your used guitars and amps with us, for FREE!